Have you installed a ring video doorbell in your home? If you have, then you know the pain of constantly charging it after a few weeks. Does anyone wish to run the wires or associated hardware near the doorbell and place the power supply there? I highly suspect.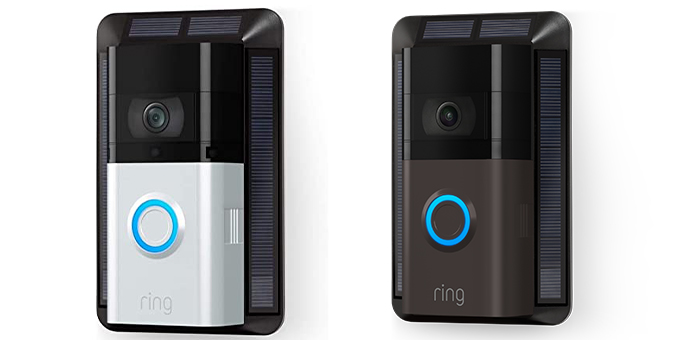 If you want to solve this problem, you can either buy a solar-powered doorbell or use a solar charger to recharge your doorbell. Solar chargers not only solve that problem but also extend the battery life of your ring doorbell.
Moreover, if you want to make a final purchase decision, you must understand what a solar charger is all about. Therefore, without further ado, let's jump onto the ring doorbell solar charger review.
What Is A Ring Doorbell Solar Charger?
A ring doorbell solar charger is an easy solution to charge your ring video doorbell. You don't need to worry about charging your doorbell manually again. The solar charger harvests necessary power from the light of the sun and delivers it to recharge the doorbell's battery. So, the charger will easily handle your recharging task.
Installing this solar charger will take you only 10 minutes, and your ring doorbell solar charger will be ready to charge immediately. After that, you can relax for at least a year and not worry about recharging your ring doorbell.
Solar Charger for Ring Doorbell 3, 3 Plus, and 4 Review
There are several solar chargers for charging the ring video doorbell. And, different chargers are used to charge different ring doorbell models. However, the latest ring doorbells available in the market are Ring Video Doorbell 3, 3 Plus, and 4. In the same way, we are reviewing a great solar charger that works with all three of these devices. Without further ado, let's move on to the important features of the product.
Secure Mounting Bracket
Do you want to have an easy setup experience in installing your ring solar charger? Then, you should be happy with the secure mounting bracket facility. This feature will allow you to mount your solar panel smoothly without risking any damage. And, you should keep in mind that, the quicker the installation system is, the faster you will get solar energy to charge your ring doorbell's battery.
Simple Installation Process
The installation process of the charger is so simple that you can take care of the entire process within only 10 minutes. But, to do that perfectly, you will have to understand the installation process properly. Otherwise, the charger and panels may not work with the Ring doorbell.
You can either buy a complete set of both the ring doorbell and the solar charger or purchase only the charger in case you have already installed a ring doorbell in your house. In both cases, you just need to find the holes in the solar panels and mount the wires in these holes correctly, as mentioned in the instructions.
Luckily, you may get a photo-based instruction book inside the package of your doorbell charger. In that case, you need to follow these instructions and mount the charger according to the mentioned spacing. And, finally, you can mount the doorbell itself on top of the charger to simply complete the installation process.
Built-In Solar Panels
Most people like to get a whole setup of a doorbell solar charger, including the solar panels too. Several brands do this, and you can find them easily. During this time, you don't have to worry about solar panels.
The first thing you will do when you buy only a charger without any solar panel is to find a solar panel that will work with your charger. Make sure you get the correct solar panel for the particular charger you've chosen.
It is important to note that each ring doorbell is different due to the different versions. For instance, the solar panel needed for ring doorbell version 3 is not the same as the panel needed for ring doorbell 2. So, always use the built-in solar panel or install a compatible one to get the actual result.
Weather-Resistant Design
Generally, the ring bell solar charger is made with high-quality materials. Thus, it is durable enough to endure most weather conditions. Besides, the charger is safe from building up water when it faces the toughest rainy weather. As a result, there is less chance of having a short circuit, and you can effortlessly keep it safe and healthy.
When you will use an external solar panel, try to get one with high water resistance since you need to set the panel in an open area or roof. As long as you can ensure safety to the panel, you are assured of getting the highest power supply and running the ring doorbell battery for a longer period.
Slow Discharge of the Battery
One of the primary benefits of installing a solar charger is its capability of slowing down the battery discharge rate. The ring doorbell charger not only charges the battery but also reduces the discharging, thus increasing the battery life.
Our recommendation is to charge your doorbell to 100% before installing the charger. That way, you can extend the battery life since the solar panels are getting enough time to maintain and balance the battery.
To get the best output, you need to put the charger in an open place so that it can get full sunlight. You should carefully ensure the sunlight over the solar panels too. And, the discharge rate will be slowed down by recharging the battery overnight.
Pros
It can charge your ring doorbell's battery ranging from 1% to 5% per day.
Comes with a secure mounting bracket feature which facilitates simple installation
Built-in solar panels are provided most times
Some companies may provide separate external solar panels
Weather and water-resistant
It can keep the battery running for one year
Cons
In the absence of sunlight, it does not work
Conclusion
Last but not least, we hope our review of the ring doorbell solar charger was helpful and you learned something new about it. Throughout this article, we tried to help you by giving you an overall impression of the product. Anyway, how do you rate this solar ring charger? Are you interested in using one or have you tried one before? Would love to hear your thoughts regarding this doorbell solar charger.