You may not know, three out of every five deaths from fires in homes happen because of smoke detector mismanagement. Sometimes they don't have a smoke detector installed in their homes, and sometimes the smoke detector is not properly installed or working.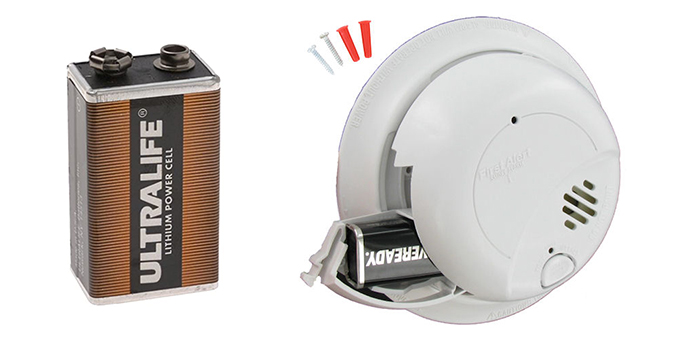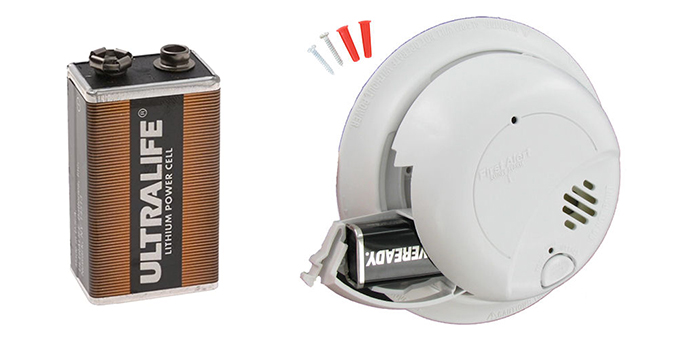 So, for the safety of your sweet home and family, it's imperative that your smoke detector works properly. And, to ensure that the detector is working appropriately, you need a proper battery installed in it. Because, the battery is the most important thing, which supplies the necessary power to the smoke detector to run without any trouble.
That is why you should be highly concerned about your smoke detector battery and have proper knowledge about what kind of battery goes in a smoke detector. With this in mind, we are here to provide you with the best information possible about this topic.
Kinds of Batteries for A Smoke Detector
Generally, a brand new 9 Volt battery can be a great option for your smoke detector. And, you perhaps know that the 9 Volt battery has two variations based on its build material. These are lithium and alkaline. However, there are more options to choose from.
If you look at the previous history of the smoke detector battery, people were fond of using a carbon-zinc battery for their smoke detectors. But, the time has changed. Presently, people are moving from using even 9 Volt batteries and they are choosing AA batteries for their smoke alarms. 
Although this may be true, a smoke detector is presently coming with a 10-year long-life sealed lithium battery. And, this sealed lithium battery can keep your smoke detector running for 8 to 10 years smoothly. As a result, you don't need to worry about replacing the battery for a long period of time. Anyway, the following is a list of all the kinds of smoke detector batteries currently available.
1. 10 Year Sealed Lithium Battery
Sometimes you need a 10-year long-sealed lithium battery as a must. As the government has different rules for different states, it is possible that you live in an area where a 10-year sealed smoke detector is required. Even if you are not in such an area, we will recommend you to use a sealed smoke detector. 
Due to the 10-year sealed smoke detector battery's long life, it actually eliminates the need to replace smoke detector batteries. Furthermore, you cannot replace a sealed battery. 
Rather, you must purchase another sealed smoke detector after the existing one expires. Nevertheless, the sealed smoke alarm has an automatic warning feature that reminds you to replace the smoke detector after 10 years.
One of the best benefits of a sealed lithium battery is that it allows you to live peacefully with your family for a very long time. And, you don't need to worry about the replacement of the battery. Also, you might get a carbon monoxide detector along with your 10-year sealed smoke alarm in some cases. After all, lithium batteries last for a long time, so you're assured to get good service from them.
2. 9 Volt Lithium Battery
9 Volt batteries are very popular for smoke detectors. If you don't use a 10-year long-sealed smoke alarm, you may have already used lithium batteries to replace your smoke detector battery. 
Usually, the lithium battery lasts longer than the alkaline battery. And, it normally has a large capacity ranging from 700mAh to 1000mAh. As a result, the lithium battery lasts 5 times longer than the alkaline battery and reduces the replacement frequency of the battery. Though the lithium 9V battery is a little bit overpriced, it is more suitable than the alkaline because of its long life.
3. 9 Volt Alkaline Battery
The 9V alkaline battery is less popular than the lithium battery. Because its life is almost half compared to a 9V lithium-ion battery. However, the alkaline battery was a great choice for people after the refusal of carbon-zinc batteries. Because, when compared to a carbon-zinc battery, the alkaline lasts almost two times longer because of its better inside chemistry and also has a low cost. 
Furthermore, the 9V alkaline battery is slower to break down as compared to the lithium battery after reaching low power energy. Due to this, an excessive amount of time can pass before it gives a "low battery" warning alarm. Additionally, getting the alarm in time is easier than using a lithium battery. Hence, the risk here remains low.
4. AA Battery
The AA battery is the latest addition to the market for smoke detectors. As you can see from the current state of the smoke detector battery market, people are now switching from 9V batteries to AA batteries. 
What is the reason? Because the AA battery is widely available in the local market and also easy to use just like a pencil battery. Though you need two or three batteries in a smoke detector, it can provide up to three times longer service than the long-lasting 9-volt battery. In the event that, you will see two or three batteries set in the most recent smoke detectors.
Coupled with the 9V battery, the AA battery has two types of build, which are alkaline and lithium. From the two choices, people choose lithium for its quality and security. 
Besides, the lithium AA battery is much more upgraded than the alkaline AA battery. As a result, the AA battery is considered the longest-lasting replaceable smoke detector battery in the present time. Additionally, the AA lithium-ion battery has a reputation for leak-free service and gives "low battery" warnings for a satisfactory period.
How To Change The Smoke Detector Battery
When the energy of your smoke detector battery is finished, you will get a "low battery" warning alarm from the smoke detector. And, the warning alarm will sound like beeping or chirping. At this point, don't waste your time and immediately replace the battery. Besides, when your smoke alarm battery is totally out of power, don't leave the smoke detector empty without replacing it at once. However, follow the below steps to replace the smoke alarm battery perfectly.
Remove the outer cover of the smoke alarm. Generally, you may need to twist the cover to open up. After opening the outer cover, you will see the battery in a part.
Now, remove the old battery from the battery holder and put a brand new battery inside the holder. Never forget to check whether the terminals are oriented properly. Also, check if the battery is connected to the base. If not, then press it to place properly.
After that, close the outer cover. To do this, place the cover in the position and twist it to lock perfectly. After shutting the detector, place it back in its position.
Finally, you can test the detector whether it is working or not. Therefore, look for the test button on the detector surface and press it. You'll hear a chirp or a beep after you press the button, which means the detector is working and fine at this point.
Final Words
There's absolutely no doubt that you want to keep your home and family safe from any fire accident. It will only be easy for you to handle the riskiest situations when you understand the battery mechanism of your smoke detector. In the same way, we have tried to include as much information as possible regarding this matter in this article, and we hope you now have a better understanding of the types of batteries that go into a smoke detector.