Owning a marine vehicle is amazing. You get to go cruise the waters, go fishing, have a good time with your buds. But it also comes with a lot of maintenance.
One of the main things that need constant checkups is the battery. To make your life easier and your battery life longer, getting an onboard marine battery charger is essential. It will not only charge your battery but also maintain it, help it hold a charge longer period, and won't let you down on the weekends.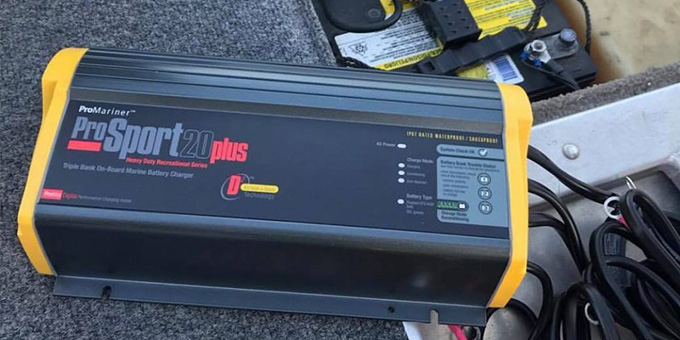 To make your search for a charger much more informative and effective, we have come up with the best onboard marine battery charger and their perks in this article. You will find all the things you need to know about the chargers in-depth here.
Top 5 Best Onboard Marine Battery Chargers in the Market
Here are the top best onboard marine battery chargers in the market that you need to check out. 
1. NOCO Genius GEN5X2, 2-Bank, 10-Amp (5-Amp Per Bank) Fully-Automatic Smart Marine Charger
Starting with one of the classics from NOCO the GEN5X2 is a 10 Amp fully automatic marine charger. It gives you the option to use 2 banks for your batteries.
The charger works with any 12V AGM, Lithium, and Lead Acid batteries. No support for GEL batteries though.
This charger comes with thermal sensors that detect the temperature of the battery and the atmosphere. It lets the charger know when to charge rapidly and when to slow it down.
One great thing about this charger is that it can revive dead batteries. Even batteries that are depleted to zero volts can be force-charged and brought back to life.
To be a great onboard marine battery charger, the charger has to be waterproof. Which this NOCO GEN5X2 is. It comes with IP68 certification. So no dust, the submerged position can destroy it.
Working temperatures go from -4 and up to 104 Fahrenheit. This is great as the water atmosphere changes temperature every minute.
Pros:
Great reliable 2 bank charger.
IP68 water and dust protection.
Works in below 0 degrees and up to 104.
Cons:
2. NOCO Genius GEN5X1, 1-Bank, 5-Amp (5-Amp Per Bank) Fully-Automatic Smart Marine Charger
Not into 10 Amp chargers? Well, NOCO Genius GEN5X1 will serve you just great. The charger is fully automatic like its classic 10 Amp brother, but a little bit smaller.
The charger supports any 12V Lead Acid, AGM, and Lithium-ion batteries like the Genius GEN5X2. No GEL or Flooded Cell batteries are supported.
It also comes with signature thermal sensors that let the charger know about the temperature of the atmosphere and charge your batteries accordingly. Because your batteries charge slowly if the temperature drops, which is a bad thing for crucial power moments.
At the same time, if the weather and battery temperature is high, it slows the charging processes. This lets the battery cool down and not overheat and damage its cells.
The dead battery revival is also here with this charger. You get to revive any dead or depleted to zero volt batteries with ease.
Waterproofing still stays at its finest with the IP68 protection. If you are looking for a true marine battery charger, this is it. 
It is great for small boats and marine vehicles that have a single battery or power bank.
Pros:
Cons:
Cannot charge GEL or Flooded Cell batteries.
3. NOCO GENIUS2D, 2-Amp Direct-Mount Onboard Charger
If you are looking for a small charger that can charge a small battery-equipped vehicle, this is the charger for it. The NOCO GENIUS2D 2 Amp charger will keep your unused battery full for your next use.
This small thing packs power in itself. With continuous 2 Amp flow, it can get any battery topped up in no time.
The charger supports Flooded Cell, GEL, and AGM batteries. No lithium-ion batteries for this charger.
It can bring back batteries that have depleted to 1 volt of charge. No dead battery reviver here.
The charger has the signature thermal sensor for better charging and understanding depending on the weather conditions.
Mounting this charger is bliss as it doesn't require and extra screws. It will fit most of the vehicles out there. 
The charger doesn't come with trickle charging. But it can maintain your battery. So there is no worry about getting your battery overcharged and cell damaged overnight.
Pros:
Good for small batteries.
Easy installing procedure.
Battery maintainer helps battery not get overcharged if left unattended.
Cons:
A bit too small for some vehicles.
No waterproofing.
Doesn't support Lithium-ion batteries.
4. NOCO Genius GENM3, 3-Bank, 12-Amp (4-Amp Per Bank) Fully-Automatic Smart Marine Charger
A true marine vehicle that travels deep into the waters in rough conditions needs a rugged and powerful charger. The NOCO Genius GENM3 charger is for those adventure marine vehicles.
With 12 Amp powering up 3 banks (4Amp per bank), it is a powerful charger that stores distribute and handles power efficiently. The charger comes with spark-proof technology, reverse polarity protection, thermal, ignition, and overcharge protection.
The charger also supports all Flooded Cell batteries, AGM, and Gel Cell batteries. It can detect any battery faults and shut down the charger after the battery is fully charged. This keeps the battery safe all the time.
In terms of water protection, it comes with IP68 and NEMA 6P. Meaning it can withstand any submerged situation up to 3 meters for a prolonged period of time and still work at its full capacity. It is sealed, rugged, and built to withstand any weather condition.
So if you have a yacht, fishing boat, or sailboat and love exploring deepwater destinations, this is the charger to go for.
The battery comes with 5 years of warranty.
Pros:
Great for any big marine vehicle.
Supports a lot of kinds of batteries.
Has a lot of protections.
IP68 and NEMA 6P certification.
Cons:
Doesn't come with a battery reviving option for a big charger.
If wired wrong might fry your battery.
Doesn't work on heavily drained batteries.
5. NOCO Genius GEN5X3, 3-Bank, 15-Amp (5-Amp Per Bank) Fully-Automatic Smart Marine Charger
This charger is almost the same as the Genius GENM3, but with a few changes in configurations here and there. The NOCO Genius GEN5X3 gives you the opportunity to charge any 12V marine battery, maintain it and desulfate it.
GEN5X3 is a 15 Amp 3 bank marine charger. Which makes it a 5 Amp per bank charging beast. Which is a great upgrade in terms of charging. 
The charger supports Lithium, AGM, and Lead Acid batteries. So there is a difference here from the GENM3.
Ther thermal sensor is present, which is an essential tool for big boats in the water. Because the temperature may rise or fall at any time. And the charger will understand that and charge the batteries accordingly. Fast for colder temperatures and slow for warm temperatures. This keeps the battery health on top and the charge stable.
One thing the GENM3 missed was the dead battery revival feature. For a bigger charger, this is a must option to have. The GEN5X3 can revive any battery that is down to 1 volt or even dead.
The charger also comes with IP68 protection. So it can handle any rugged and brutal environment out there. It is built to survive in any weather condition. 
Pros:
Cons:
Frequently Asked Questions
Is there any difference between regular battery chargers and onboard marine battery chargers?
No. There is no huge difference between a regular battery charger and a marine battery charger. Sometimes marine battery chargers have waterproofing, which is a neat feature.
Can marine chargers be left connected overnight?
No, there is no problem if you leave a marine battery charger connected overnight or indefinite amount of time.
How often should I charge my marine battery?
It is advised to keep your battery full all the time. Especially if it is a lead-acid battery. But you can check and charge them every 30 days.
Are marine batteries different than other batteries?
Yes. Most marine batteries have sturdier and elevated plates for better connection. Also, it helps with the rough environment they go through every time. Otherwise, the chemistry is the same with any marine battery.
Conclusion
Investing in an onboard marine battery charger is a great choice. If you are an avid boat person or have a fishing boat, it is a must-have for you.  Choosing the right one depends on the size of your vessel. If you have a small boat and don't use it much, a small charger will do just fine. But if you have a sailboat or a fishing boat, going for a rugged charger instead of a regular one would be the best option.