We all have an inner child in ourselves. That child gets even more excited when they get hands-on with some RC vehicles. Be it a drone, car, buggy, plane, or boat. They give the same level of thrill that you won't find in anything.
It is more of a hobby than a child that leads us to these RC vehicles. And they require good power input. Otherwise, they won't run as long as they are supposed to. If you are an avid hobbyist of these RC vehicles, you might have come across Zeee Lipo batteries.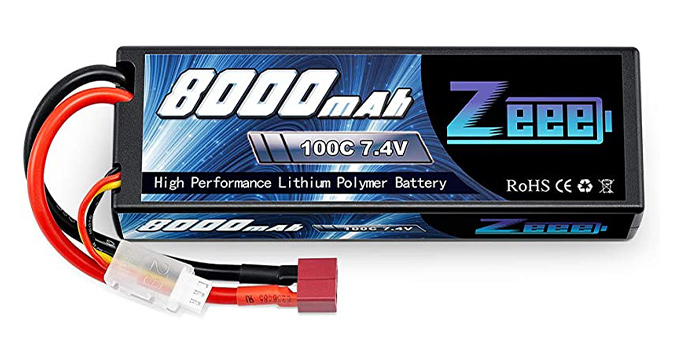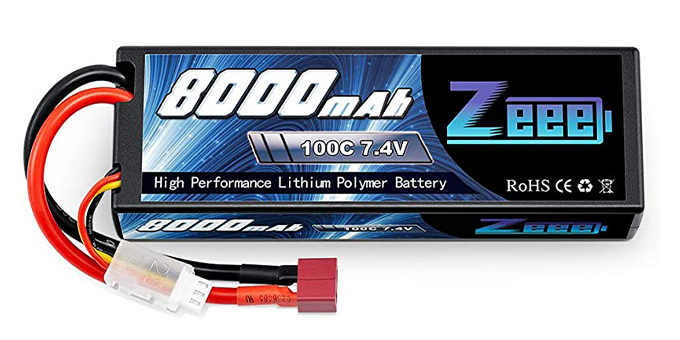 Zeee makes a lot of different Lipo batteries. To find out which one of them is the best, we have come up with the Zeee Lipo Battery Review. 
Top 4 Zeee Lipo Batteries on the Market
Here are the best Zeee Lipo batteries you will find in the market today. 
1. Zeee 7.4V 2S 50C 5200mAh Lipo Battery
Starting with a Zee 2S Lipo Battery that has a huge capacity. They come in pairs so it is a good bang for your buck.
The battery comes with a 5200mAh capacity. Although you won't get the 5200mAh, you will obviously get 4800mAh out of them. And they come in pairs, so you will always have a spare one.
The discharge rate of the Zeee 2S lipo is 50C. Which is great for any RC vehicle. But I wouldn't suggest it for any air vehicle. It won't give the needed boost for the takeoff.
On a single charge, you will get almost an hour with your RC vehicle.
You can charge it via dean's T connector. And to maintain them and keep them in good condition, charging them with a genuine lipo battery charger would be great. Otherwise, the battery might overcharge and blow up.
This battery fits a lot of RC vehicles. The best way to know is to know the required dimensions of your vehicle and match them with the battery. So even if your vehicle is not on the list, if the dimensions are correct, the battery will work.
2. Zeee 11.1V 3S 100C 8000mAh Lipo Battery
Looking for some powerful 3S Lipo batteries? Zeee got you covered! This Zeee 3S 8000mAh Lipo Battery not only has a good capacity but also packs a good punch.
The battery comes with an 8000mAh capacity. Which is huge for a 3S battery. You might get a little less than 8000mAh, but it doesn't drop under 7200mAh. Which is really cool.
It also comes with a discharge rate of 100C. That is a whole lot of power for an RC vehicle. One acceleration and you are off to a great start. Even though it has a high discharge rate, it lasts longer for its internal capacity. So you get a lot of time with your RC vehicle.
The charging connector is an EC5 connector if you were wondering. Using a genuine lipo battery charger longer the battery life and saves you from battery damage. Because lithium batteries are prone to heat up and burst.
In terms of compatibility, it will fit your vehicle if the dimensions and voltage match. So instead of looking for the compatibility list, it is better to match the dimensions and voltage. 
3. Zeee 14.8V 4S 80C 6200mAh Lipo Battery
Here we have the Zeee 14.8V 4S Lipo Battery. It gives out impressive performance both in capacity and power.
The battery has a 6200mAh capacity. You might get a slight change in the capacity as lithium batteries do tend to lose some with aging. But they perform to their fullest every time.
It also comes with an 80C discharge rate. This is an amazing feature if you are a hobbyist. It will give your vehicle a great push of power at the start and hold on to it every time.
The batteries will last about an hour with a single charge. Relatively good if you consider the price.
In terms of compatibility, you know the good old dimension rule. Check the dimension of the battery and your vehicle's battery compartment. If they match, the battery is good for you. Otherwise, it might not fit and you have to return it. So better check first and order.
Also, the battery comes with an EC5 charging connector. Using a genuine lipo battery charger will not only prolong the battery's life but also save you from battery bursts and other accidents.
4. Zeee 22.2V 6S 100C 6000mAh Lipo Battery
And last but not least, the powerful Zeee 6S lipo battery. This is for people who are looking for RC aircraft batteries.
The battery has a huge 6000mAh of capacity. But it might be not enough for a single battery because of its high discharge rate. That is why you get 2 at this price, so you can keep the fun going.
The best part about this battery is its discharge rate. It comes at 100C! That number might be a little too much for some, but for people with RC aircraft, that's a lullaby. You can use this battery in your RC device and take it off anytime you want.
You will get almost an hour from these batteries individually. Good enough time to entertain yourself.
The compatibility game is simple as always. You have to check the dimension and voltage of the battery and your device. If both of them match, you get to use them. So even if your device is not on the list, the dimensions will give you the required compatibility information.
Charging is straightforward as other 6S lipo batteries. You get an EC5 plug for charging. Always use a genuine lipo battery charger to ensure the safety and longevity of your battery and yourself.
Frequently Asked Questions
What is the safest charge rate for a Zeee Lipo battery?
To keep your Lipo battery safe and cells intact and away from any charging harm, it is suggested to use a 1C charge at a time. 
What does the C stand for in a Lipo battery?
The C in a Lipo battery stands for the capacity the battery can discharge.
How often should I balance my Lipo battery?
To be on the safe side and keep your batteries good, it is a good practice to balance your Lipo batteries once every month.
What is the lifespan of a lipo battery?
The normal lifespan of a lipo battery is between 150-250 recharge cycles.
Conclusion
Lipo batteries are necessary components for any RC vehicle. And if you are a hobbyist, chances are you need them quite often. Not all of the batteries in the market are affordable. Zeee batteries on the other hand give a quality performance for what they are priced at. So if you need a quick set of batteries for regular use, Zeee Lipo batteries are a great option for you.