Being an RC vehicle enthusiast requires a lot of detailed attention. Checking your vehicle regularly, keeping them in pristine condition, keeping yourself in practice, and so on. 
Every RC vehicle requires power. Some of them require a 4S Lipo battery. Choosing the best battery from the ocean of brands is hectic.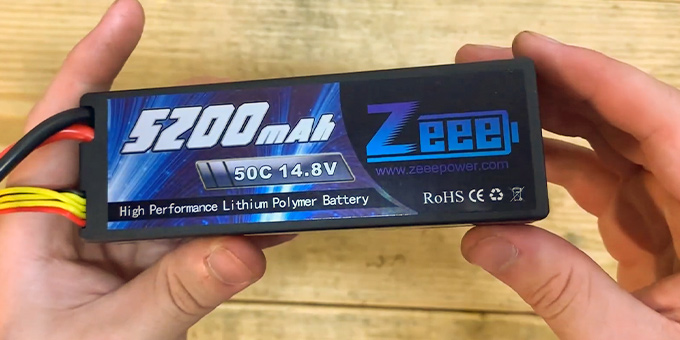 That is why we have come up with the Best 4s Lipo Battery review that includes all the best batteries now in the market. You get to know them thoroughly in this article before buying them.
Top Best 4s Lipo Battery
Table could not be displayed.
Here are the Top 4s Lipo batteries in the market right now. You can choose any one of them for your RC vehicle and get your money's worth.
1. Socokin 4S Lipo Battery 14.8V 6500mAh 100C
Starting with the Socokin 4s Lipo battery that packs a good amount of power. If you are not going to compete in an event and start to learn with your RC vehicle, then this is the battery to go for.
It comes with a 6500mAh capacity. The discharge rate is 100C, as the specification says. But in reality, they are a bit less than that. But it's not that bad that it won't let you get the feel of it. It will work fine with your initial stages. The batteries last about 40 minutes in one run.
The battery is compatible with a lot of RC vehicles. If the size, voltage, and plugs match, you can fit with your vehicle. 
It is durable and has a good long-lasting life. Like any other Lipo battery, you have to let it cool down before charging it. Otherwise, it might damage the battery cells. And we don't want that to happen.
You get 2 of the 4s Lipo batteries at this price. Which seems to be a good deal.
Pros:
Powerful battery.
Supports a long-range of RC devices.
Value for money.
Cons:
Not fit for a tournament.
Not 100C as advertised.
2. Zeee 14.8V Lipo Battery 80C 6200mAh 4S
Lipo batteries from Zeee are good in terms of service. They come with great power and can hold it for a long time.
These particular 4S Lipo batteries have a capacity of 6200mAh. The discharge rate is 80C. You get to have a lot of power for a long time and enjoy your RC car.
This battery has an EC5 connector. So remember to check if your vehicle has the same type of connector otherwise you will be stranded with a pair of unusable batteries.
In terms of charging, it is recommended that you use a 1C output charger. Otherwise overcharging will damage the battery from the inside. Meaning the cells will puff up or even burst into flames.
Also keep in mind that, Lipo battery charges shouldn't go under  3.2V. And you shouldn't overcharge them to 4.2V. It makes the battery cells unstable.
The battery fits into a lot of different RC cars. But in some cases, it doesn't fit with Xmaxx 8s. It is a good idea to check the dimension and size of the battery before ordering it. You might be able to snug the battery to work with your vehicle, but you know what happens to a lithium battery if it gets punctured. We don't want them to burst into flames, or damage your favorite RC car.
Pros:
Good capacity.
Works great and holds a charge for a good amount of time.
Comes in a pair.
Cons:
Loses power if stored for a long time.
Isn't suitable for all RC cars.
3. HOOVO 4S Lipo Battery 14.8V 6200mAh 80C RC Battery
Another good battery to fulfill your RC vehicle dreams is the Hoovo 4S Lipo battery. This one has a lot of features inside.
Coming in pairs, as usual, this battery has a capacity of 6200mAh. The great thing about this battery is it has a recharge time of over 150. So you get to use them for a longer period.
The discharge rate is as usual 80C. It comes with the standard EC5 plug connector. Do check the compatibility of your RC vehicle before buying these.
If the dimension and size fit, you can use this battery regardless of the capacity and voltage. It will work with any type of RC vehicle.
Using a lithium battery, you should always remember they are flammable to puncture or get puffed up if overcharged. That is why you should not discharge it below 3.2V. And never let it overcharge over 4.2V. It may cause it to burst into flames.
Regarding the price, this pair of batteries are the most affordable option in the market. You get to have a pair of them and have one as optional always.
Remember to charge them with genuine Lipo battery chargers and don't let them unattended.
Pros:
Good quality battery.
Cheap alternative option.
Great for long-term use.
Cons:
Not compatible for championship events.
4. HOOVO 4S 14.8V LiPo Battery 8200mAh 120C RC Battery
Looking for something powerful than usual? Hoovo 4S Lipo Battery is at your service. This battery has a great amount of power inside.
And by great we mean 8200mAh. A whole 2000mAh more power than the usual batteries in this list. Obviously, it will cost a bit more, but not that much. Because you are getting a pair of them at this price.
It comes with the usual Hoovo long-lasting recharge rate of over 150 times. And it has a high discharge rate of 120C. This means you get to speed up your RC vehicle by a lot. And more speed means more fun.
Connectors are the usual EC5 plug. Check if your device is compatible with it or not before jumping into the checkout box.
Like any other Lipo battery, you shouldn't let it discharge below 3.2V and overcharge it over 4.2V. Otherwise, it might end up in a catastrophic accident. Which nobody wants with or without their favorite RC device.
Remember to charge the batteries with a genuine Lipo battery charger. Otherwise, it might malfunction and lower the battery's lifetime.
Pros:
A huge amount of power.
Comes in a pair.
Good service throughout its lifetime.
Cons:
More sensitive in nature than any other battery.
5. Zeee 14.8V 4S Lipo Battery 60C 3700mAh Soft Case Battery
Last but not least, another battery from Zeee. We know how good their service is. But this one has a catch.
The battery has a 3700mAh capacity. But is it true? In reality, it seems to be more like 3300mAh. But does the work as it says.
It comes with a discharger rate of 60C. And the connectors are usually EC5 connectors. So remember to check your RC device has the same type of connecting options.
Another thing apart from the capacity is that this battery has a low internal cell resistance. Now, what is that? It means it cannot hold a good amount of boosting charge for a long time. As the resistance rises, the lower the internal boosting power gets.
If you are going to use this battery for an RC aircraft, the suggestion would be not to use them. It is good for any other ground vehicle as they don't require a big boost of charge to take off.
Other things stay the same. You shouldn't discharge it below 3.2V or overcharge it over 4.2V. That is why you should always use a genuine Lipo battery charger. And never leave the battery on charge unattended. Remove it right after it is fully charged.
But regarding the price, it is a steal.
The one thing that is great about this battery is you get 30 days money-back guarantee and a 12 month warranty period. So if anything happens, you get to return and get a refund.
Pros:
Good battery at a very cheap price.
Good moneyback and warranty.
Cons:
Capacity isn't up to the mark.
Internal cell resistance is bad.
4s Lipo Battery  Buying Guide
Before you buy a 4s Lipo battery, you need to keep this thing in mind.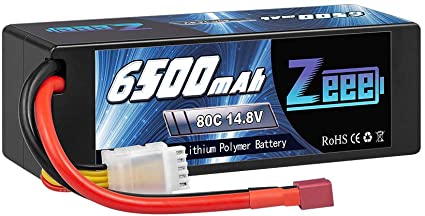 Capacity
Let's face it, you want a battery that can fulfill your needs. If the battery is unable to fulfill your needs, then it is a waste of both your time and money. That is why choosing the right battery for your need is necessary.
Always having a big capacity is not the ideal thing either. If you put a high-capacity battery in an RC vehicle that cannot take it, it might damage its internal and outer parts. So going in the mid-range is ideal. But for RC aircraft, needs a high internal resistance battery. If the resistance goes down with time, then the aircraft won't get enough power to fly. Keeping those in mind, you have to choose your ideal battery.
Value for Money
It comes down to the money every time. What you are getting is worth your money? You have to ask this if you are getting less of a deal when you are buying a 4s Lipo battery. All the batteries mentioned here come in pairs. So they are a great deal. But if you are paying the same money for only one battery, then you have to check if the battery is tournament certified. Otherwise, it isn't worth buying. 
Warranty and Refund
It is a good practice to check the warranty and refund option of a product while buying it. Electrical products are prone to malfunction at any time. That is why you should always keep the warranty and refund option handy. The product that gives you more aftersales options is a great product to go for. And most of them tend to outlast the warranty period and more. That is how they build it.
Frequently Asked Questions
What is the minimum voltage of a 4 cell 4s Lipo battery?
The ideal voltage of a 4 cell 4s Lipo battery is 14.8V.
What is the best capacity to charge a 4S Lipo battery?
The best capacity to charge any Lipo battery is 1C.  Meaning it will charge the battery in 1 time per capacity. This doesn't strain the battery's cells and lets it charge evenly.
How much time does it take to fully charge a Lipo battery?
A 1400mAh battery takes about 150 minutes to fully charge from zero to 100%. So depending on your battery's capacity it takes about 6 hours to overnight to fully charge a Lipo battery.
Is it necessary to balance the Lipo battery every time I charge it?
Yes, it is. Normally the charger balances the battery itself. But to make sure you can check it before charging and do a balance charging.
Why do Lipo batteries swell up?
Lipo batteries have the chemistry of lithium and polymer chemistry. The polymer's nature is to produce carbon dioxide and carbon monoxide as the battery ages. It is a means of decomposing. And thus they produce gases that cause the Lipo batteries to expand or swell.
Conclusion
Buying a Lipo battery is not a normal task. But to make it easy, we have come up with the whole in-depth review of the best 4s lipo battery. You can choose any of the batteries that are mentioned above if they match your need.
All of the batteries are great in their own way and capacity. Keep in mind none of these batteries is tournament certified. To use them in tournaments is not recommended. You can use them for your personal use only.