A lithium-ion polymer battery, often known as a "Lipo Battery", is a rechargeable battery that was built utilizing lithium-ion and lithium-metal battery technologies. Instead of a liquid electrolyte, this type of rechargeable battery uses a polymer electrolyte. The use of this polymer electrolyte makes the battery lighter, more compact, and easier to use.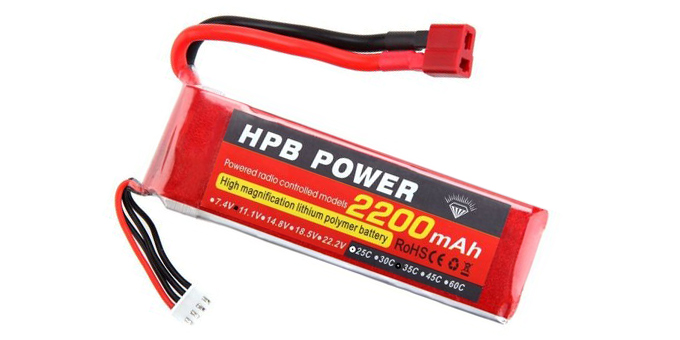 This form of lithium battery has gained popularity in the technology industry in recent years, and if you're searching for a battery with long-term and high voltage, a lipo battery should be on your list of choices. Throughout this article, we will cover everything you need to know about lithium batteries or lipo batteries, so you won't have to worry about like "What Is A Lipo Battery?" or "What Lipo Battery Is Right For Me?"
What is A Lipo Battery And How It Works
Like all the other lithium-ion batteries, lipo batteries work on the concept of lithium-ion chemical interaction and intercalation. Instead of a liquid, it uses a dry or solid chemical electrolyte with a positive(+) and negative(-) electrode called cathode and anode.
When an external voltage is applied through the lithium-ion battery, electrons will flow from cathode to anode. This flow of electrons produces electricity in your battery cells.
Types Of Lipo Battery
Lithium-ion polymer (Lipo) batteries come in many different shapes and sizes. Depending on the construction material, battery capacity, temperature resistance, energy density, and various applications of the battery, there are mainly four types of lipo batteries available on the market nowadays.
Lithium Cobalt Oxide Battery (LiCoO2, LCO battery)
Lithium-ion Ternary Battery (NCA, NMC battery)
Lithium-ion Manganese Oxide Battery(LiMn2O4, LMO battery)
Lithium-ion Phosphate Battery (LiFePO4, LFP battery)
Lithium Cobalt Oxide Battery
The LiCoO2 battery, often known as the LCO battery, was the earliest lithium-ion battery. It has a strong structure, a large storage ratio, and excellent performance. A Lithium Cobalt Oxide Battery has a voltage level of 3.7 volts. The maximum battery capacity of a Lithium Cobalt Oxide Battery ​is 274mAh / g and the overall capacity is at 140mAh.
It has a high operating voltage (average 3.7 volts)
The charge-discharge voltages are both stable.
Ideal for charging and discharging huge amounts of currents.
It also has relatively high energy, proper cycle performance, a simple production process, and high conductivity.
Lithium-ion Manganese Oxide Battery
LiMn2O4 batteries or LMO batteries are called mature lipo batteries. This type of lithium-ion polymer or lipo battery is widely used in Japan and South Korea-based electrical products including laptops, mobile phones, tablets, smartwatches, even in some electric vehicles.
The battery has a maximum capacity of 148mAh, and the usable range is 90 to 120mAh. Its voltage capacity is 3 to 4 volts. And importantly, lithium-ion manganese oxide batteries are mainly used for making power tools, hospital instruments, hybrid, and fully electric vehicles.
Lithium-ion Ternary Battery
Lithium-ion Ternary Battery is made of nickel (Ni), cobalt (Co), manganese (Mn), or aluminum. It is widely considered to be the safest lipo battery ever made. However, its voltage capacity is very low (Max v is only 3.6 volt). NMC batteries are commonly used in cell phones and other small electrical devices.
Lithium-ion Phosphate Battery 
In today's world, the LiFePO4 or LFP battery is the best and most widely used lipo battery. It is well-known for qualities like a good safety system, extended life cycle, high-temperature resistance, less environmental pollution, and a high tolerance for severe use.
A bundle of lithium-ion phosphate batteries is connected by a manufacturer to create a big power source. For example, four 3 volt lithium-ion phosphate batteries connected in series create a 12.80V current, which is usually used as a vehicle charger.
Properties Written On The Level Of The Battery
When you purchase a lipo battery from the store, you'll notice various parameters written on the battery's label such as capacity, voltage, configuration, and discharge rate. What exactly do those parameters mean?
Battery Capacity
The capacity of a battery means how much electricity it can store. Milliamp hours are the measurement unit for battery cell capacity (mAh). If your battery's label says 1300mAh, that means you can use 1300mA of electricity constantly for 60 minutes.
Discharging Rate
The term "Discharge Rate" refers to how quickly a rechargeable battery can safely be discharged from full charge to empty charge. Lipo battery discharge rates are known as "C" ratings.
For example, if your battery has a capacity of 700 Ah (amp hours) and is hypothetically discharged to its cut-off voltage in 10 hours, then the discharge rate of the battery will be (700 Ah/10 h) = 70A.
Battery Voltage
The amount of current inside your battery is voltage. Generally, we measure voltage in volts(V). If you think of a battery as a water tube, the voltage represents the pressure of the water in the pipe, which helps in the flow of water through the pipe. Similarly, the pressure of your battery's voltage causes current to flow through the battery.
Life Duration Of Lipo Battery
Typically, Lipo batteries have an approximate lifespan of 2 to 3 years. Most lithium-ion polymer batteries can sustain more than 300 charge cycles. It means your lipo battery can be fully charged and discharged up to 300 times.
Finally, a reasonable estimate of a lipo battery's lifespan should take into account both the number of charge cycles and the age of the battery. If the capacity of a lipo battery drops to around 80% of its original capacity, it is considered to be past its useful lifespan.
How To Extend The Lifespan Of Your Lipo Battery
There are a few things you should keep in mind when handling, charging, and storing lipo batteries in order to extend their lifespan.
Keep It In A Cool Place
You should preserve your lipo battery in a cool, dry location. All batteries self-discharge even when in storage. When your battery is stored in a high-temperature room or storage facility, the self-discharge process is increased.
For example, an experiment shows that a lipo battery stored at 60 degrees C for 3 months only lost roughly 78% of its capacity, while another battery kept at 26 degrees C lost 95 % percent of its capacity.
Keep Your Battery at Roughly 50% Capacity
When storing your battery, make sure it is almost 50% full of its original capacity. According to a study, storing a lipo battery at roughly 50% capacity loses about 4% energy after a year, whereas storing a fully charged battery loses as much as 22% of its primary capacity.
Only Use Built-in Chargers
To charge your battery, you should always use the main charger provided by the manufacturer. Chargers that are not designed for your battery may harm your lipo battery by overcharging or overheating.
In the world of batteries, there's a saying that if you charge your lipo battery using a $5 charger, you'll end up paying more money on replacement batteries sooner rather than later.
Which Lipo Battery Should I Choose?
You should consider a few things before selecting the correct lipo battery for your electric device or gadget. Consider the following factors before purchasing a battery:
Calculate The Current Your Device Need
To begin, you must calculate the amount of power required to run your device. Then you should select a battery that is appropriate to the power requirements of your gadget.
For example, suppose you have a drone with four motors, each of which takes 30A of current. Then your device will need 30*4=120A of current. You must select a battery capable of delivering 120A current.
As an additional consideration, you should look at the battery's size, voltage, C rating, and capacity, as well as the connectors. If all of these features meet your needs, you should purchase that battery.
Frequently Asked Question(FAQ)
Q: Is it safe to use lipo batteries?
Answer: Yes of course. Lithium-ion polymer batteries or lipo batteries are extremely safe to use. Users rarely experience malfunctions or damages when using this battery.
Q: May I recycle a lithium-ion polymer or lipo battery?
Answer: Yes, absolutely. Rather than throwing away your lithium-ion or lipo battery, you can recycle it.
Q: What are the main benefits of lithium-ion polymer batteries?
Answer: Lithium-ion polymer batteries are the power source for next-generation electric cars. The major benefit of lithium polymer batteries is that they have a higher energy density than regular batteries and it's up to 4% than an ordinary battery.
Q: How long do lithium-polymer or lipo batteries last?
Answer: A lipo battery can generally be used for up to 300 charge cycles and has a lifespan of 2 to 4 years.
Conclusion
Lipo batteries have changed the drone, airplane, and electric vehicle industries in recent years. If you are considering purchasing a lipo battery, this would be the best choice because in the future lithium-ion polymer or lipo batteries will dominate the whole power industry.