There are a lot of things that run on Lipo batteries. Your favorite racing car, buggy, or even the drone for your cinematic photo and videos uses lipo batteries to work.
Unlike lithium-ion batteries, you cannot store lipo batteries with power in them. It damages their cells and you will end up stranded in your next project or game.
To ensure their longevity and performance, you have to discharge your lipo batteries and store them in a safe place. Even to recycle them, you have to discharge them.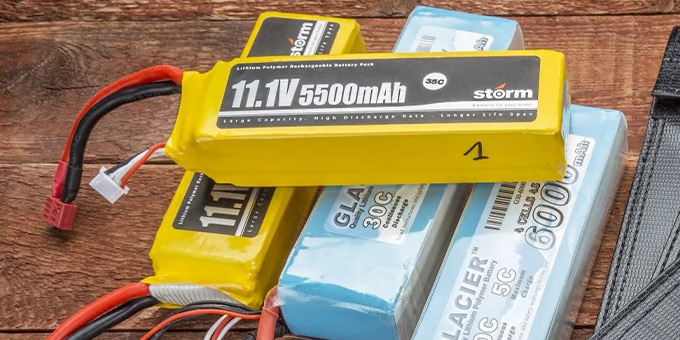 But how to discharge a lipo battery, that is the question. It might seem a little intimidating, but it is easier than baking a cake.
We are going to show you a few methods of discharging your lipo battery in this article.
How to Discharge a Lipo Battery Using a Smart Discharger and Some DIY at Home
With great power comes great responsibility. Quotes apart, you do need to be responsible when it comes to your lipo battery. You cannot simply stick a fork in them to discharge. As tempting as it may sound, the hazards are overwhelming.
The most efficient way to discharge your lipo batteries would be a smart charger. If you don't have one, it is time to get one. Especially if you have a few lipo battery devices. 
But there are also other ways you can discharge your lipo batteries. Here are some of the ways you can discharge your lipo batteries in a safe and efficient manner.
Smart discharger.
Light bulb discharger.
Resistor discharger.
Reverse the charging method using your charger.
Discharging Your Lipo Battery Using a Smart Discharger
Getting a smart discharger for your lipo battery would be the best thing to do. As you should never let your lipo battery go under a certain volt of charge, using a smart charger you can monitor that.
With the preset, your lipo battery will discharge to its certain limit and then stop. You won't even have to monitor it constantly. Everything is done by the discharger itself. So more time for yourself working on your next project.
DIY Light Bulb Discharger for Your Lipo Battery
You can also opt for a homemade light bulb discharger. This can be found in the stores and uses 12V halogen bulbs. 
Depending on your need, you can go from 2 to 6 light bulbs. So if you have a bigger battery, more lights will be required. And it is even faster than any DIY homemade solutions. 
One thing you have to keep in mind is that it is not a regulated discharger. So you have to keep watch on your battery's voltage. If you miss your watch, you will end up with a dead lipo battery.
Homemade Resistor Discharger to Discharge Your Lipo Battery
If you are the person who wants to be on the safe side of things, then getting a resistor discharger would be best for you. It doesn't cost much, and the discharge rate is also slower than any other discharger.
This method only requires a few resistors, wires, and a plug-in socket. And you have your discharge. Plug it into your battery and leave it to do its thing. 
As it has a slow discharge rate, there is a very low chance of your battery falling dead fast. And it doesn't accumulate much heat or cause the battery to heat for its low resistance. So let your DIY technique go crazy on this one.
Using the Reverse Charging Method to Discharge Your Lipo Battery
This one is more than having fun with your lipo batteries. If you have a lipo battery charger, you can plug it into the charger as a power source to charge your other lipo batteries. 
Yes! Why let all the power go to waste! Instead, put them into other batteries. It's like a new scientific revolution. 
Simply plug your lipo battery on the source of power side and plug the other lipo batteries you want to charge on the other end. You will have your charge reversed to the battery and it won't be a waste at all.
In the meantime, you will have the lipo batteries out of charge emptied. A fun thing to do.
Frequently Asked Questions
How do I discharge a LiPo battery disposal?
You can use a smart discharger or reverse charge your lipo battery to discharge them for disposal. There is even a saltwater method that requires your battery to be in a saltwater container for a week or two to be fully discharged. It is a good method, but time-consuming and also a hazardous thing if you forget about it. Rather use a discharger of any sort to make it easier on yourself.
What is the fastest way to discharge a LiPo battery?
The fastest way to discharge your Lipo battery is using either a discharger or a bulb discharger. These two methods are efficient, safe, and don't compromise your battery. Other methods include a saltwater dipping which takes longer than any other method and it is for disposal purposes only. Other than that you can also use the reverse charging method to fast drain your lipo battery.
Do LiPo batteries need to be discharged?
Lipo batteries don't have a memory effect like NiCD or NiMH batteries. But if you need to store them and will be unused for a long time, you do need to bring them to a minimum charge. Otherwise, they will have internal cell damage. Hence, you need to discharge your lipo batteries.
Conclusion
Lipo batteries are like any other power source out there. They are made of chemical compounds but are more rugged than lithium-ion batteries. As they use gel-like substances as their electrolyte, they tend to last longer than a wet cell battery. But it is after all a battery. So stabbing or breaking them for disposal isn't a good idea. This ends up in an explosion and possible fire. Instead, go the proper way of discharging them and then dispose of them or store them.