With the advancement of technology and devices, charging units have also evolved. As most of today's daily necessary equipment requires a big amount of electricity, it is always a good practice to keep an inverter charger handy. Especially if you have a marine vehicle or an RV.
As you have noticed most mid-size boats come with a lot of electrical accessories like a flat-screen tv, power outlets, and a makeshift kitchen, they need a good amount of power to backup them. And having a refrigerator and an air conditioner system is a cherry on top of that. This also goes for the RV owners.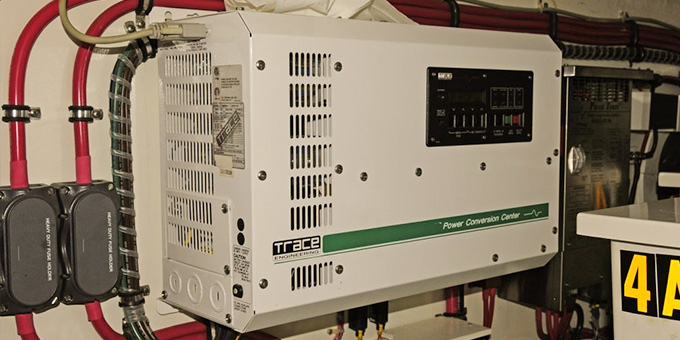 To make your power consumption as simple and easy as it could be, we have come up with the best marine inverter chargers on the market. You will find they are different in size and power output. So you get to choose the right one for yourself depending on your devices and accessories.
5 Best Marine Inverter Chargers for Rvs, Marine Vehicles, and Other Power Stations
Here are the best marine inverters that you can choose from and stay away from. We have gone through their details and come up with the best of them.
1. Rally Marine Grade 400W Power Inverter with USB Charging Port and Map Light (7637)
Looking for an efficient solution to your boat's power supply, check out this Rally Marine Grade 400W Power Inverter. It is not only powerful but also comes with a lot of safety measures that will ensure your boat's well-being on the water.
The inverter can supply continuous power output of 400W. Not good enough? At its peak, it can give out 800W of power. That's more than enough for a good size boat with a lot of accessories.
So turn on the flat screen and start playing some games, or do some work on your computer. With this inverter as your power controller, there is no saying no to anything.
It is mountable in any position you want. As it is a small unit, it fits perfectly on your boat's congested walls. Fitting depends on one vehicle to another. So you can do your own customization yourself. It's that easy.
The inverter comes with two 120V outputs. So you get to hook up to several accessories without the worry of falling short in power. In addition, there is also a 12V outlet if you are looking for more power.
To make things more convenient for modern-day usage, there are two USB ports that each give out 5V of power output. So you can charge your phones and other small devices. How cool is that!
There is overload and thermal protection built in the inverter. If it senses any faults or odd behavior, it will shut down itself without bringing any damage to your accessories.
It comes with DC cords and battery clips for quick installation. And with a 2-year limited-time warranty from the manufacturer. So if there is any problem, you get to contact them and get a new device right away.
Pros:
Good marine inverter charger.
Works efficiently.
The warranty is sufficient and the manufacturer is cooperative.
Cons:
Some units don't last as long due to faulty installation. 
2. Bennett Marine Go Power! GP-IC-3000-12-PKG IC Series Inverter Charger – 3000W
We are moving on to something more powerful now. If you have an accessory heavy vessel, then you will love the Bennett Marine Go Power! GP-IC-3000. Is it an inverter? Charger? Maybe more.
This marine inverter charger comes in a 3-in-1 package. It works as an inverter, charger, and charger transferor. So installing all of those separately is not an option anymore. Those days are gone. You get to have everything in this one marine inverter charger. This not only saves up space but also simplifies the wiring confusion.
It delivers 3000W of power at once. Which is huge for a converter of its size. While other inverter chargers offer only 30A transfer switches, that too single, this one offers two 50 A transfer options. So you get more power whenever you need it.
In addition, the marine inverter comes with a 25-inch cable. Which is capable of temperature monitoring. It automatically adjusts the power flow depending on the sensor and atmosphere. A truly intelligent charger for the intelligent era.
Also, you get an LCD that shows you the statistics and numbers of the charging status and supply. With the provided remote, you get it with a voltmeter to make sure everything is working properly.
Pros:
Powerful marine inverter charger.
Enough power supply to power up a big size boat.
LCD monitor for better information.
Cons:
A bit on the expensive side.
3. Xantrex Freedom 806-1840 HF 1800 Inverter/Charger
Thinking of something in a budget-friendly manner? We got you covered. The Xantrex Freedom 806-1840 HF gives out power, and works as a powerful inverter and charger that doesn't squeeze up all your money.
The Freedom HF 1800 gives out 1800W of power with a 30 A charger. Now, that's a powerful charging unit you want in your sailing vessel. It can not only power up your boat but also charge and maintain your battery in a very tech-friendly manner.
It comes with a temperature control feature that allows you to charge your batteries neatly and safely. It automatically detects the atmosphere and battery's temperature and provides the right amount of current that is needed. So you don't have to worry about it overheating the batteries or boiling the acid in it.
When you are in battery mode, if you want to turn on the inverter, it will not only provide you with power but also charge the batteries. A much-wanted feature for any marine vehicle or RV. 
The charger can give you enough power to power up all your electronic accessories like the flat-screen TV, computer, navigations, lights, and more.
Hooking up is easy as cake. You can either use the terminal strips or connect AC through the GFCI receptacles. It's that simple. Also, you get unhookable cables for instant disconnection.
You get to view all the system status from the removable digital display provided with the inverter charger.
Pros:
Works perfectly.
Powerful and efficient.
Comes with a lot of protections.
The digital display is a plus.
Cons:
Sometimes stops working when the voltage falls down under 115V.
4. AIMS Power PICOGLF30W12V120VR 3000 Watt and 9000 Watt Surge 12VDC Input to 120VAC Output Pure Sine Inverter Charger Backup Power
Something powerful yet under the budget-breaking radar? The AIMS Power PICOGLF30W12V120VR inverter charger has its name written all over it. This will not only power your vehicle up but also keep all the accessories running efficiently.
The AIMS Power inverter and charger give out 3000W of power continuously. And in the surge, it gives out a powerful 9000W of power for 20 seconds. This is great if you have heavy devices like air conditioning, microwave, and cooking aids.
It comes with an auto transfer switch that goes from battery to inverter and to shore connection. So no worries about connecting it every time you want to transfer to any of those options.
This inverter works in lead-acid, Gel, AGM, LiFePO4 batteries, and more. Check the compatibility with your battery before you go for it.
In terms of connection, you can use both the GFCI outlet and the AC direct terminal block. Talk about easy installation to this inverter! With only one set of cables, you can connect with your batteries and system.
There are loads of protections like over-voltage, overcharge, overload, low power, and over current. Whatever the problem is, the inverter will shut down itself to save all your electrical components.
You can also get a remote which is optional with this inverter charger.
Although it gives out a good amount of power, the build quality is a little bit on the downside. So if you have a big power system, this won't be an ideal selection.
Pros:
A good amount of power supply.
Easy installation.
Supports 8 types of batteries.
Cons:
Build quality is not up to mark at some point.
Warranty is a big hassle with both the manufacturer and dealer.
5. ProMariner 02012 True Power 2000PS Inverter/Charger – 2,000 Watt True Sine Wave Inverter with 12 Volt, 70 Amp Battery Charger
We are ending with one of the best marine inverter chargers out on the market. The ProMariner 02012 True Power 2000PS comes highly recommended by people who are frequent with their boats, RVs, and other outdoor vehicles.
This inverter charger gives out a whopping 2000W of charge, continuously. Which is enough power to run your refrigerator, air-conditioning, and oven at the same. Although the refrigerator or air conditioner does the whole startup sequence every now and then, with this charger and inverter, you won't feel a thing.
It works great in providing power even if you are on a shoreline. The inverter will charge your batteries and provide you with power at the same time. No-fuss or falling down on doing what it does best.
As it is fully automatic, you have very little to do. It automatically does the charging calculation and temperature control by itself. And provides your battery with the right amount of power when it is needed.
In addition, it comes with different safety features like short circuits, low voltage, high voltage, over current, overload, and so on.
You get to know all the status from the LED indicators with this inverter charger. No LCD or digital display this time. But that doesn't keep it from being one of the best chargers out there.
One thing to remember is that, when you are not using it, unplug the power line. Although it doesn't malfunction, who needs to experience something like that.
Pros:
Amazing charger and inverter.
Supplies power as advertised.
Solid build quality.
Long-lasting.
Cons:
Frequently Asked Questions
How many batteries can be connected to a marine inverter charger?
It is suggested that you shouldn't connect more than 12 times the charging capacity of the inverter.
How much battery will it drain if I connect an inverter with my battery?
An inverter connected to your battery without anything running will drain 1A per hour.
How long will my inverter battery last?
An inverter battery lasts somewhere between 5-10 hours depending on the use.
Why does my inverter battery drain fast?
Using too many devices at the same time can drain your inverter battery faster than expected.
Conclusion
Getting a marine inverter charger is no funny business. Without the right one, you might end up without power or worse a malfunction. That could lead to a fire or being stranded. So you have to choose the right marine inverter charger depending on your setup.
Our suggestion would be the Bennett Marine Go Power! GP-IC-3000 if you are not on a budget. And for everyone who is looking for a good inverter that won't break your savings, then ProMariner 02012 True Power 2000PS would be a great choice. Both of them will give you the right amount of power according to your need without letting you get stranded in the middle of nowhere.