Throughout our daily lives, we come into contact with many types of batteries. As we need power in various dimensions, we require various batteries. What kind of chargers are needed for those batteries? You might be surprised to know that your car's batteries are regularly recharged on a quick charger.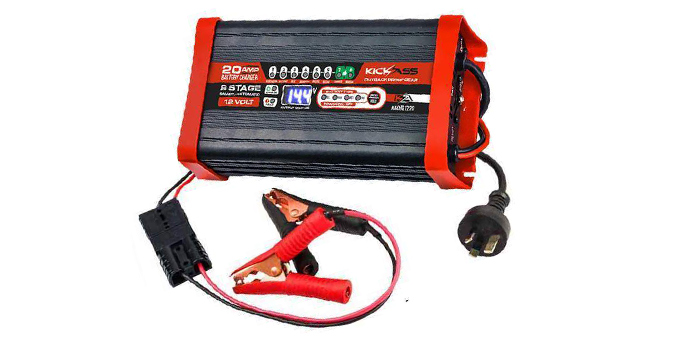 However, hold on! Did you hear that a quick charger reduces the battery life of your phone? In the same way, do they drain your car's battery?
When we want a large amount of power within a short period of time, we use a regular battery. On the other hand, when we demand small-scale power for the long term, then we have to use a deep cycle battery. 
Although the batteries are different, the chemistry and reaction are the same. Both are lead-acid batteries. There are, however, some fundamental differences between them and their chargers.
What is a Deep Cycle Battery?
Before we move into the discussion of deep cycle battery charger vs regular, we should take a fair look at the deep cycle battery first. A deep cycle battery is a lead-acid battery that has an ultra-power discharge capacity. It is suitable to provide power for a longer period. 
Batteries vary in size from minuscule to enormous, but their capacity defines their dimensions and value. For the same reasons, automotive batteries are usually bulky and expensive.
Deep cycle batteries fall into the lead-acid category as they are able to be deeply discharged frequently without sacrificing capacity. The ideal Depth of Discharge (DOD) rate for deep charging models is 50%, and the maximum is 80%.
Nowadays, lithium-ion batteries are available in smaller sizes and for higher prices, with the same deep discharging capability.
Basically deep cycle batteries are made of deep plates that allow them to discharge slowly. So, where continuous power is needed, a deep cycle battery can be a better solution. In golf carts, medical equipment, and many security components, a deep cycle battery can be used. 
Comparison Between the Deep Cycle Battery Charger and Regular
So, many of us face trouble differentiating between the two types of batteries. We are here to make it easy for you. 
Shape And Size
When we are talking about a battery, one of the primary concerns is the size. In this regard, the deep cycle battery has a larger size than the regular battery. But the question is, why? 
The answer remains in its function. As the deep cycle battery provides an extreme discharge capacity, it is made of a thicker layer than the regular battery.
Generally, regular batteries and chargers are lighter and smaller than deep cycle battery chargers. 
The Charging Time
When thinking about a charger, the main question is, how fast does it charge? For those with more time and forbearance, a deep cycle battery charger might be the better choice. Because it takes a long time for it to recharge. 
In contrast, regular chargers use fast charging technology, meaning they can charge your battery within a short time. Keep in mind, though, that a deep cycle battery will provide you with a longer use time than a regular one. 
The Discharge Function 
It is an essential factor for battery life. Usually, a car engine needs massive power to start and after starting, it takes power steadily to operate the whole function. Deep Cycle battery has a power of discharge and it can be discharged up to 80%. But this can drain the battery life. 
On the other hand, a regular battery doesn't have such a capability of discharge. 
Maintenance Stage
A deep cycle battery charger provides a special maintenance stage which gives extra security and safety for the battery life. 
On the other end, a regular charger doesn't contain any maintenance stage, it is operated by an automatic system. When the battery has been fully charged, the regular charger does stop charging automatically. This is beneficial and comfortable for users.
Heat and Temperature 
Without any doubt, heat is the main enemy of a battery. In this regard, regular chargers have some issues. During charging, a regular charger produces a lot of heat due to the fast charging technology. So, after charging, you have to cool off the battery before using it. It is an extra hassle for the users. 
On the other hand, the deep cycle battery charger charges a battery steadily and it has no heating issues during charging. You don't have to wait for a cooling-off after charging. 
The Matter of Overcharging
As the regular charger has an automatic charging system, it can't be overcharged. So, you don't have to be anxious about charging time. After being fully charged, it automatically stops charging. 
On the other hand, the deep cycle battery charger has a manual operating system. So, you have to be conscious and careful about charging time. If you don't remove the charger after full charging, it can be overcharged. And it is harmful to the battery. 
The Difference in Price
In terms of price tag, the regular charger is more affordable for you. The deep cycle charger is quite expensive since it consists of modern technology and durable construction. 
Frequently Asked Questions (FAQs)
How Long Does It Take for a Deep Cycle Battery to Fully Charge?
It depends and varies according to the total discharge rate and voltage of the charger. Therefore, this question doesn't have an obvious answer.
Is There Any Problem With the Full Discharge of a Deep Cycle Battery?
Usually, a deep cycle battery has a discharge capacity of 50%. Full discharge can be harmful to battery life. 
Final Words
In a nutshell, with a regular charger, you get fast charging, with a deep cycle charger you get a controlled power supply. Consequently, you must make decisions based on your necessity and priority of charging.