NiMH stands for Nickel-Metal Hybrid. People have a great deal of enthusiasm for this type of rechargeable battery. It serves as a replacement for alkaline batteries. 
There are many uses for Alkaline batteries in our modern lives. Unfortunately, these types of batteries can't be recharged. Consequently, a similar-sized rechargeable battery was badly needed for economic reasons and environmental safety. As a result, NiMH batteries have come as a savior.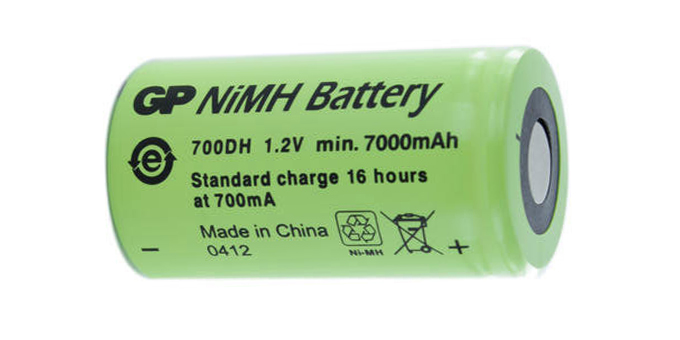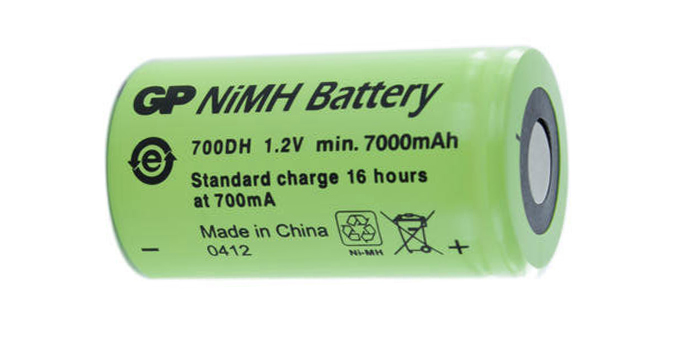 Construction and Function of a NiMH Battery 
Like any other battery, it has an anode, a cathode, and an electrolyte. In this regard, metal hydride acts as an anode, and nickel hydroxide acts as a cathode. And potassium hydroxide performs as an electrolyte.
Yes, it's just like the well-known Nickel-cadmium battery, but in this anode, we use Nickel hydroxide contrary to cadmium. What if we told you that the NiMH battery performs three times better than the NiCd battery for this very little change? 
How Does NiMH Battery Work?
The NiMH battery works on the theory of the hydrogen transport system. The transportation occurs between the anode and cathode. The electrolyte and the separator also help in this cycle. 
It is a battery of 1.2 volts which has 66% charging efficiency. Therefore, the battery can operate at a low voltage and provide a large amount of power. As it functions by hydrogen transportation, it has lower internal resistance and very small system loss.
Advantages of the NiMH Battery 
People are attracted to this battery due to its numerous unique features. A straightforward set-up system is also a reason behind the acceptance. Here are some of its advantages: 
High Capacity of Power
It can provide a continuous power supply to your device. NiMH batteries are suitable for devices requiring a large amount of power with a short voltage. Although it provides less power than the lithium-ion battery, it provides more than others. 
Safe and Secure to Use
Human safety is a major concern for a battery. NiMH is probably the safest battery in the world, resistant to short circuits and burning. 
Eco-Friendly and Safe for Health
Because batteries contain many chemical products, they always pose a safety risk to our environment, as well as our health. But NiMH has fewer toxins in the building materials so that it is safe for our environment. After usage, it can be recycled as well. 
Wide Range of Tolerance
It can condone overcharge. In low voltage, overcharging for a limited time won't harm this battery. It is also protected against problems with over-discharge. This resistance makes the battery more durable.
Disadvantages of the NiMH Battery 
Some pitfalls remain in NiMH batteries that you have to know.
Huge Discharge Can Be Harmful
However, a little discharge can't be harmful to NiMH batteries but a deep discharge can decrease its power capacity and can decline its performance. 
High Maintenance Is Required
It is not easy and simple like a NiCad battery or alkaline battery. To get better performance, NiMH needs high maintenance. 
Expensive than Others 
This is another bottle-neck of the NiMH battery. It is more expensive than other batteries available on the market. Although, lithium batteries are more expensive than NiMH batteries. 
Application of NiMH Battery
NiMH batteries are suitable for high-power consuming devices like flashlights, digital cameras, toy gadgets, etc. 
When you use a digital camera or an LCD flashlight, you need a large portion of power in every shot. NiMH batteries are able to deliver continuous power, while other batteries cannot. 
If you use an alkaline battery in those high-power-consuming gadgets, you perhaps need to buy batteries again and again. But, the rechargeable NiMH battery is here with power, comfort, and durability.
But NiMH batteries have a significant self-discharge rate. It loses all of the charges within 90 days. So, for use in your security alarms, TV remote, or smoke alarm, NiMH batteries are not a good choice.
Charging Information of the NiMH Battery 
As with a rechargeable battery, you have to be careful when charging it. In the market, you can find various types of chargers for the battery. However, you should choose a secure charger for the battery. Don't forget, often ultra-fast charging can shorten your battery life. 
Frequently Asked Questions (FAQs)
What Is the Life Duration of a Nimh Battery?
It depends. But, in general, a NiMH battery can be recharged over 100 times or more. So, it's totally up to your use. Usually, a NiMH battery can have a maximum of 5 years lifetime. 
What Is the Easy Way to Charge Your Nimh Battery?
There is no easy way to charge your NiMH battery. Or there isn't any special charger to charge it. You have to charge it by using the specific charging process.
Is It Possible to Detonate a Nimh Battery?
Well, the NiMH battery is made by following very secure and safe guidelines. So, exploitation or leakage issues are very rare. But theoretically, yes, it is possible. A NiMH battery can be denoted.
Final Words
Finally, in the first few days, NiMH batteries may have some issues like slow charging, and it is completely normal. Once you have used the battery for a few days, the issues should resolve themselves.