In order to run an electronic device, you need a power supply. It is a no-brainer, electronic devices require energy to operate. 
However, an electronic device requires either direct electricity or stored energy such as a battery as its power source. That's why batteries are so crucial to the electronic industry.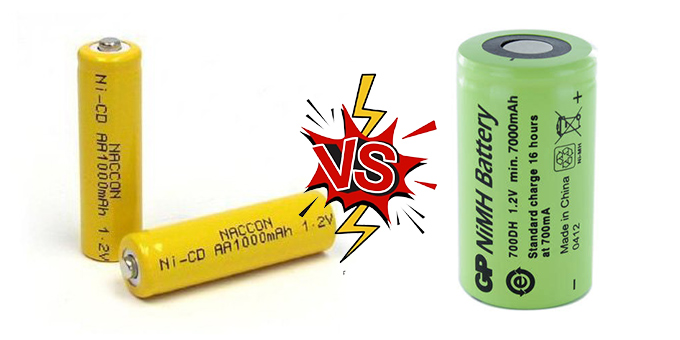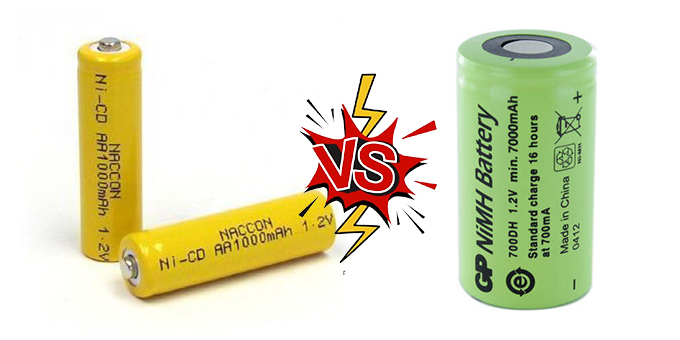 The battery sectors, moreover, are experiencing continuous technological advancement. Compared to the previous batteries, the new ones offer higher performance with more safety. 
Though it is true, every battery has both positive and negative sides when we consider all the related things together. In order to assist you with this issue, we'll compare NiCd vs NiMH batteries today and help clear up any confusion regarding these two rechargeable batteries.
What Is A NiCd Battery?
Nickel-Cadmium batteries are also known as NiCd batteries. It is interesting to note that these rechargeable batteries have "memory effects" on the inside. Unfortunately, this is not a good thing. Because of its memory effect, the battery remembers the recharging point every time. As a result, your battery's voltage will drop whenever it reaches that particular point. 
It is, therefore, necessary to know a basic formula in order to avoid any unnecessary battery loss. When you buy a battery for the first time, you should fully discharge it. After that, recharge the dead battery for the first time so that it recognizes the range as the recharging point. Once the battery has been fully charged, remove it and the memory effect of the battery will retain this entire cycle of charge. 
And only after the battery runs out, try to recharge it. Using this method, the NiCd battery can produce the maximum output. Using NiCd batteries properly can result in up to 1000 recharge cycles without the battery losing capacity.
Generally, NiCd batteries are cheap compared to other similar batteries like NiMH batteries. And, many people find its memory effect useful for their desired tasks. Even though this type of battery is among the oldest, it is still widely used today. If you properly understand the memory effect mechanism, you may get a very long life cycle from the nickel-cadmium battery.
Features of the Nickel-Cadmium Battery (NiCd)
Life Cycle
As you may already know, the life cycle of a battery is determined by a variety of factors. However, the most important thing is to consider the recharge cycles and usability. Usually, you will get a long battery life from a NiCd battery after proper utilization of the memory effect. And, long battery life means you don't need to recharge it very often. As a result, you will get more time to finish the estimated recharge cycles. Thus, the overall lifetime of the battery will be highly improved.
Temperature Resistance
NiCd batteries are more resistant to extreme weather conditions than NiMH batteries. Simply, NiCd can take higher temperatures in the cells and cannot be damaged easily. Furthermore, NiMH batteries cannot work properly in extreme cold, but NiCd batteries do.
Performance
In case your device has a high energy consumption, you need a powerful battery. The NiCd battery is a good choice. It has no difficulty handling highly powered devices. Besides, you will get the full output also when the battery has very low power. Battery chemicals can, however, be very harmful if they leak into the outside atmosphere.
The Nickel-Cadmium battery is therefore not suitable for simple, low-powered, and regularly used devices. Rather, you should keep this battery separate from the NiMH battery for heavy use.
Recharge and Discharge
When you look into the recharge and discharge sections, the NiCd battery is fast in both categories. Why does it happen? Because, the memory effect identifies the recharging point on the first recharge and after that, it can recharge very fast by memorizing these points. And, it stops charging fast after reaching the last point. 
On the other side, in the discharge section, the NiCd battery loses its power comparatively faster because of its heavy use. By their very nature, Nickel-Cadmium batteries discharge at a very high rate and are not suitable for simple devices.
What Is A NiMH Battery?
In contrast to NiCd, NiMH refers to Nickel Metal Hydride, which is a very different chemical setup. Actually, the NiMH rechargeable batteries have a higher energy density than the NiCd batteries. Unluckily, this energy density reduces the cycle life of the battery. However, the NiMH chemical setup does not contain any toxic metal that can harm the environment and health directly. 
Please keep in mind that the NiMH was made after the NiCd. Thus, the new NiMH will be clearly superior to its predecessor. Though we have seen the NiCd batteries used in mobile and laptop devices a long ago, now the use of those batteries in these devices has faded away. These days, it is very common to see NiMH batteries inside these devices.
You already know that the NiMH batteries came after the NiCd batteries. Honestly, the NiMH battery is an improved version of the NiCd battery. Plus, NiMH batteries have a very low memory effect and a higher capacity than NiCd batteries. As a comparison, these batteries are significantly more expensive than NiCd batteries. Nevertheless, NiMH batteries offer many additional benefits for their higher price.
Features of the NiMH Battery
Memory Effect
The NiMH batteries have the least memory effect in comparison to the NiCd batteries. Though the NiMH battery is vastly improved, you should recharge it with a balanced routine. If you don't follow a regularly maintained charging cycle, the NiMH will start to lose its capacity slowly. You can still conserve your battery capacity by taking a little extra care.
Battery Capacity
There is no match between the NiMH battery and the NiCd battery for battery capacity. It is usual that the NiMH battery has twice or almost thrice the capacity of the NiCd battery. This happens only because of the energy density of the NiMH battery. In that case, you will get a much better battery backup from a same-sized NiMH battery.
Recharge and Discharge
Both the NiMH and the NiCd are quite similar in these sections. However, the NiMH battery recharges faster than discharging. Due to its better recharge versus discharge ratio, a NiMH battery is always a better battery option than a NiCd battery.
Effect On The Environment
You've already seen that NiCd batteries are not good for the environment because of having toxic and dangerous chemicals. In contrast to that state, NiMH batteries don't contain any toxic materials that could damage the environment in such a manner. So, the NiMh battery is always considered more environment-friendly than the NiCd battery.
Maintenance
Proper storing and maintenance are mandatory for having a long-lasting NiMH battery. If you want a longer life cycle from the NiMH battery, you need to take care of the battery properly. To get the best output, you should keep the battery in a safe and dry place. And, don't use this battery at very high or low temperatures.
Conclusion
Last but not least, after considering all these factors, we are very certain that knowing the differences between NiCd and NiMH rechargeable batteries will be of great help to you. 
Honestly, when it comes to generation, version, capacity, and many other factors, the NiMH battery clearly beats the NiCd battery.
Despite this, the NiCd is still a good option for heavy use. Therefore, you can choose the NiCd battery if you are constantly using tools or heavy devices. Otherwise, we recommend NiMH over NiCd batteries.