A rechargeable battery eliminates the hassle of buying batteries repeatedly after a single-use. As a result, most people opt for rechargeable batteries in the long run. However, do all companies provide the same quality? Having shortened the list, we have selected Duracell and Energizer as the two most popular brands. In this guide, we will compare Duracell vs Energizer rechargeable batteries from every possible angle.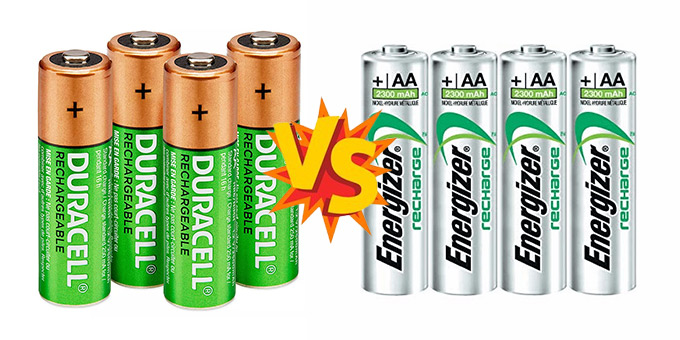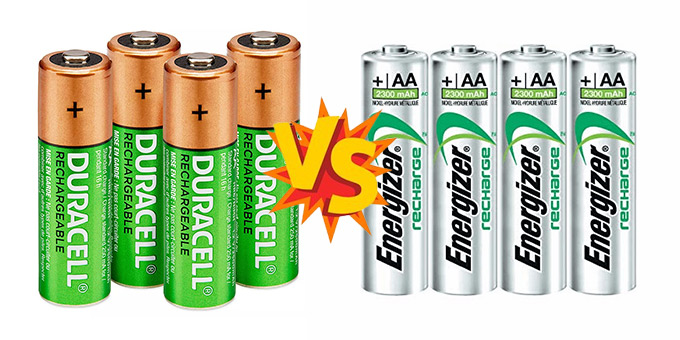 What Is A Rechargeable Battery?
Primarily, a rechargeable battery means such a type of battery that can be recharged repeatedly for further use. That means, this type of battery works as a storage of power. Usually, rechargeable batteries are also known as secondary cells or storage batteries.
Though the rechargeable batteries are fully functional, just like the single-use disposable batteries, there is no loss in power, and you can use them repeatedly for a long time. Since these batteries provide you with long-lasting service and the same quality, you need to pay more compared to the primary or disposable batteries. However, you don't need to throw the rechargeable batteries away after the first use, which can add an enormous value to such products.
Additionally, rechargeable batteries are good for the environment too. Because, you don't need to dispose of batteries very often, and there is less chance of polluting the environment. In most cases, a rechargeable battery can serve you for 500 to 2000 recharge cycles.
Difference Between Duracell And Energizer Rechargeable Battery
Both Energizer and Duracell are two market leaders in the battery industry. When talking about the quality, both companies offer durable rechargeable batteries made using excellent quality materials. If you are not sure which brand to go for, read the whole comparison to make an informed decision.
Battery Technology
Usually, Duracell features several technologies in their batteries, like Quantum, DuraLock, Ion core, etc. Here, the Quantum technology helps pack a lot of power in a compact core using the high-density booster. As a result, Duracell batteries come with more power than similar-sized batteries.
And, the DuraLock helps to preserve the power of the battery. Using this tech, a Duracell battery can last up to 10 years. To add more, the Ion Core technology increases the discharge duration of the batteries. So, you can say that the Duracell batteries come with many beneficial technologies.
On the other hand, Energizer rechargeable batteries generally come with two technologies called Power Seal and Recharge Power Plus. Specifically, Power Seal technology works similarly to Duralock, which gives the capability to hold power for up to 10 years. Plus, you can get a long-lasting capacity for every charge because of Recharge Power Plus tech. Actually, Energizer lacks here in the dense core design section.
Battery Variants
As can be seen, Energizer and Duracell are two popular rechargeable battery manufacturers. So, there is no doubt that both companies cover all the usual variants of rechargeable batteries. At the present time, they are producing batteries with the same chemistry, which are made using materials like Zinc-air, Nickel-Metal Hydride, Silver-oxide, Lithium, etc.
Not only the material, but these companies also produce the same rechargeable battery options in their product lines. So, we cannot differ them only using the number of types available. Actually, we need to compare these types for both companies.
Battery Life
If you talk about the capacity, Duracell and Energizer provide almost the same capacity for rechargeable batteries. More specifically, the examined rate for Duracell and Energizer batteries is 2000mAh and 2200mAh, respectively. However, Energizer batteries lasted less time despite having a higher mAh rate.
Approximately a standard rechargeable battery lasts for 3 hours when used in a LED battery. After testing the batteries from both companies, Energizer lasted for around 3.5 hours, whereas Duracell lasted for about 6.5 hours. So, Duracell rechargeable batteries are the doubtless winner here.
Battery Chargers
The Duracell battery chargers typically come with USB functionality and can be plugged in any place where a USB port is available. And, the charger can hold four batteries at once for charging simultaneously. So, the Duracell battery charger is a very convenient option when you have extra Duracell batteries in hand.
On the contrary, Energizer has family chargers for charging rechargeable batteries, and you can charge various types of batteries using that single charger. Ordinarily, the Energizer family charger can charge 9V and D cell rechargeable batteries using its multiple compartments.
Battery Leakage
Sometimes, leaking the acid from the battery creates a lot of mess around the house. And, when comparing between Duracell and Energizer, there are no scientific measures for such accidents with specific brands. However, some reviews report that Duracell batteries leaked acid even when they were packed inside, but that is very rare to be seen.
Final Verdict
Counting every aspect of a rechargeable battery, you see that Duracell performs a lot better than Energizer. However, Energizer rechargeable batteries also have their benefits. Most importantly, you can have a collection of different types of Energizer batteries, which can be easily charged using the same family charger.
Besides, no leakage or safety issues are reported for the Energizer batteries. So, you can consider it slightly safer than the Duracell batteries. If these things have less importance for your need, you can choose Duracell rechargeable batteries without hesitation.