In the history of cells and batteries, NiMH batteries are an evolutionary turning point. Its maintenance is a little more complex than its predecessor NiCd battery. But its environmental friendliness has made it popular.
The nickel-cadmium (NiCd) batteries are almost similar to NiMH batteries but cadmium is a toxic metal. For this, NiCd batteries are replaced by NiMH batteries in our day-to-day used electronics. Digital cameras, camcorders, pagers, CD players, electric razors, and medical equipment, among others, are powered by NiMH batteries.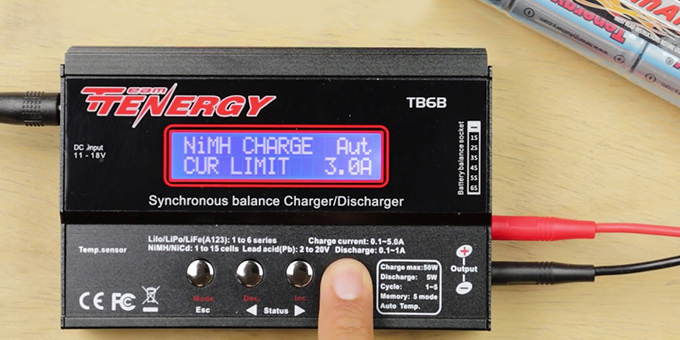 But you won't get satisfactory performance from these devices if you do not know how to charge NiMH batteries. Therefore, if you desire the longevity of your electric device, you must follow a few simple steps.
Right Way of Charging NiMH Battery
NiMH stands for nickel metal hydride. Charging these cells is complex because detecting voltage peaks is hard in these batteries. As a result, detecting full charge or discharge is next to impossible. However, knowing the percentage of charge is important when using NiMH batteries. Without the cell fully discharged you can't plug in the charger. Moreover, overcharging is also harmful to batteries. So the charger has to be specially designed for detecting different charging states. 
Smart Charger for NiMH Battery
Using a smart charger for NiMH batteries is the safest and easiest way of charging. Though you have to make sure that the charger is made for NiMH batteries. Using any other cell's smart charger won't give the best service. You need to check if the charger has a microprocessor. A microprocessor detects the battery's capacity and prevents overcharging. 
If that smart charger has a thermistor then it would be very helpful for checking the temperature of the battery while charging. Or else you can check the temperature while charging by touching the cell. A warm cell indicates its charging is complete and may be overcharging. You should stop charging then. However, most smart chargers have a thermistor in them.
Is a smart charger available in your area? If not then you can always find it online. Or you can follow some other methods for charging your NiMH battery.
Use Suitable Charger
Regardless of whether you have a smart charger, make sure that you use a charger that is suitable for the NiMH battery. By suitable, this means suitable for the battery capacity. The capacity of a battery is printed on its surface in milliamp-hours (mAH).
Though the capacity decreases with the use of the battery. It's best if you know the charger's capacity in amps rating too. Then you can divide the battery's capacity by the charger's capacity and add 10%, for knowing the time it would take to charge the cell. If you see that the charger is taking way too much or too little time to charge then you should not use that. As charging at an average speed is good for the battery.
Charge at Room Temperature
For the better use of a NiMH battery, you need to charge it at room temperature. Because charging it in any unusual environment may hamper the cell. The low and high temperature in the charging environment causes the battery to discharge and charge quickly. This may lead to some kind of explosion in the cells causing serious damage. So, to avoid any kind of accident or damage to your battery and have its long life, you should charge it at room temperature.
Check Cell Temperature
Overusing a cell or battery may cause it to become warmer than the room temperature. That's fine, but before charging you should wait until it's at room temperature. You should keep checking the battery temperature while charging. A battery at a higher temperature might have been charged and is now overcharging. In this case, you should unplug the charger.
Check on Charging Status
After plugging the battery into the charger you also need to keep on checking the charging status. The rate of charging determines the performance of the battery. The speed of charged and discharged current flow indicates your battery's charging rate. After completing the charge, unplug the charger.
Fast charging
Fast charging is helpful for those who are in a hurry, but if you aren't in a hurry then you should avoid fast charging. Research has shown that charging at a slower rate can improve battery performance and longevity. Rapid charging creates excess heat within a cell, and overheating is bad for any electronic device. Therefore, make sure you have enough time before you plug the charger into the battery.
Timer, Thermal, and NDV Detection
For making the process of charging easy you can try a few more things. Like using a timer, thermal detection, and NDV (negative delta voltage) detection. You can set the time of the NiMH battery getting charged in your timer. By doing this you won't have to check on the battery while charging. You just have to unplug the cell when the timer rings. About the same goes with the thermal detection system. Whenever the battery is detected with high heat while charging you can unplug it from the charger. As we know the NiMH battery is delicate to overheating timer and thermal detection will prevent it. 
The NDV detecting method is used in NiCd for detecting an end of current flow, which indicates the completion of the charge. Although in the case of NiMH batteries it has to detect a very small voltage drop. Therefore this detection needs to be strong. If it isn't strong enough then you can't rely on it.
Conclusion
While using a NiMH battery you'll notice that it self-discharges, if it isn't used in a few weeks. In this case, you'll need to charge it a few times before using it. Sometimes just charging the battery one time may be good. Nevertheless, it is okay if the cell needs to be charged 5-6 times to be fully functional. 
There is another charging method alongside the described methods. That is trickle charging. Usually, trickle charging at the rate of 0.05C is acceptable for NiMH cells. However, trickle charging should not be used like fast charging. Since it overheats the battery. 
Due to the delicate nature of NiMH batteries, charging them may seem difficult. Even so, you'll have an easier time if you charge the battery as described. In addition, the battery will perform well for a long time.