You might be looking for a reliable portable battery for your devices. Electronic devices have made our lives easy, and portable batteries eased their operations. And the click says you want to know what is NiMH battery end-to-end. That's great! 
The importance of the Nickel Metal Hydride (NiMH) batteries is so huge that they deserve a detailed discussion. And to provide a clear concept to enthusiasts like you, we have designed this article.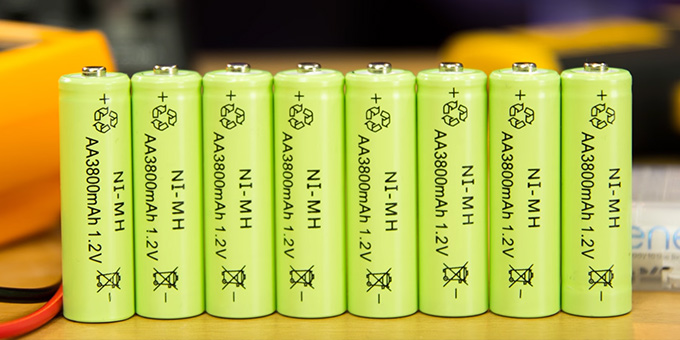 Want to get the best part? Here we go! Today we will be discussing what it means by NiMH battery entirely. So you will learn about its history, electrochemistry, charging nature, how it is different than other batteries, and many more. Okay, then it's time to move on! 
History of NiMH Battery 
Following the technology's invention in 1967, the endeavor on NiMH batteries started at the Battelle-Geneva Research Center. It was getting done on the basis of sintered Ti2Ni+TiNi+x alloys and NiOOH electrodes. The nickel-hydrogen battery became more demandable in the '70s for satellite employment. It began to get a vast market both in the capitalist block and communist block. But this bulky method of storing hydrogen was problematic.
Then researchers came up with extraordinary high-energy hybrid alloys that incorporate rare-earth metals for the negative electrode. This way, the NiMH batteries came into being. The release of maiden consumer-grade NiMH cells dates back to 1989. 
What Is NiMH Battery
The NiMH or nickel-metal hydride battery is an advanced version of the proven sealed nickel-cadmium battery technology. It includes the substitution of a hydrogen-absorbing negative electrode for the cadmium-based electrode. And the positive electrode is of nickel-oxide hydroxide, as you see in NiCd batteries. 
This substitution stamps out the concern for toxicity. At the same time, it increases the electrical capacity (measured in ampere-hours) of the battery for a given weight and volume. Also, it comprises many different inter-metallic compounds. It is one kind of rechargeable battery. 
The remainder of the nickel-metal hydride battery is identical to the nickel-cadmium product to a large extent. NiMH batteries have 2-3 times greater charge capacity. It provides you with up to 40% longer service life than standard nickel-cadmium batteries. 
Chemistry and Materials
You had better know why this type of battery has become favorable for different applications like HEV, emerging EVs, and fuel cell EVs. Well, it is because of its reliable materials. Following significant progress, prototype Ni-MH batteries of ceratin energy over 100 Wh/kg have been established, while the specific power has advanced from 150 to over 1000 W/kg. Its materials are recyclable and thereby environment-friendly. 
No products found.
However, due to the active material decomposition, you may face problems like capacity deterioration upon cycling. It may occur by alloy pulverization and corrosion as well as high self-discharge.
This rechargeable battery has a 1.5 to 2 times higher energy density than Ni-Cd. It exhibits high power capability, tolerance to overcharge or discharge, and environmental compatibility and safety. As a result, you get an apt battery for portable power tools and HEVs. 
Let us illustrate its electrochemistry by law. The negative electrode reaction happening in the NiMH cell is –
On the other hand, the positive electrode, nickel oxyhydroxide, NiO(OH), develops its formation as –
Ni(OH)2 + OH− ⇌ NiO(OH) + H2O + e−
In the negative electrode of a NiMH cell, the metal M is an intermetallic compound. The currently used compounds are of a common category named AB5. Here A is a combination of rare-earth materials, and they are –
And the B is a combination of rare-earth materials, and these are as follows- 
Nickel
Cobalt
Manganese, or
Aluminum
NiMH cells comprise an alkaline electrolyte, generally potassium hydroxide. Then how about the positive and negative electrodes? Well, the first one is nickel hydroxide, and the second one is hydrogen, and they take the form of an interstitial metal hydride.
Energy Storage of NiMH Batteries
Due to a wide range of temperatures and easy recycling, the NiMH battery is better in performance. Such a battery can reach up to 500 cycles. Generally, it features 60 to 120 Wh/kg of specific energy density.
Yet, it drains 20% of its energy in the first 24 hours of charging and 10% drainage each month. Undoubtedly, this is a drawback as it bars from being long-term energy storage! Also, overcharging will be sensitive. 
Applications
The devices we use in our daily life require a large amount of energy. We frequently use them as they have become part and parcel of our life. The NiMH batteries are nicely applicable in –
Cellular phone
Computer
Camcorder
Digital camera
Shaver
GPS unit
Transceiver
MP3 player, etc 
Apart from these, you can employ NiMH batteries in other portable devices as well. These batteries feature the same voltage value as the NiCd batteries. Therefore the devices with NiCd can adopt NiMH as their source of energy. And that's the reason we see an increasing market demand for NiMH batteries.  
A Comparison: NiMH vs Lithium-ion
Now we will be comparing this nickel-metal hybrid battery with the lithium-ion battery. It will sharpen your concept for sure. Here we go for the contrast in terms of cost, weight, power, and durability! 
Cost
You will have a NiMH battery less expensive than a lithium-ion battery presently. Chances are very high that the production of lithium-ion cells will go up, so their cost shall be more affordable. 
Power
The charging and discharging levels of the lithium-ion batteries are more than that of the NiMH batteries. However, both of them possess the same amount of power. The NiMH feature a tremendous "memory effect" which is missing in the Li-ion. Hence regarding battery capacity, the NiMH batteries are more reliable.
Weight
NiMH batteries are more weighty than Li-ion batteries. You might be wondering, but allow us to say that weight matters in hybrid cars. The reason is, the battery power needs to overcome the vehicle's inertia, and a lighter battery is more car-friendly. So in this regard, NiMH batteries are not preferable. 
Durability
NiMH batteries are more durable than Li-ion batteries. Unlike some Li-ion batteries, NiMH batteries can sustain extreme temperatures, especially in hot climates. You can rely on them wherever you live in this world.  
Advantages and Disadvantages of NiMH Rechargeable Batteries
You had better know the advantages and disadvantages of NiMH batteries concerning specific products or applications. Unless it is the apt battery composition for your application or usage, you will have to repent. 
No worries, based on long-run market research, we are going to advise you. We will uphold all the notable benefits and drawbacks of a NiMH battery. Some of them have already been discussed to some extent. Anyway, for a better understanding, please glance at them in a row!  
Advantages
A NiMH battery has a comparatively 30 – 40 % higher capacity than a standard Ni-Cd battery 
Better in terms of memory effect than the Ni-Cd 
Moneymaking for recycling 
NiMH batteries have the potential for higher energy densities
The need for periodic exercise cycles are rare 
Hassle-free storage and transportation
Eco-friendly as a NiMH battery contains only mild toxins 
Disadvantages 
The performance begins to fall after 200 – 300 cycles. It cannot endure repeated deep cycles, especially at high load currents. As a result, you will have to remain satisfied with a short life span.
Despite being capable of delivering high discharge currents, repeated discharges with high load currents shall lessen its life span. 
You can only expect to have the best outcome with load currents of 0.2C to 0.5C. That means the battery needs to carry on one-fifth to one-half of the rated capacity. 
A NiMH battery produces more heat. Also, it requires a long charging time. Particularly, the trickle charge is critical, and its control is quite challenging. So these batteries are still in need of a more complex charge algorithm.
Here the self-discharge is high. NiMH batteries have around 50 percent higher self-discharge compared to the Ni-Cd! You may embrace new chemical additives for betterment, but you will have to compromise energy density n that case.
You are bound to store these batteries in a cool place and at a state-of-charge of about 40 %. It is another limitation.
NiMH batteries are also in need of regular full discharge. It helps them resist crystalline formation. Thus, it requires you to ensure high maintenance.
A NiMH battery is approximately 20 % more expensive than Ni-Cd. It needs a high current draw that is costly. 
To Wrap Up
The earlier NiMH battery systems suffer from a high expenditure. However, manufacturers have found it cost-effective. Despite having some limitations, NiMH batteries are now highly beneficial for our modern life. Anyway, now you know what is NiMH battery thoroughly, we think. This post will help you in the long run.