If you are thinking, why couldn't we replace a lithium-ion battery with a supercapacitor, then you are in the right place. 
Supercapacitors, as the name implies, are not just mere capacitors. They have the ability to capacitance and store power in them at the same time. Which makes them an ideal part of any rechargeable device. 
Lithium-ion batteries on the other hand are just power storage. They store power for a very long time without losing any and deliver at a constant flow.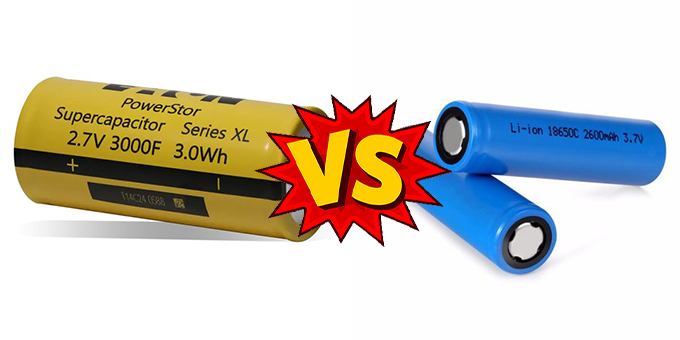 Although they sound almost similar to one another, they are very much different. 
That is why we are going to go one-on-one at supercapacitor vs lithium ion battery in this article. 
Supercapacitor vs Lithium-Ion Battery Comparison 
We are going to start with a table of what features a supercapacitor and lithium-ion battery excels and falls short in. This way you will be able to understand why they are not comparable, but two different things. 
| | | |
| --- | --- | --- |
| Feature  | Supercapacitor  | Lithium-ion battery |
| Accumulated Energy Efficiency  | low | high |
| Continuous Power Supply | high | low |
| Resistance  | Low  | High  |
| Lifetime  | Long  | Short  |
| Discharge rate  | Linear discharge or faster | Long  |
| Charging speed | Fast  | Slow |
| Working temperature | -40 to 85C | -20 to 60C |
Energy is the main thing in any power output device. While a Lithium-ion battery can store that energy from its positive to negative end, the supercapacitor uses its carbon-coated structure to hold them individually. As they don't have a chemical base reaction inside of them like a battery, they don't tend to have the same energy as a Lithium-ion battery. 
But when it comes to a continuous power supply, the supercapacitor pushes the lithium-ion battery aside. As there is no need for a chemical reaction to happen to produce the energy, rather the electrodes themselves provide everything that is already in store, and the supercapacitor can run far longer than a battery. 
Lifetime is another case where a supercapacitor outperforms the lithium-ion battery. While the battery relies on its recharge and discharge cycle, it falls short in the long run. But the supercapacitor capacitor has no trouble running for over a million cycles. A Lithium battery has roughly 5000-10000 cycles. 
As modern techs require a faster boost in charging, the supercapacitor does it justice. It can be charged over a thousand times faster than a Lithium-ion battery. As there is nothing to heat up the internal structure of a supercapacitor, this makes it an easy job for it. No wonder they are used in laptops, and small home appliances like toothbrushes, screwdrivers, and drill chargers. 
Modern Application of Supercapacitors
Hybrid Vehicles 
Hybrid vehicles uses supercapacitors. They are not only equipped with a Lithium-ion battery but also supercapacitors that make them charge faster, run longer and keep on going. No wonder they don't lead an oil change every now and then like a fuel vehicle. Efficiency at its best
Daily Household Items, Smart Devices 
Daily household items like toothbrushes, power drills, screwdrivers, laptops, and race cars use supercapacitors in their charger. This is why even if your devices run out of juice, you can charge them rapidly to put them to use again and again.
Power Supplies 
Modern UPS systems come with super caps that allow them to charge faster whenever they are plugged in. This not only cuts down on the recharging time but also keeps the temperature of your device down to a minimum. Without a super cap, rapidly charging a battery with normal capacitors would be a nightmare. 
Frequently Asked Questions 
Can supercapacitors replace lithium-ion batteries? 
No. Supercapacitors are stronger and better than traditional capacitors in many ways. But it has a few weak points like losing its energy rapidly over time, slow output, and low resistance. A Lithium battery on the other hand can store power for a very long time without losing any of it. And whenever it is in use, it can give the full output that a device requires. 
What are the advantages of supercapacitors over batteries? 
Supercapacitors have a few advantages like longer lifespan, slow but steady power output, faster-charging speed, and so on. At the same time, they don't fluctuate their internal temperature as they have low resistance. 
Can we replace batteries with supercapacitors? 
If you have a hybrid vehicle, and it requires lithium-ion batteries, you can go for lithium-ion capacitors. Yes, they are a thing and they are a combination of the best of both worlds. Other than that, you cannot replace your batteries with a capacitor, no matter even if it is a super cap. 
Are lithium batteries supercapacitors? 
No. But there is a hybrid called lithium-ion capacitor. They come combined into one having an anode of a Lithium-ion and a cathode of the supercapacitor. 
Conclusion
By now, it is clear that a supercapacitor is a component more than a battery. And a Lithium battery is very much more reliable to store your power than a supercapacitor. But there is research still going on to bring in something like a hybrid of them both combined in a bigger form. Till then, the lithium-ion capacitor is our best option.