We use a lot of electrical devices in our daily life. The microwave, electric toothbrush, coffeemaker, the stove, washing machine, and the doorbell camera. 
Not to mention, the phone charger that we fight over our family and partners with. All of them have one thing in common, electricity.
But if you know a little science, then you will be familiar with AC and DC electric current. For devices, AC current is needed, but the flow of DC current will not only disrupt its functions, but it may also destroy it.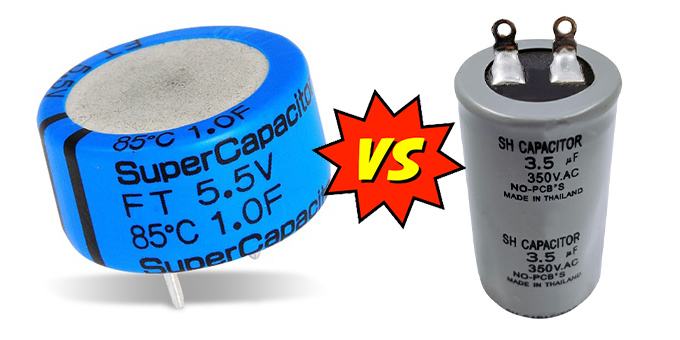 This is where a capacitor comes in. It is the barrier that stores energy from your outlet and sends out the AC current to your device. Keeping it running and safe for its lifetime.
There is also a capacitor that is called a supercapacitor, which is a bigger brother of the capacitor. So what is the main difference between them?
We are going to talk about that in our supercapacitor vs capacitor article.
Supercapacitor vs Capacitor | Which Is the Better One
If you have ever looked at an electron microscope, you should've seen the breaking down of cells and how they are broken down into each and every component. 
It is not rocket science, but a process that everything around us goes through. Like our body needs our foods protein, calories, and fat to break down to be absorbed easily, the capacitors work in the same way for electronic devices.
Without breaking down the electrical power, a device might burst into flames, or get destroyed eventually. More like getting a brain freeze every time you engulf a mouth full of slushy.
The supercapacitor and capacitor do the same thing, store electrical charge in them and give the perfect flow. At the same time ensuring the right amount of current and the right type passes through them. More like security for your device.
But why is the supercapacitor called the superman? We are going to find out.
Main Differences Between Supercapacitor and Capacitor
Although they sound similar and do the same thing, there is some key differences between a supercapacitor and a capacitor. Here are the main differences between the two.
| | | |
| --- | --- | --- |
| Feature | Supercapacitor | Capacitor |
| How they work | A Supercapacitor sits in the middle of a capacitor and a battery creating short-time power storage. It has high capacitance and low voltage rating than a capacitor but more powerful storage. | A Capacitor is a combination of just two electrodes with a dielectric in the middle creating storage that provides AC electricity to the device and keeps the DC in them. |
| Build  | Many polar capacitors use carbon coating on the electrodes and a foil interior with carbon coating as an electrolytic solution.  | Simply two metallic plates play as electrodes with a dielectric in the middle of them to create a barrier.  |
| Energy function | Capacitors stores energy in them in the form of an electric field and sends it to the circuits. | Supercapacitors not only can store electricity in their electrodes, but also in their ions of electrolyte.  |
| Working time | Normally 3-10 seconds | Supercapacitors can work even faster than a normal capacitors and can store more charge than a capacitor. The amount of charge it can store is compared to a battery. |
| Applications  | Power supply units. Different frequency power filters.Starters for motors. Surge absorbers and noise filters | fast charging devices. Camera flashes. Stabilizing power in laptops and other smart devices.UPS systems.High-end PC RAMs. |
| Variations  | Integrated capacitors.Film capacitors.tantalum | Double layered Electrostatic capacitors.Hybrid Supercapacitors.Electrochemical Pseudeocapacitors. |
| Cost  | Low  | high |
Frequently Asked Questions
Can a Supercapacitor replace the battery?
Although a supercapacitor can store as much energy as a battery, they don't have the capacity to function as one. Rather than storing energy for a long time like a battery, supercapacitors' energy starts to deplete as soon as you disconnect the device from the power source. Hence they cannot replace a battery.
Is supercapacitor and ultracapacitor the same?
Yes. Supercapacitor and ultracapacitor are the same things with different names. It is also called a super cap, double-layer capacitor, and hybrid capacitor.
What are the disadvantages of Supercapacitor?
The main disadvantage of a supercapacitor is its discharge rate. Although they can be compared with a battery for their power storing feature, they fail in storing it for a long time. While the battery can store its energy for a long period, a supercapacitor's energy starts to deplete faster after it is disconnected from the power source.
Conclusion
Both the supercapacitor and capacitor are capacitors in different values. One can store power like a battery in them and the other regulates the energy and supplies to the circuits. For their differences, they have totally different functions. You cannot go without a capacitor in an electrical circuit, but for bigger assembly, a supercapacitor is needed.