Can we imagine charging our mobile or laptop using the high voltage connections from the power plant? Of course not..!
Generally, we don't have that much time to think about how this high voltage electricity is supplying power to our small devices without any occurrence/accident. Science has made our life very easy by introducing us to AC and DC in the field of power distribution. A brief comparison between AC and DC adapters might give you a clearer concept of both types as well as core information about the working process.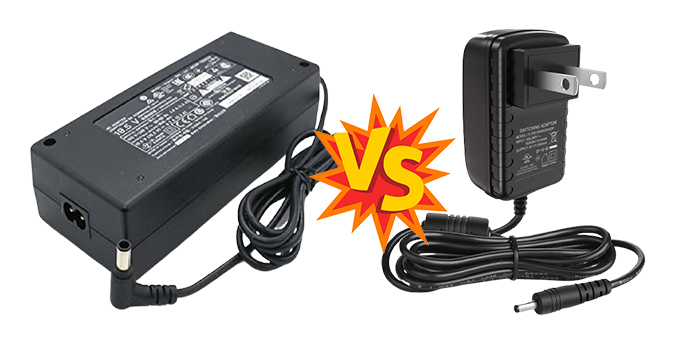 Let's learn some amazing things about these small but so many effective inventions.
What is an AC or DC Adapter?
Alternating Current (AC) power adapter is a small power supply machine that is used externally on any device that runs using a battery or has no other power sources. AC adapters are typically made with a central power processing unit where it draws power from an AC power source and converts the power into DC. The computer uses this DC power supply through a second plug connected to it. To convert one AC voltage to another, an AC adaptor is the thing you must need. Here the amount of current is measured in amperes(amp) and maximum power output at watts.
On the other hand, Direct Current (DC)  adapter does the opposite work that is converting AC power to DC power. These devices are actually made to supply the required amount of power for the concerned electrical equipment from the main source of electricity. For example, normally in US households, 120volt of electricity is available but not every piece of electrical equipment does not need that amount of power, thus using an AC/DC adapter can convert or maintain the voltage to supply electricity efficiently.
How AC and DC Adapters Work
AC Adapter
No products found.
Generally, Alternative Current(AC) is one of the electrical formats that we use continuously in our daily life. The key characteristic of  AC current is that constantly changes its direction between the positive and negative poles within the circuit board. However, a simple AC adapter is made with a central power processing unit where it draws power from an AC power source and converts the power into DC. It consists of a transformer, an electronic filter, and a rectifier. Firstly, the transformer converts the high voltage current coming from the main electrical outlet to a lower voltage of alternating current. The lower voltage must be receivable for the device being powered. Then, the rectifier changes the format of the current from AC to DC format.
Currently, the most popular adapter is Switched Mood Power Supply(SMPS). The key advantage of this adapter is that it provides DC electricity that can give more power for a particular size, cost, and weight of the adapter.
DC Adapter
No products found.
We use many devices that need DC-DC electricity to perform. It is difficult to upgrade the voltage of a DC power as DC-DC conversion is quite challenging except for the application of AC – the DC power supply formula. Firstly, DC power converts into AC power using an inverter and rectifier. After the conversion of DC to AC, the voltage limit can be changed now by the transformer. Next, electricity again enters into the rectifier to come back to the DC format after the voltage limit is changed.
Mobile phone batteries, vehicle batteries, and solar cells are some examples. These examples do not require the much supply of electricity that a DC power source normally has. Difference Between AC/DC Adapter AC and DC adapters do have some different characteristics concerning some basic topics.
| | | |
| --- | --- | --- |
| Comparison Index | Alternating Current (AC) adapter | Direct Current (DC) adapter |
| Working Process | Using the transformer and rectifier, the AC adapter changes the voltage limit of the power coming from main sources. | The inverter and rectifier play a vital role to mitigate the voltage of the power source by converting to AC and then controlling the voltage. |
| Advantages | It can be replaced if the power supply fails at a certain moment. Can be used as a battery charger.   Energy-efficient, preferable for all the devices for its constant flow of power. DisadvantagesThe user needs to carry both adapter and device. Sometimes adapter becomes costly with some specifications. | If the voltage is not limited, it can be dangerous for public use, and very expensive, structural design is complex in comparison to AC adapter.  |
| Identification | A list of the voltage and electrical current settings is inserted. (For example,120 V AC, 1.5 A, 60 Hz or 120 V ~ 1.5 A, 60 Hz) | In the case of a DC adapter, the voltage limit will be in "DC". For example, 120 V DC, 1.5 A, 60 Hz.   |
| Safety Issues | AC supply can be harmful to the circuits which are designed to receive DC power. | Similarly, DC adapters can cause excess heat damage to the equipment that is created to use an AC adapter. |
| Usage | Mostly used in devices that perform using batteries. | It is used mainly to maintain the voltage limit of the DC power supply. |
| Examples | Household connections, use of USB, etc. | Mobile and laptop charger, TV, radio, etc. |
Frequently Asked Questions
How do I know what AC adapter I need?
Normally you just match the voltage and the mAh with the connecting device. Make sure you matched the voltage output with the rated input voltage of your device. Adapter output mAh might be equal to or greater than the devices rated mAh or A.
How much is an AC adapter?
You can purchase your desired adapters for smartphones, laptops and tablets are available in the price range of $15-$80.
How do I know what size DC plug I need?
Connector size is declared in millimeters popular format is OD (Outer diameter) × ID (Inner Diameter) × L (Length of the barrel). However, these formats may be different according to different manufacturers.
Is it OK to use a higher amp adapter?
On your power supply machine, there listed a rating of amperage. So you can match the voltage limit from the list and safely use a higher amp power supply for your device.
Conclusion
Adapters are one of the day-to-day life components that we use every day. AC and DC adapters are playing a key role to smoothen our digital device experience and learning about the pros and cons as well as the working process of these power controllers is definitely worth learning. Hope you gathered some important information about these two types of adapters from this writing.
Happy learning..!!