Investing in a battery for your vehicle is like investing in a car's life. The better the battery, the better your vehicle will function. But they don't come in cheap.
One of the cheapest but great service record batteries would be the Durastart battery. It is not a popular battery like others in the market. But they come from a very known brand in the market.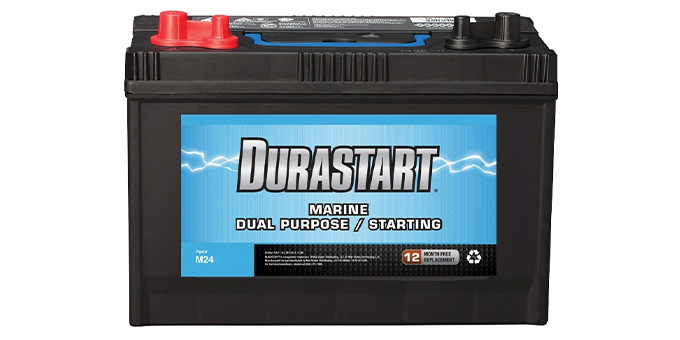 If you are thinking about buying a battery but looking for a cheaper alternative, then make sure you read this Durastart Battery Review first.
Best Durastart Battery Review for Cars, Trucks, SUVs, Boats 
Here are a few of the best Durastart batteries in the market. You will get the best for a great price comparing other options in the market.
1. DURASTART 850 CCA AUTO/TRUCK/SUV/VAN BATTERY, 65-2
Durastart batteries have been delivering power to a wide range of vehicles. Be it automotive, truck, SUV, RV, it packs enough power to run any of them. It has the fame of being durable and rugged in terms of use. They are known for being cost-effective with a good output for your vehicle.
Durastart 850 CCA 65-2 battery has a Cold Cranking amp of 850, which is really necessary for cold and winter regions. If you live in a cold area, this battery gives you the advantage of starting the engine with ease on the cold winter morning. It also comes with a Reserve Capacity of 160, which is impressive. 
It is built to endure extreme weather conditions. So you don't have to worry even if you live in a hot or tropical region. It will provide the same output as it does in a cold environment.
The Durastart 850 CCA 65-2 battery comes with a 24-month manufacturer warranty. So if you need any help or service, they are ready to deliver.
2. DURASTART 850 CCA AUTOMOTIVE BATTERY
Another one from the 65 line battery is Durastart 850 CCA Automotive Battery. This one is almost the same as the DURASTART 850 CCA AUTO/TRUCK/SUV/VAN BATTERY, 65-2, but the dimensions are a little bit different.
This battery has the same Durastart rugged build and is durable to any outside impact. So you can use it with ease in any kind of environment.
It has a CCA of 850 and an RC of 160. So you get the same service as the other Durastart batteries. Be the climate is cold or hot, you can use it without worrying about your vehicle being stalled.
You can use the battery in a lot of vehicles. Be it a car, truck, SUV, or van. Just make sure you check the dimensions correctly. Otherwise, you will end up with a returning battery with much hassle. 
3. DURA-START MARINE STARTING 12V BATTERY 525CA
This is a marine battery from Durastart. It comes with the great features of ruggedness and durability like all Durastart batteries.
It comes with a CCA of 400 Amps and a CA of 525 Amps. So it packs a great starting power. You won't get out of power in any weather condition. It will crank up your engine any time of year. 
This battery belongs to Group 24 and the manufacturer number is 24MS-3. So if you want to use it in your boat, make sure to check the dimensions first.
4. DURASTART AUTOMOTIVE BATTERY CCA 630 – 64-1
A good Durastart battery for your car can be the DURASTART AUTOMOTIVE BATTERY CCA 630 – 64-1. Because of its signature rugged build, it can be used in any terrain vehicle.
It can withstand any weather condition. Be it harsh or normal, it will give out its best.
This battery belongs to group 64 and comes as a 64-1. So check the dimensions before buying it.
It comes with a CCA of 630, which is good for a cold environment. Which is really helpful on a freezing winter morning or evening. That doesn't mean it won't function well enough in other climates. It will function the same and deliver great performance in any weather. Be it hot, cold, or tropical.
Frequently Asked Questions
Who is the manufactures/maker of Durastart batteries?
Exide makes Durastart batteries. Exide is known for its great performance. Durastart is also a great performing battery but for a cheaper price.
Do I need to water Durastart batteries?
If your battery isn't a sealed, AGM or GEL battery and has a removable top, you have to water it from time to time to keep it healthy and going. Taking care of your battery will give you a long-lasting battery with great performance.
What is the minimum warranty of a Durastart battery?
Normally for any Durastart battery, the warranty time is 24 months.
Conclusion
Durastart batteries are great in terms of service and longevity. Most of the time a battery doesn't last because of low maintenance. Although some batteries come with no maintenance, you have to check on them from time to time. It will prolong its life and you will get better output.
As Durastart comes from the makers of Exide, it will outlive any other battery. It is just a cheaper alternative. With proper care, it will last the same as any other battery out in the market.