Thinking of getting a battery that won't break your bank account? You are in the right place.
We are going to talk about Rural King batteries. One of the oldest companies in the battery business. They make a whole lot of different things like farm equipment, gardening tools, kits, so on.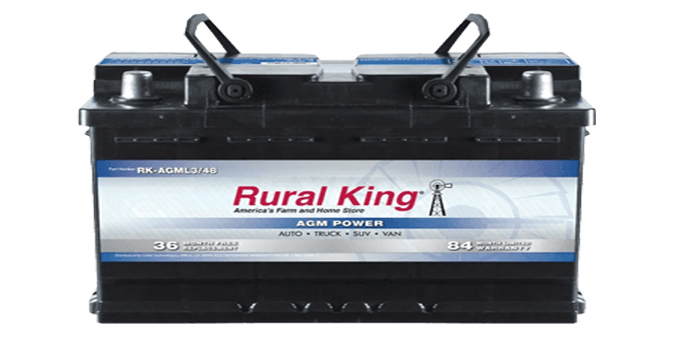 To be your car's guardian angel on a budget, you have to go through this Rural King Battery Review. You will get to know the best that they have to offer.
4 Best Rural King Battery | Solution on a Budget
Here are the best Rural King batteries you can check out. They can be inexpensive, but boy they are powerful.
1. Rural King 65-72 Automotive Battery
We are going to start with the most powerful and trustworthy Rural King battery. The Rural King 65-72 battery will give your vehicle the power it has been longing for.
The battery is a traditional lead-acid battery that is built to perform. Put it in a tractor, car, truck whatever you want, and it will power the vehicle up. It will fit any vehicle that requires a 65-72 group battery.
If you are wondering, the Cold Cranking Amp is 850A in this battery. You can go worry-free in the winter. This battery will keep on starting your engine every single day without a miss.
Also, the battery comes with enough Reserve Capacity that can power up all the electrical components in your vehicle. If you even add some extras, like a stereo or perhaps a set of extra lights, the battery will run it.
As it is made to even work in rough terrain, the battery is resistant to vibrations. So if you are thinking about putting it in any offroad vehicle, you can do that right away.
You get a 24 months of free replacement and a 72-month of limited warranty with this battery. 
2. Rural King Classic 65-60 Battery
Another great battery from Rural King would be the Rural King Classic 65-60 Battery. It is like getting great power and handling it with responsibility with this battery.
The battery will fit any 65-60 group-size required vehicles. Even though it doesn't come in the compatibility list, you can check the dimensions and amperage to check if it will work with your vehicle. And if it does, you get the green light.
Talking about light, this battery has a Cold Cranking Amp of 650A. Good enough for a normal vehicle engine to start in the winter seasons. No one wants to move mountains with a 65-60 battery.
And on top of that, it comes with the Rural Kings trusted Reserve Capacity to outperform any battery of its class. It will start your vehicle, keep the electrical components running, and even some more.
You get a 12-month free replacement and a 60-month limited warranty with is the battery. So if you are thinking country, this battery is the best it can get.
3. Rural King Classic 34-60 Battery
Rural King has something for everyone. This Rural King Classic battery will work with any group of 34-60 vehicles.
The traditional Rural King lead-acid build is present with this battery. So you get to go maintenance-free for regular use. But if you are a heavy user, we suggest you check the battery from time to time.
It comes with a Cold Cranking Amp of 630A. Impressive for a battery of its size. It will have a good amount of power to get you to where you want to go in the winter, any time.
You also get enough Reserve Capacity to run all your electrical components. So go worry-free and pop this battery under your hood. It will run all the accessories that came with your vehicle and even run the ones you will put in it. 
The battery comes with a 12-month free replacement and 60 months of limited warranty. 
4. Rural King Classic 75DT-60 Auto/Truck/SUV Battery
You can see it in the name. The battery will fit any car, truck, or SUV that requires a 75DT-60 battery.
The Rural King Classic 75DT-60 is for vehicles that require power and efficiency in the same package. So if you are looking for something like that, this would be it.
It comes with a Cold Cranking Amp of 525A and a Cranking Amp of 630. This means you get to use it in both climates. Hot or cold, this battery will perform and won't leave you stranded in the middle of the road. Regardless of the state, you are in.
The battery Reserve Capacity is a little bit on the low side. So if you don't have many extra accessories in your vehicle, then it would be fine. The RC stands at 85 minutes with this battery. So whatever you do, don't leave the lights on.
Other than that, this traditional battery requires nothing from you. Just check the battery from time to time and it will power your vehicle up every day. 
It is an ideal battery if you are on a budget. And it won't fail for its price tag.
Check this battery out from here.
Frequently Asked Questions
Does Rural King give rewards for returning used batteries?
Yes. Rural King recycles batteries and buys old batteries in return for gift cards.
Who makes Rural King batteries?
Exide Technologies LLC makes Rural King batteries. They also make batteries for United States Military.
Does Rural King make AGM batteries?
Yes. Rural King makes both flooded cell and AGM batteries.
Conclusion
Rural King has been in the market for a very long time. They produce amazing products along with batteries. And as their batteries are great performing and inexpensive, it can be your next choice. If you are on a budget and in dire need of a new battery, this is your best solution. They are reliable, efficient, and powerful at the same time.