You might not get a hero like Bruce Willis to save you all the time you are stranded on the road, but you can get something closer to that. 
If you don't want to get stranded in the middle of the road, or don't want your off-road vehicle falling short with power, or camping get messed up with low power battery backup, we suggest you get a Diehard battery. It is like a Christmas present but for your vehicle.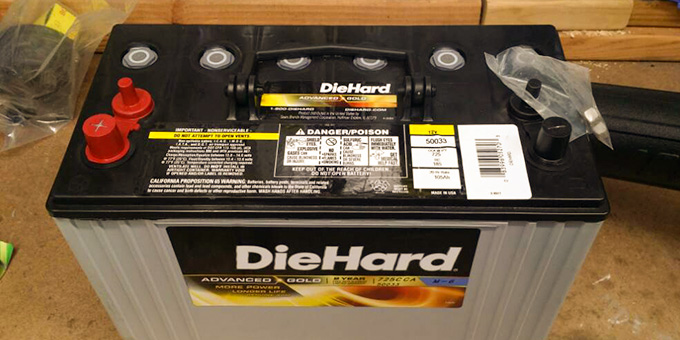 To make your life a little bit easier, we have come up with the best Diehard AGM battery review. You will find all the information about the battery and some more that no one will tell you.
Top Diehard AGM Battery Review, There's One for Everyone
Here are the top Diehard AGM batteries you can check out in the market. They fit in a lot of different vehicles and come with a lot of protection to function in any terrain.
1. DieHard 38188 Advanced Gold AGM Battery – Group 34R
Diehard batteries have it in their name. As the name suggests, the DieHard 38188 battery comes as efficient and powerful inside and also on the outside.
The battery is of BCI Group 34R if you are thinking about the fitting. But still, you can look at the dimensions before buying it.
It comes with an Absorbent Glass Mat build that makes it spill proof and sealed. Hence you get a no-maintenance battery when you are going for this one. No more worrying about watering the battery or drying up in the summer heat.
If you are thinking about Cold Cranking Amps, this battery has a CCA of 775A. Which is good enough to wake your vehicle engine in the winter morning every day. Without any delay, this battery will crank it up.
Also, you get a Reserve Capacity of 120 minutes with this battery. A very good number if you are thinking of putting it in any of your SUVs, RV, or camper. It will run your additional aftermarket accessories and more for quite some time and still have a charge to go for your next destination.
Diehard batteries have the fame of being vibration-resistant to a great extent. They have a calcium-lead alloy grid around their terminal to give it extra protection from outside impact. Also, the body of the battery is made from polypropylene, which makes it stronger than any battery out there. So if you are thinking of getting a battery for your off-road vehicle, or be it a marine sports vehicle, this battery will be perfect for you.
And talking about warranty, you get 3 years of official warranty with this battery.
To check out more specific information about the battery, you can check it out from here.
2. DieHard 38217 Advanced Gold AGM Battery – Group 49
Looking for something more powerful? A heavy CCA battery maybe? Then check out this DieHard 38217 battery. It is a BCI Group 49 battery if you are wondering. And it packs a good punch under its cover.
The battery has the signature Absorbent Glass Mat (AGM) build which makes it spillproof and sealed. So nothing coming out or going in the battery. Making it maintenance-free and worry-free about water or fluids. For this nature, you get to mount it in any possible way. 
It has a Cold Cranking Amp of 850A. Huge for a battery of its class. It will crank up any good size engine in any freezing weather. You can put it in an RV, camper, or trailer. And it will run your vehicle in any snowstorm without letting you stranded on the side of the road.
And talking about big vehicles, they come with a lot of electrical components and accessories. Some even have a make-shift kitchen on the back. That is why this battery is ideal. The Reserve Capacity is a whole 170 minutes! Can you imagine the possibilities of what you can do with it? We will let you do whatever you dream of doing with that much time.
Diehard batteries come with a polypropylene casing that makes it 20 times more vibration and impact resistant. That is why it is ideal for any vehicle that goes off the terrain. In addition, the battery cells are surrounded by calcium-lead alloy protection. This not only gives the battery its internal cell protection but also makes it produce more power.
You also get a 3-year warranty with this battery. Check with your dealer directly even if you buy it from Amazon.
Check the battery out from here.
3. DieHard 38275 Advanced Gold AGM Battery – Group 35
Another great alternative for Group 35 batteries is the DieHard 38275. It comes with a good amount of power and backup, particularly for older version vehicles.
The battery is an Absorbent Glass Mat (AGM) battery. So if you had a traditional battery before, say hello to the new era of development. This battery is spillproof, sealed, and can be mounted in any possible position you can imagine. As there is no need for watering and checking fluids, the battery comes with a maintenance-free one.
It has a Cold Cranking Amp of 650A. Good enough for your vehicle if you live in a winter state. This will do you great work in starting your engine in the morning with no fail.
Also, the battery has a Reserve Capacity of 100 minutes. So you get enough backup for all your accessories in the car.
The battery has the same Diehards special build quality for its exterior. Its battery case is built of polypropylene. This makes the battery more resistant to vibrations and impacts than traditional batteries. Under that the battery cells are surrounded by calcium-lead alloy protection for better power production and extra safety. So if you put it in an off-road vehicle, you won't have to worry about the battery getting damaged.
It comes with the Diehard standard 3 years warranty.
You can check this battery out from here.
Frequently Asked Questions
How long does a Diehard battery last?
Diehard batteries last for about 4-6 years with heavy use. With a little care, they can even go more than that.
Who makes Diehard batteries?
Advance Auto Parts makes Diehard batteries.
Do I need a special charger to charge a Diehard AGM battery?
Yes. You need a smart charger to charge your AGM battery. The charger must have the option to charge AGM batteries. 
Will the battery get damaged if I charge an AGM battery with a normal charger?
Normal chargers don't come with smart functions and the perfect charging amperage for AGM batteries. So there is a chance you might damage the battery if you leave it to charge. And it might take a long time to charge.
Conclusion
Diehard batteries are one of the oldest in the battery industry. They are reliable, powerful, and come with guaranteed safety features. One thing to remember is that, although Diehard AGM batteries need no maintenance, checking the battery for any damage, and corrosion from time to time can prolong the battery life. And if the battery is sitting for a while, it is a good idea to charge them before you use them.