There are a lot of car battery companies out there. Duralast and Diehard are among the most common names for any kind of vehicle battery. Both of them make cars, trucks, boats, and other vehicle batteries.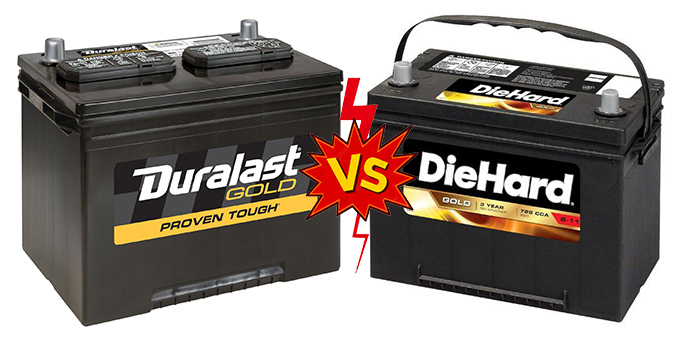 The funny thing about them is that the company that makes Diehard batteries, is the same company that makes Duralast batteries. Coincidence? Maybe not. But there are some facts to look into before you want to buy any of them. Let's check them out side by side.
Duralast vs Diehard Battery: What's so different
The Cold Winter Hero CCA
One of the most crucial factors is the CCA rate. If you live in a state where the winter is harsh, it is good to have a high CCA-rated battery. Duralast battery's CCA rate starts from 500 and goes up from that. Whereas Diehard batteries mostly have 775 CCA rates, and it starts from 650. The battery is the most important element in a cold freezing morning. But if you live in a more natural climate, Duralast will work just fine. 
Reserve Capacity
Reserve capacity is a good thing to keep an eye on when you are buying a new battery. Duralast batteries have a reserve capacity of 120 minutes, which is very convenient. It goes a long way for any car owner. Diehard batteries are not too superior here, they have a 130-minute reserve capacity. Just a 10 minute more reserve capacity doesn't make it more superior though. 
Warranty, Warranty, All We Need Is Warranty
This is where the customer gets a bit picky. Hey! Everyone is a bit picky about the warranty. So there's no shame in it. Duralast provides a 2 year or 24 months warranty with their batteries. Which is more than enough. Diehard on the other hand provide a 2 to 3 years or 24 to 36 months warranty depending on the battery model. It is more like an exclusive thing for their premium batteries. But both of them provide the same services. 
Structural Design: Keeping Things in Places
Your battery lasts longer if they are nicely designed. The protection they get, the more they can handle. Duralast has a polypropylene construction build, which is superior in the battery market. It helps vent the acid-produced gas and reduces leakages of any sort. Diehard batteries are built with an enhanced electrolyte suspension system that helps protect the interior elements. And it also keeps the internal fluids intact from falling or spilling out of the battery. 
Vibration Resistance Don't Let Your Teeth's Fall Off
Vibration protection is a default feature for any batteries out there. As they are made for both on-road and off-road cars, they keep the feature in all of their batteries. Both Duralast and Diehard have vibration protection on all of their batteries. They claim to be 20 times better vibration protection than any other battery. Talk about being the same company that is making them!
Discharge Rate
Depending on the use and the accessories your car has, the weather, and the age of the battery, this feature works differently. Both of the batteries have a low discharge rate and a high recharge cycle. And all of this varies from one model to another. So read the features before you buy them. 
Frequently Asked Questions
Q. Is Duralast better than Diehard or vice versa?
A. Both batteries have different models. And each of them serves a different purpose. Depending on the service, all of them are a good choice.
Q. I live in a moderate climate, should I worry about CCA?
A. If your car doesn't freeze in the morning, then there is no need to worry about CCA. Duralast and Diehard both have a good level of CCA that can cover a winter climate.
Q. What batteries should I go for in a hot climate place?
A. AGM builds batteries are suggested for places with a hot climate. Because they perform better. But always keep your battery fluid levels in check because low-level fluids may damage your battery
Conclusion 
Here's the thing, you can guess which battery you should go for yourself. With all the facts given here, it is clear, the name says it all. Diehard is a bit superior to Duralast. That doesn't mean you shouldn't buy a Duralast. If you are looking for something more value for money on a lower budget, and your specs are right, go for Duralast.