Batteries have evolved from the years they had been invented. The days of lead-acid batteries are not gone but evolved into more intelligent, friendly, and long-lasting batteries. Once motorcycles used to have lead-acid batteries like any other vehicle. But now, with development in technology, lithium-ion batteries have taken their place.
Lithium batteries are constructed using a lithium-iron-phosphate blend which makes it denser for power output and a chemically stable substance than any other traditional lithium-ion battery.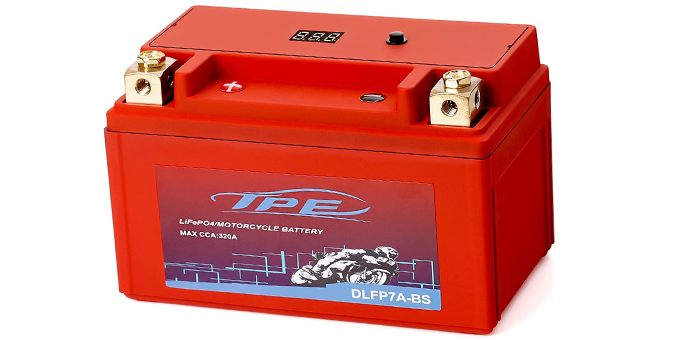 Lead-acid batteries on the other hand have six cells of lead plates in a plastic container that is filled with sulphuric acid and water solution. This solution is called electrolyte which combines with the lead to create a reaction that makes electron charges that are transferred to the positive and negative terminals of the battery and power up the vehicle.
We have gathered the best lithium motorcycle batteries here for you.
Top 4 Best Lithium Motorcycle Batteries in the Market
1. Battery Tender
Battery tender is one of the best batteries out there in the market for motorcycles. It is suitable for any small vehicle like a motorcycle or a scooter. It has a Cold Cranking Amp of 480. This makes it easy to start any motorcycle under cold temperatures. 
The main advantage of a Battery Tender is its long-lasting life. It can go more than 3 times than any lead-acid battery. Even more, it lasts 5 times more than other batteries.
Any lithium battery weighs less than a lead-acid battery. For this battery, it weighs about 1.35lbs. Which is very efficient for a motorcycle battery. 
It also comes with a protective circuit board, overcharging, and over-discharging protection. 
The battery comes with foam spaces so it can be perfectly fitted in the battery compartment of any bike.  The casing is water-resistant and has a fire retardant coating to ensure any heating issue. 
But one sad thing about it is it might not be a good fit for all the bikes out there. So you have to be cautious about it before ordering online. 
You can have a look at them from this link.
2.  Antigravity
Antigravity is one of the favorites among the motorcyclist in the country. This lithium battery is made in the USA and has an all-brass terminal design. This makes it to be installed in ani orientation. 
It weighs around 1.81 pounds. Antigravity batteries can hold their charge for up to one year, which is really impressive. It is because of its no parasitic draw option that allows it to hold its power. 
The cranking amp of this bad boy is 240. It is 50% more efficient than any lead-acid battery out there. 
There are several varieties to choose from and one of them will fit any motorcycle you want. 
Here is where you get to find them all.
3.  BikeMaster
Known for its tools, parts, and accessories, BikeMaster also makes lithium batteries for motorcycles. They claim their batteries are one-third the weight of a lead-acid battery. Well, most of them weigh around 1.5lbs. Which is almost one-third of what a lead-acid battery weighs.
It comes with a CCA of 90. It is a good option for people who live in really cold places. 
Furthermore, it has a low self-discharging rate. They claim that their battery can reserve power for 12 months after a single charge. Which is twice the time as a lead-acid battery. This allows it to give a better output than other lithium batteries.
BikeMaster batteries use cylindrical cells rather than traditional lithium batteries. This is where they differ in construction. 
It comes with vibration resistance. So you get to use them in offroad motorcycles as well.
The downside of this battery is that it is a bit too expensive.
You can find them here.
4. Shorai
Another lightweight but great motorcycle battery is Shorai. It can be called the epitome of lightweights out there. Most of the batteries weigh around 0.97lbs to 2 pounds. 
It is essentially a cold-weather battery. As it has a cold cranking amp of 102. Which is quite impressive for a motorcycle battery.
The batteries have foam adhesive that helps a grip fit in the battery compartment. As there is no acid in it, it is spillproof.
As a big manufacturer of motorcycle batteries, they have almost every kind of motorcycle battery. So you might even find one that fits yours. Most famous motorcycle enthusiasts use Shorai batteries for their motorcycles.
You can find them here if you want to look at them.
Frequently Asked Questions
1. How long does a motorcycle battery last?
A motorcycle battery lasts for about 3 years. They don't go as long as a car battery because of their size. With proper care, it can extend over 3 years. But not more.
2. Can I use a car battery charger to charge my motorcycle battery?
A. Absolutely not. Motorcycle batteries are lower-rated batteries than a car. So it requires low-power chargers. If you use a car battery charger on your motorcycle battery, chances are you will damage it permanently.
3. What problems can cause a motorcycle battery to go flat/out of charge?
A. There are numerous reasons a motorcycle battery can go flat/out of charge. The most possible ones are faulty alarm system, bad regulator, and loose battery terminals. So check these first before going in deep.
4. Can I charge my new battery by putting it in the motorcycle?
A. Although the motorcycle can charge your battery, it will stop at 80%. It is recommended by professionals to use a motorcycle battery charger for the first time you use to buy a battery and then put it in your motorcycle.
Conclusion 
Your motorcycle deserves the best, as a motorcycle is a man's best friend. Whichever product makes you satisfied, is totally up to you. That is why we have brought up all the best brands in the market so you can choose your favorite battery for your favorite ride. Any of the above-mentioned products are superior to any other brands in the market.