First of all, let us assure you of one thing that you have landed on the right page. This post contains the best resource to learn what is a battery tender thoroughly. In 1965, the U.S. company Deltran first made this.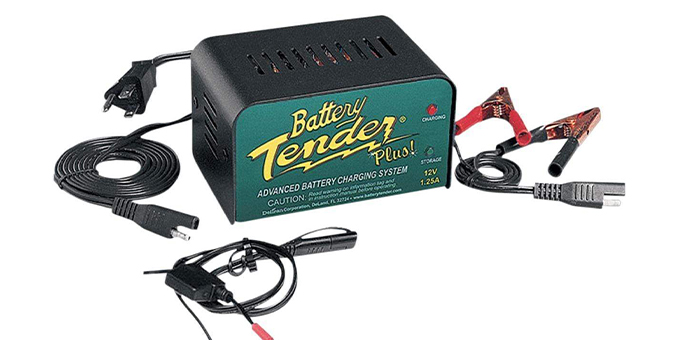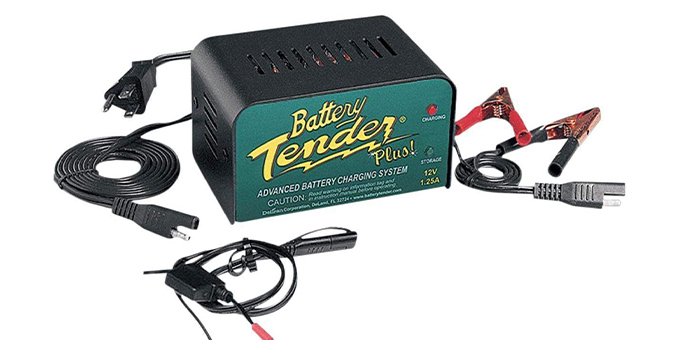 Let us also share the things that we are going to cover in brief. At the end of the day, we expect you to have a clear idea of its definition, applications, way of using, different types, safety, and so on.  
Feeling curious? 
Okay, then it's time to move on!  
What Is Battery Tender
Battery tenders are essential. All the electronic devices that need batteries require battery tenders. A battery tender is a battery charger. It is the maintainer of charge storage of a vehicle battery while it is at rest. This is vital equipment for vehicles that are unattended for two weeks or more. To be more exact, when you are to survive through a long winter, your vehicles require battery tenders.
They are familiar as "float chargers" and "maintenance chargers" too. Apart from providing you with a constant voltage supply, these float chargers or battery tenders get controlled by processors. That means these devices include the intelligence to skip –
faulty batteries
use spark-free technology, and 
have green and red indicators
This settlement helps you get the things happening inside at a glance! And it is the differentiator between battery tenders and plain ol' chargers. Unlike a trickle charger, a  battery tender is an unsophisticated, affordable item for the users. However, it is not workable on a long-dead battery! 
What to See While Using
At the time of using a battery tender, it would help to keep the AC and DC cords away from your vehicle. And after having everything plugged in, keep the charger off. Then connect the battery tender to the correct posts on the battery. And check if the indicator lights are turned on. These are – 
Flashing red light: The sound functioning of AC power and microprocessor should be there. Sometimes the flashing continues. It occurs due to a significantly low voltage. In that case, you have to ensure that the alligator clips are attached accordingly.
Steady red light: You had better check whether the clamps got proper placement or not. Moreover, have a look at the power transfer. Unless the battery gets total charged, the light will showcase a red signal.
Flashing green light: Generally, a flashing green light comes up with a red light. It denotes that the battery charge is closer to getting complete (around 80%) and ready for use. 
Steady green light: It says that the charge is okay. Still, you can keep the battery tender connected to the battery. It will help sustain the battery well. 
Battery Tender Types
Here we will cover three popular types of battery tender. We will talk about voltage, charge mode, safety, and so on. Would you mind covering the points below one by one? 
Battery Tender Jr 12V      
The Jr suits most of the vehicles. That's why it is one of the trendiest tenders. It features 12-volt, 0.75-amp. The change of charging mode is automatic. That means it can turn into float charging mode automatically. 
This type of battery comprises a four-step charging program. You will find it compatible with all maintenance-free batteries (AGM and gel cell). No matter if it is lead-acid, flooded, or sealed. It provides you with reverse polarity protection. And no worries about its safety! The full charger output power turns again on when the battery voltage drops too far under pressure. You can enjoy a 5-years warranty.
Battery Tender 800 12V
These tenders are ideal for entertaining vehicles. It features 12-volt, 0.80-amp. Such a tender fits all AGM sealed maintenance-free, flooded, lead-calcium, batteries. Its solid-state two-color LED light implies the state of charge. With the help of a 200 amp-hour capacity, it can charge and maintain any size battery.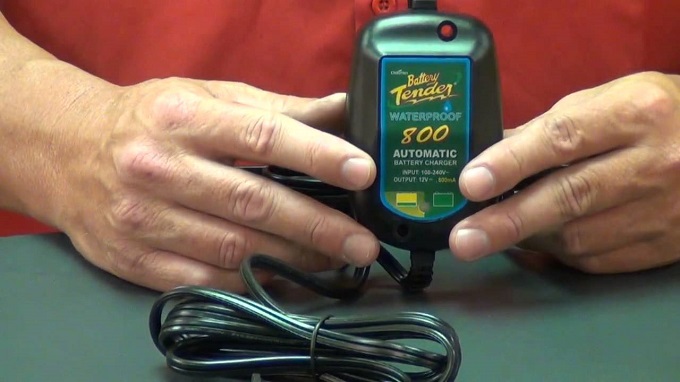 Like the above one, it includes a complete four-step charging program.  After completely charging the battery, it automatically switches to float voltage. However, this type of battery merely offers a 3-years warranty.
Battery Tender Plus 12V
Here is our last one. This battery tender is temperature-compensated. It ensures optimum charge voltage in accordance with the ambient temperature. So you can enjoy a 10-years warranty. 
It also features a complete four-step charging program. These batteries can be the apt choice for larger vehicles. In other words, the vehicle with a heavier drain on batteries suits this kind of battery best. It features 12-volt, 1.25-amp. Else, it features reverse polarity protection that ensures your safety as a user. 
Impact of Tender on Your Battery 
You would be glad to know that battery tenders do NOT lose strength due to use. But it harms the battery you use. For example, a motorbike battery may not survive 48 months as it should because of its impact. So it would help to select a tender for the battery carefully. That means the battery tender for motorcycles must be the least impactful. 
How to Choose the Right Battery Tender 
You must be curious to know how to pick up the right battery tender too! No worries, we have tips regarding this! It would help best if you calculate your total charge time for the battery you use. You have to count the amp hour rating of the battery. Then divide it by the charger rating (amps). Later on, add around 10% for the extra time to conclude. 
Top Battery Maintainers For Now
Here we go for the top battery tender manufacturers in 2021. Additionally, you have listed them in a way so that you can rely on them in the upcoming year too! Since car battery tenders are the most demanded items, we want to make you familiar with them exclusively. These also include specific models. These are as follows: 
BATTERY TENDER Plus
Schumacher SC1355
Schumacher SC1299 
BLACK+DECKER
Optima Digital 400
NOCO Genius G3500
DieHard 71219
BMK
Energizer ENC2A
MOTOPOWER MP00205A
LEICESTERCN LST
The Ending Thoughts
Now you have a fantastic idea of what is a battery tender. No matter which cold part of the world you live in, it's urgent for your vehicles. It takes care of your vehicle battery as you take care of your vehicle. And when you have a robust understanding as we have provided, you can make the proper attempt.