There are different kinds of batteries with different kinds of battery terminals. The higher the output, the heavy-duty the terminals get. The F1 and F2 terminals are used in batteries that go in on small toys, charger lights, razor scooters, electric wheelchairs, and UPS systems.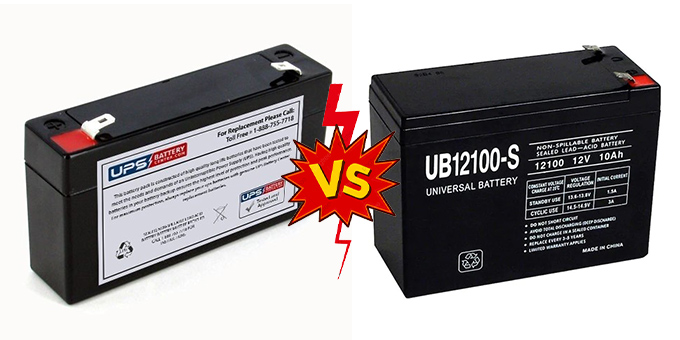 Let's dive into their specs to have a closer look at them. 
F1 vs f2 Battery Terminals
F1 Battery Terminal or Tab 187 Connector
No products found.
The F1 battery terminals are found in SLA or Sealed Lead Acid batteries. This terminal sits on top of the battery most of the time. Sticking its head out with a bend on the end, it is done so for easy installation. It is a push-in installation process that requires no wire attachment. Push it in and it gets connected to the female connector for quick connection and disconnection.  The F1 connector measures 0.187 inches or 4.75mm. Hence they are also called a TAB 187 connector. It is also called a Faston connector or a Blade terminal.  
F2 Battery Terminal or Tab 250 Connector
No products found.
The F2 battery terminals sit on top of Sealed Lead Acid batteries or SLA batteries. They come in pairs on a battery. The red one signifies the positive terminal and the black one as the negative terminal. F2 connectors are the same as F1 connectors. They differ in size. F2 terminals measure 0.25 inches or 6.35mm. That is why it is also referred to as a TAB 250 connector. 
Difference Between F1 and F2 Battery Terminal
The significant difference between an F1 and F2 battery terminal is mainly their size. The F1 is 0.187 inches or 4.75mm and the F2 is 0.25 inches or 6.35mm. Other than that, they provide the same kind of service. They attach the same way, just a push into the female connector of the device. Some connectors are fixed welded, so you won't be able to change the battery that easily. 
Frequently Asked Questions
Q. Can I use an F1 battery terminal with an F2 female terminal?
A. Yes you can. You have to attach an F2 battery converter to your F1 terminal and you are good to go.
Q. Does a different connector or terminal mean higher or lower power output?
A. No. The size of the connector or terminal doesn't mean it will supply any higher or lower power output. They give the same output.
Q. Is there any more battery terminal type?
A. Yes. There are a lot of different kinds of terminals. They are different from each other depending on your device's requirements.
Conclusion
Both of the connectors serve the same purpose, supply power to your device. Due to their look-alike characteristics, you will have to pay close attention while changing the battery.