Batteries are essential for modern life. We cannot imagine a single electronic device without the inclusion of a battery. It is a source of power that comprises one or more electrochemical cells.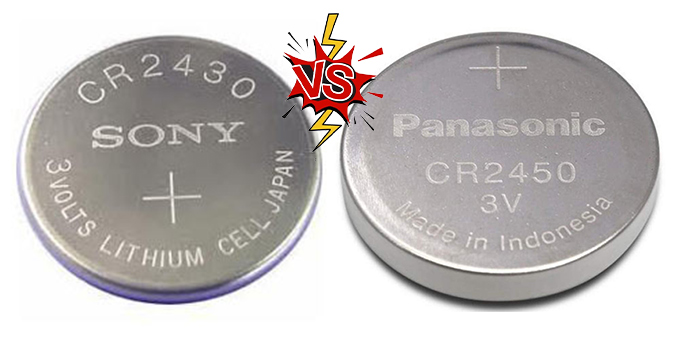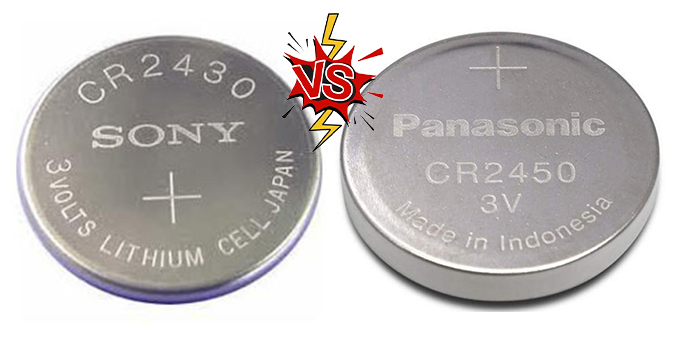 2430 vs 2450 battery- this versus denotes today we will be discussing the differences between these batteries. You are going to have a detailed contrast from different angles. Are you ready to dive? 
Okay, let's go! 
CR 2430 vs CR 2450 Battery
A battery requires external connections to energize electrical devices like PC, smartphones, etc. You need energy if you want to work. However, since there is a variety of work, it would help to learn about the differences between these Coin Type Lithium Manganese Dioxide Batteries or CR batteries. We have prepared this comparison article based on different criteria. Please go through the points below one by one! 
No products found.
Capacity
Let us start by talking about capacity. You must have been aware that experts use 'mAh' to measure the energy capacity of batteries. The CR2430 battery features a maximum of 290 mAh. And it ranges from 270 to 290 mAh. On the contrary, the CR2450 is capable of 620 mAh utmost. And it ranges from 600 to 620 mAh.
Battery Cell Composition
The CR2430 and CR 2450 both require lithium-made batteries. And both need two batteries. However, there is a difference in battery cell composition. The CR2430 need only lithium, and the CR 2450 need lithium metal batteries. 
Application or Usage
Most of the users prefer lithium coin batteries over traditional batteries. Do you know the why? One of the biggest reasons is the variation of the application. 
No products found.
You can use the lithium coin CR2430 for –
Automotive
Internet of Things (IoT) 
Digital watches
Calculators
Sensors
Car keys
Smart Keys 
Laser pens
Fitness appliances 
Medical devices such as tensiometers or thermometers
Home electrical appliances
On the other hand, the lithium coin CR2450 will be best for –
Watches
Pagers
Lights 
Electronic price tags, POS systems
Tracking devices
Calculators
PDA Organizers (electronic agendas) 
Multi-functional printer
Both of them have notable accomplishments in usage. 
Good Alternative 
If you have an electronic device that uses a CR 2430 battery and want to replace it with something else, you may go for an ML 2430 battery. However, it has a drawback. The ML2430 batteries do NOT last for long!
You may prefer the 3.0V rechargeable LiR 2450 batteries as a good alternative for CR 2450 batteries. These are secure for sensitive electronics. It is because the LiR 2450 batteries comprise the same output voltage that never exceeds 3.0 volts. 
Standard Specification
Allows us to talk about the standard specification now. Such a notion will feed you best. First of all, we will illustrate the CR 2430 battery. 
CR 2430 
Battery type: Coin Manganese Dioxide Lithium Batteries
Nominal Voltage: 3.0V
Nominal Capacity: 300mAh
Mass (oz): 0.155oz
Mass (g): 4.4g
Operating Temperature Range: -30℃ to 70℃
Diameter (inch): 0.965inch
Diameter (mm): 24.5mm
Height (inch): 0.118inch
Height (mm): 3mm
IEC (JIS): CR2430
Standard Discharge: Current 0.2mA
CR 2450 
Battery type: Coin Manganese Lithium Battery
Battery Cell Size: 24.5mm
Nominal Voltage – Rated: 3V
Capacity: 620mAh @ 390µA (On Continuous Discharge under7.5KΩ load to 2.0V end-point)
Mass (g): 4.6 grams 
Mass (oz): 0.16 oz
Size / Dimension: 0.96″ Dia x 0.20″ H (24.5mm x 5.0mm)
Termination Style:   Requires Holder
Operating Temp: -30C to 60C 
Weight: 0.22 oz (6.27g)
Diameter: φ24.5(+0/-0.3)mm
Overall Height: 5.0(+0/-0.3)mm 
Lead Free Status: Lead Free
RoHS Status: RoHS Compliant by Exemption
Standard Discharge: Current 0.2mA
Durability
Before we buy a product, no matter if it is a battery or something else, we check its durability. So it would help to learn how long your intended CR 2450 or CR 2430 will sustain. Both the CR 2450 and CR 2430 generally last for around ten years. However, it is arguably more durable than CR 1430.
Features of CR 2430 Battery
Now we are going to dwell on comparative features. Would you mind covering the points below? We will talk first about on CR 2430 Battery, then on CR 2450 Battery.   
High Voltage Plus High Energy Density
As you have seen above, the CR 2430 battery voltage is 3V. You would be glad to know that it is almost double that of usual manganese or alkaline batteries. At the same time, this battery is lightweight and portable. To ensure maximum space-saving and weight reduction, you can halve the number of batteries required for equipment. 
Tremendous Discharging Ability
Despite a state of discharge for a long time, you will have its voltage characteristics stable. Besides, the CR 2430 battery equipment is free from any maintenance. Hardly there is a need for replacement. So you will find it quite reliable.  
Fantastic Leakage Resistance
These batteries are favorable for excellent construction and electrolyte. It ensures maximum leakage resistance. You will find anti-leakage in the long run for sure. 
Excellent Reliability
All the materials for the active material and the electrolyte are selected carefully. And as these batteries are of a minimized self-discharge, so the annual self-discharge rate at room temperature and the average humidity is less than 1%! 
Features of CR 2450 Battery
Ultra-compact Energy 
This battery features an ultra-compact design and contains a high voltage of 3 Voltage. You can feed your small devices by this better than CR 24530 battery. 
It merely needs one lithium battery for 2, 3 of 4 traditional batteries!
Overwhelming Durability 
The CR 2450 battery can even last for more than a decade. It retains 90% of the original capacity after ten years. That means chances are very high that it will exceed your expectations. Chemically these batteries are stable enough. 
Enhanced Performance
You can employ this battery for various complex purposes, as we have mentioned above. It had high leak protection. At the same time, it comprises a very high weight-to-power ratio. And no mercury was added here in this battery.  
Safety Standard Eligibility
These batteries are eco-friendly. Almost all the manufacturers do not have any trouble securing a UL accreditation for it. A CR 2450 battery can fight the temperature well. 
Popular Brands of CR 2430 and CR 2450 Battery
The most popular brands for the CR 2430 batteries are as follows! 
Duracell
Energizer
GP Batteries
muRata
Renata
Varta 
And the most popular brands for the CR 2450 batteries are- 
Maxell
Panasonic
Duracell
Varta
muRata
Renata
To Wrap Up
We aimed at providing you with a robust, comparative idea on 2430 vs 2450 Battery. Hopefully, you have got it out and out as it enabled you to contrast in terms of application, specification, cost, capacity, compatibility, and so on. This post will help you make the apt decision, no doubt. Stay good, stay safe!