Owning a boat means a lot of work. Especially at the times, it is not in the water. You have to check the engine, the battery, the propellors, and even the body. But the thing that loses power with time is the battery. To keep it in top shape and help you have a good time in the waters, you should always have a portable marine battery charger.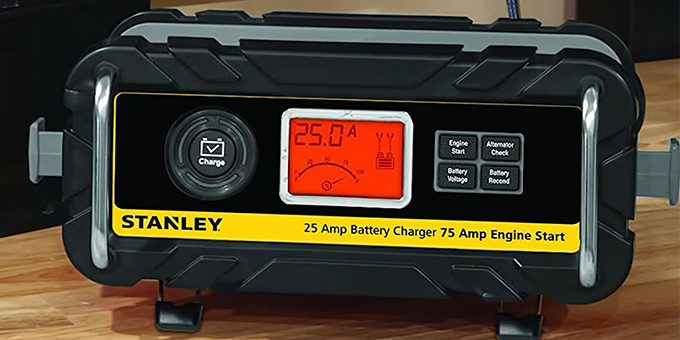 A portable marine charger can also charge car, truck, SUV, RV batteries. So it is a good investment all the way around. 
But choosing one can be a hard thing to do. As there are different types of batteries, there are different types of chargers. To make things easier for you, we have come up with the best portable marine battery charger in this article.
Top 4 Portable Marine Battery Chargers in the Market
Here are the top best portable marine battery chargers you can find on the market. Some of them even have great qualities like reviving a dead battery, and testing the alternator. 
1. Schumacher Fully Automatic Battery Charger
Starting off with one of the best in the market. This Schumacher Fully Automatic Battery Charger will not only charge but also maintain and revive your fully dead batteries.
The charger comes with 15 Amps of rapid charging and 3 Amp maintaining power. But be cautious of which function you are using. If you miss pressing the functions, your battery might get damaged.
It comes with microprocessor control, that lets the charger detect, protect, maintain and charge your batteries. There are safety mechanisms that come equipped with the charger so your battery doesn't suffer from overcharging, undercharging, overcurrent, overvoltage, or short circuit.
Fun thing, the charger can charge any type of battery. Be it SLA, AGM, GEL. There is no option for lithium-ion batteries though. So better check the battery type options before you buy.
The charger can also detect what volt the battery is. It can detect 6V and 12V batteries and charge them automatically.
The battery can also revive dead batteries. But you have to follow some instructions to go into the dead battery reviving mode, or else it won't work. It is a great option included so you don't have to go through the whole process of going to the manufacturer of the dead battery. Rather try and revive it first.
One thing to remember is that, if your battery is damaged somehow, the charger won't detect that and keep on charging it. So remember to check your battery's health before hooking it on.
Pros:
Amazing battery charger.
Revives dead batteries from zero or 1V.
LED display for more convenient operation.
Cons:
Sometimes kills already damaged batteries.
2. Schumacher Battery Charger with Engine Starter, Boost, and Maintainer
Looking for something big? Look no further. The Schumacher Battery Charger with Engine Starter, Boost, and Maintainer will cover all your needs.
This charger comes with a 40 Amp quick boost charging. How cool is that! You can charge any battery from scratch and have it done by the next day without any worry.
The charger can charge a few types of batteries. AGM/SLA, GEL is the standard recommended type. 
If your engine needs a jump start, this big charger can do that too. With a power of 200 Amps, it can start any engine, be it a car, truck, SUV, or marine engine.
It is microprocessor controlled, so you don't need to input anything while hooking up a battery. The charger will recognize the battery and the amperage. It will start charging it instantly.
Another great feature of the charger is that it has a built-in working battery and alternator tester. So if you are having trouble with your vehicle regarding power supply, hook this amazing thing up and it will diagnose the problem. 
After the charging of a battery is over, the charger goes into float mode. In float mode, the charger keeps running the charge in a very minimal volt to keep the battery topped up. But not so much that it gets overcharged. It is a great feature if you have batteries that are left unused for a season or sometimes. 
Pros:
Amazing power-boosting charger.
Great for maintaining and jump-starting any battery and engine.
Reliable float charging option to keep unused batteries topped up.
A built-in tester is a good option.
Cons:
3. Minn Kota On-Shore Portable Digital Marine Battery Charger
For true portability and function, this charger is the best. This one is a revamped version of its predecessor. The  Minn Kota On-Shore Portable Digital Marine Battery Charger is truly made for marine vehicles. 
The charger comes with just a 12V battery charging option. And it can charge any flooded cell battery, SLA/AGM battery. No GEL or Lithium batteries for this charger.
There is a function that lets the charger know the temperature of the atmosphere and the battery to charge the battery faster or slower depending on it. Which is great for a marine charger. As temperature plays a big factor in the water, you need this function otherwise might end up having a battery without any power.
The LED indicator lets you know which stage the battery is in. There are a few modes of charging that the charger goes through to ensure good, accurate, and lasting power for the batteries. Even if there is an error with the battery charging, you get a notification from the LED indicators.
Another great thing about this charger is you get a 3-year replacement warranty. So if you are having any trouble with it, you can just get a replacement for your device. 
Pros:
Temperature-controlled charging feature.
LED indicators for any notification.
Portable but does double work than other chargers.
Amazing warranty feature.
Cons:
Doesn't charge GEL or Lithium batteries.
4. Schumacher Fully Automatic Battery Charger Maintainer, and Auto Desulfator
Last but not least, another Schumacher charger. This Schumacher charger is a very portable one with a lot of magic happening inside.
The charger gives an output of 15 Amps of charging and 3 Amps of maintaining. It works for any car, truck, SUV, and especially Marine vehicle. And it supports SLA/AGM and Lithium LiFePO4 batteries for charging. So before buying, do check what kind of battery you have.
The charger is light, portable, and microprocessor controlled. So it does everything by itself once you do the whole setup. Otherwise, it might work differently which is a little bit inconvenient. As a microprocessor-equipped charger, it does all the adjustment and different stage charging all by itself. You don't have to keep an eye on anything.
This charger can charge batteries that are 6V and 12V. Which is a great option to include. 
It also works as a battery maintainer and does a great job at it. If you have to leave some battery that will not be used for some time, this charger will keep it full and ready for the next use.
There is an LED and digital indicator for all the notifications and stages of charging and status. For a little thing, these options are really nice to have.
Pros:
Lightweight, portable and reliable.
Maintains batteries accordingly.
Works for both 6V and 12V batteries.
Cons:
Frequently Asked Questions
How long does a marine battery charger last?
With care and good maintenance, a marine battery charger can last up to 3-5 years. Sometimes even more. 
Can I leave my marine battery charger connected all the time with my batteries?
Not all chargers go on a float mode or can maintain your battery. The chargers that can go on to float mode or are battery maintainers can be left connected all the time. Other chargers can burn or damage your battery.
How long does it take to charge a 12V marine deep cycle battery?
It mainly depends on the discharge rate of the battery. Normally a charger with 15 Amps of output, a 12V battery can be charged within 2 to 3 hours.
Do more amps mean faster charging?
Yes. The more Amperage a charger outputs, the faster the battery gets charged.
Conclusion
You should always choose the best for your marine vehicle. Even for a portable charger, choosing the wrong product can damage your battery. And in the worst case, even the place.
So choose the charger according to the kind of battery you have. In this article, you will find each of the chargers charges a different kind of batteries. They are all different from one another although most of them are from the same brand. And choosing the right charger can prolong your batteries life too.