Batteries are a very important part of your vehicle. Be it a car, RV, or truck. Every vehicle needs a battery not only to start the engine but also to run all the accessories in it. And with the advancement of technologies, you need a better battery now than ever.
If you are looking for a battery that can perform in both the summer and winter in the same capacity, then DieHard Platinum batteries would be the best.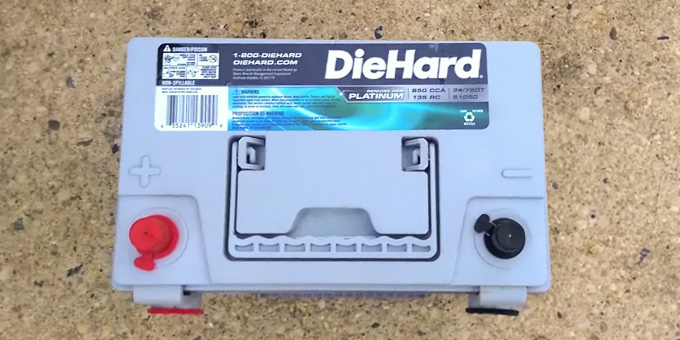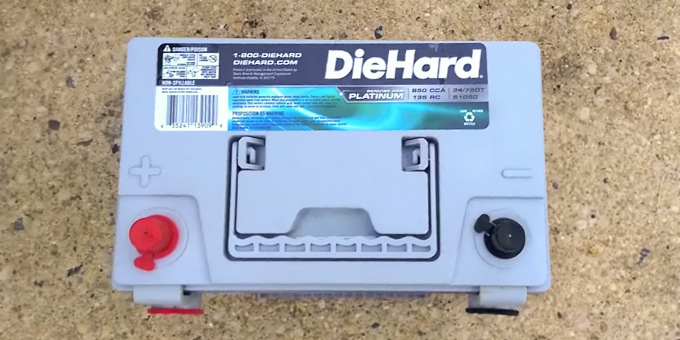 But which one do you get? We have gathered the best batteries in this DieHard Platinum Battery Review. 
Top 4 Diehard Platinum Battery Review for Both Cold and Hot Regions
Here are the top Diehard Platinum batteries you need to check out. These perform out of the charts in both cold and hot regions. 
1. DieHard Platinum Group Size 24F AGM Battery
Starting with the basics of DieHard Platinum batteries. But don't be fooled, this DieHard Platinum Group Size 24F battery packs more power tan other traditional batteries. And it will function in the hottest of temperatures and also in the coldest.
The batteries AGM build makes it maintenance-free and gives it superiority over other builds. Also, it comes with stamped technology that gives it more power production advantage. This stamped grid also ensures that the corrosion is in check. Which is the main reason batteries die faster. It even stands up with their name! 
Now the best part about the battery. The battery comes with a Cranking Amp (CA) of 885. So no matter what kind of weather you are in, it will start your engine promptly. 
The Cold Cranking Amps isn't all behind. The CCA comes in at 710, which is beneficial for winter regions. No more worry in the wintertime that your car won't start.
This battery has a huge Reserve Capacity of 120 minutes. So if you are thinking of getting a battery for your heavy accessory vehicle, this one is perfect for it. It will run your electrical components and all the added-up after-market accessories with ease. Even when the engine is off.
Also, it comes with the standard 3-year replacement warranty. So any trouble with the battery, just replace it. It's that simple!
2. DieHard Platinum Group Size 65 AGM Battery
Looking for a better version of battery for your car, RV, or camper? Does it require a Group 65 battery? Then check this DieHard Platinum Group Size 65 AGM Battery.
It comes with a whole lot of power and cranks. Talking about cranks, the battery has a Cranking Amp of 935A. Which is huge for any vehicle. Especially if you live in a hot or humid climate. It will crank your engine every time without fail.
Worried about the cold weather and don't know if your battery can make it? This DieHard Platinum Group 65 battery has a Cold Cranking Amps of 750A. If you have this under your hood, you won't have to worry about your engine starting at any temperature.
The Reserve Capacity is also huge. Huge as in 120 minutes. Not that much. Just it can run all your accessories and more. Put in a mini-fridge in your vehicle and it will run in the scorching heat without any power loss. That too without the engine turned on.
And it also comes with stamped grid technology. Which allows the battery to produce twice the power than a traditional battery. And decreases corrosion at the same time.
You also get 3 years of free replacement warranty with this battery. So put your worries aside and check this battery out. 
3. DieHard Platinum Group Size H6 AGM Battery
If you are looking for a group H6 battery for your vehicle, then check this DieHard Platinum Group Size H6 AGM Battery out.
The battery comes with the DieHards AGM build. That means no more maintenance. All the water the battery and check for fluid days are over. No more worrying about the battery going dry in the summer and freezing in the winter.
It comes with a Cranking Amps of 950A. Which is more than enough to perform in any weather condition. Your popsicle can melt in the summer heat, but your engine will start smoothly with this battery under your hood.
The Cold Cranking Amp (CCA) isn't far behind either. The CCA comes up at 760A. It will crank your car up in the hardest of snowfalls and lowest of temperatures.
With a Reserve Capacity of 120 minutes, you can definitely rely on this battery if you thinking about going camping. The battery will give you enough backup without the engine running. So relax and have a good time.
Also, the stamped grid technology gives the battery to produce superior power than regular batteries. It also helps have less corrosion in the posts which is the main cause of battery death. 
The 3-year free replacement warranty stays with this battery too.
4. DieHard Platinum Group Size H8 AGM Battery
And last but not least, the beast of the DieHard Platinum series. It can boost up even the biggest possible RV or truck engine in the worst weather possible.
The DieHard Platinum Group Size H8 AGM Battery comes with impressive Cranking Amps of 1000A. Now that's power! 
It also has the AGM build that makes the battery maintenance-free and long-lasting. The stamped grid technology allows it to produce more power and less corrosion. We all know what corrosion does to a battery. 
This battery also has a Cold Cranking Amps of 900A. Which is highly impressive. Put it against the cold and run your engine wild! Cause with this battery there is no stopping the engine from starting.
Reserve Capacity comes at 160 minutes. You know it is built to deal with all the big accessories you put in your vehicle. Maybe even a whole kitchen in the back.
You also get the 3-year replacement warranty waiting for your when you buy this battery.
Frequently Asked Questions
How long do DieHard Platinum batteries last?
DieHard Platinum batteries last about 4-6 years. With proper care that number can extend always.
Who makes DieHard batteries?
Advance Auto Parts owns DieHard batteries.
Do you need a special charger to charge AGM batteries?
Yes. AGM batteries require special chargers and maintainers. Normally it is mentioned in any smart chargers about what it can charge. So check it out before buying.
Conclusion
DieHard batteries are known to last. And their Platinum series with the AGM build is even superior to any other batteries. If you have a lot of accessories in your vehicle, a DieHard Platinum will be your best go-to battery. Not only it will back you up, but also will outperform any batteries in the market.