Trolling motors require a whole lot of power. And if you have an RV, camper, a marine vehicle, or a lot of accessories in your vehicle, that comes with the extra need of power. 
It is a big headache choosing the right battery for all of your power-hungry equipment. That is why we have gone through all the batteries in the market and come up with a Trolling Motor Battery Review.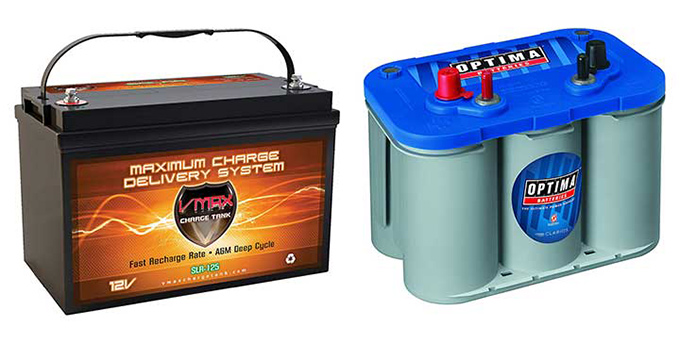 You will find your perfect trolling battery in this article and know all about them.
Best Trolling Motor Battery Review and Some More
In this article, you will know all about the best trolling motor batteries and which one to get for what kind of vehicle. Also, you will find the cranking amps, cold-cranking amps, and reserve capacity information.
1. Odyssey 34M-PC1500ST TROLLING Thunder Marine Dual Purpose Battery
Great power, amazing cranking amps, and long-lasting performance, all of these in one package would be the Odyssey 34M-PC1500ST. This trolling battery has enough power to be a starter and a trolling battery in itself.
With a Cold Cranking Amp of 880, this beast of a battery can be your trolling battery if you have a big boat, truck, RV, or camper. It will crush through any icy situation you got in your hand.
As it is an AGM battery, there is no worry about maintaining it. Charge it for the first time and let it do its job. 
The battery is also spillproof and comes with a sealable venting system. You can mount it in any position you want.
And if you are going to leave it for a long time unused, no worries. The battery can hold its power for up to 2 years. 
Life expectancy of this battery is also high. You can go without thinking about it for about 10 years or so. Long enough for a trolling battery? I think it is.
Also if there is any trouble with the battery, you get a huge 3 to 4 years of replacement warranty. 
The only downside about this battery would be its weight. But it is made for bigger vehicles, so a little weight won't matter much.
2. Optima OPT8016-103 Batteries D34M BlueTop Starting and Deep Cycle Marine Battery
If we are talking trolling batteries and don't mention Optima, it would be a shame. From all the Optima batteries, the Optima OPT8016-103 Batteries D34M BlueTop stands out for its power, build and long-lasting quality.
This battery has a CCA of 750. Which is huge for any winter dominant state. You can go and have a ride in the snow storm if you want. The vehicle will start even then.
As marine vehicles need more power for their accessories and machinery, the Optima OPT8016-103 also comes with an amazing Marine Cranking Amp of 870. So put off all your worries of going fishing and head out with your boat fitted with this battery.
The Reserve Capacity sits in an impressive 120 minutes and Cranking Amps at 870. Its a marathon runner of a battery. You will have enough power even if you have a picnic in the waters and want to come back home.
Fun thing about this battery is that it can perform both as a starter and a trolling battery. It is that much powerful. And it doesn't weigh as much like other batteries.
The vibration resistance is also better than other batteries. Better as in 15 times better. 
If you have an RV or a big boat, this battery would be perfect for you.
And lastly, it comes with 36 months of free replacement.
3. VMAX MR137-120 AGM Sealed Marine AGM Battery
VMAX battery has everything said in their name. Particularly the VMAX MR137-120 battery.
It is a sealed heavy duty battery that can outperform any other battery of its class.
With an AGM build, it comes maintenance-free out of the box. That makes it spillproof and give the opportunity to mount it in any possible position. 
Also the battery is powerful from the inside. The battery has an Reserve Capacity of 230 minutes. Which is huge for a trolling battery.
Like other batteries, it also can be used in a marine vehicle. You get a Marine Cranking Amp of 900 which is ideal for any weather condition in the water. Feel the breeze of the sea and sail away. There is much cranking power and also firepower for the accessories aboard with this battery aboard.
Normally a VMAX battery lasts for about 8-10 years. Depends on how you use it and care for it. 
4. NorthStar NSB-AGM31M AGM Group 31 Battery
It would be a shame we left NorthStar out of the trolling motor battery list. So here is one of NorthStars best, the NorthStar NSB-AGM31M AGM Group 31 Battery.
The battery comes with a huge capacity in both categories. The Cranking Amp of this battery is 1370 and the Cold Cranking Amp stands at 1150. Talk about firepower in the freezing cold. 
It can endure a lot when it is on reserve. The Reserve Capacity of this battery is 220 minutes. So go ahead and start making yourself a gourmet dinner. Use all your refrigerator, TV, oven as long as you want. This battery will keep on running everything until you finish your dishes.
This battery is a true mariner's dream as a battery as also for a trucker. It has enough power to run the engine and all its accessories at the same time. 
The only slight downside about this battery is its price. But you get what you pay for and in full.
It also comes with 3 years of warranty.
Frequently Asked Questions
How long does a trolling battery last?
Most trolling batteries last about 5 hours or so. As they age, the number starts to go down slowly.
Can you use a car battery as a trolling battery for your vehicle?
No. It is not recommended as car batteries are built with less power. Trolling batteries have a higher reserve capacity and power backup than a normal car battery.
Is it okay to use a dual-purpose battery as a trolling battery?
Yes. You can use a dual-purpose battery as your trolling battery.
Conclusion
By now, you know that a trolling motor battery not only runs the vehicle's lights and other stuff, but also the extra accessories that you put in it. And that requires a lot of power. Choosing the best battery for your trolling motor sometimes will mean it will be a bit heavy. But when it comes to power, they are made to deliver.
That is why trolling motor batteries are sometimes heavy. Also, a little maintenance from time to time will last the batter more than is anticipated.