There are a lot of vehicles and power-up systems that require a 24-volt battery. It can be a car, motorcycle, lawnmower, SUV, truck, home setup, industrial equipment, and so on. 
But having a lot of equipment and vehicles with batteries sometimes requires a charger. Especially if they are not in service for a long time. They tend to lose their capacity and need a charge and a repair.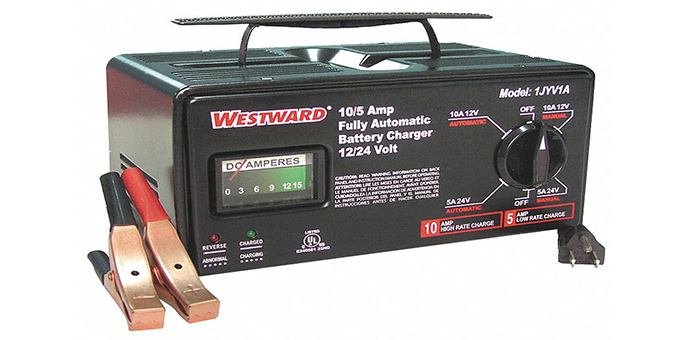 And getting just a charger is not enough. Depending on the place you live in, the weather plays a vital role in the battery charging process. If it is too hot, the battery will heat up and the cells will damage. Too cold weather means it will charge slowly due to the fluids in the battery moving slowly. So what do you do?
You get a good charger obviously! And by good, we mean top-notch. We have gathered the best 24-volt battery charger available in the market and given it a go. After going through all the little details about them, we have come up with the chargers in this article. 
Best 24 Volt Battery Charger That You Need for Your Vehicle and Industrial Need
Here are the best 24-volt battery chargers you need to check out. They are powerful, smart, efficient, and a whole lot more that you need in your life right now.
1. YONHAN Battery Charger 8-Amp, 12V/24V Smart Automatic Car Battery Charger
Getting a new battery when your one is not doing well is not a solution. Instead, a good battery charger might help you a whole lot of money and time. This YONHAN Battery Charger will bright up your day a little bit more.
The 8-Amp YONHAN battery charger is a small, compact battery charger with a lot of powerful features inside it. Not like other chargers that say it does a lot of things and fails in the mid-way, this one actually works.
It can charge any 12V or 24V battery. Be it a car, boat, SUV, or even a motorcycle battery, it will do its charm. The battery supports AGM, Gel, Calcium, SLA, and even flooded cell batteries. 
For a small battery charger, there are a few neat features in it. It has atmosphere temperature detection technology that can detect the weather and charge the battery accordingly. So you don't have to worry about the battery being slowly charged in the cold winter or heating up in the summer. It will provide the right amount of charge.
In addition, you get a few modes to work with. You get the car and truck mode for bigger batteries and motorcycle mode for smaller vehicles. Select the model you want and you will get the right amount of charging amperage you want for your vehicle's battery.
You get to see the battery temperature, charging status, voltage, and battery status from the dedicated LED screen. A sweet touch for a small charger.
It also includes a repair mode if your battery seems to need repairing. Just connect the battery, switch it on and relax. No more running with a low-performance battery anymore.
Pros:
Works on a lot of batteries.
Atmosphere temperature detection charging tech.
Battery repair mode that works.
Inexpensive but powerful.
Cons:
Looks poorly built but isn't.
2. 10-Amp Car Battery Charger, 12V and 24V Smart Fully Automatic Battery Charger 
Another small but powerful battery charger would be this NEXPEAK 10-Amp battery charger. It comes with a whole lot of features that include charging of both 12V and 24V batteries.
The charger supports a lot of types of batteries. This includes AGM, GEL, flooded cell, and standard SLA batteries.
You can get a charging speed of 8-Amp and 5-Amp depending on the type of battery you are charging. So you could charge a car, SUV, marine battery and also motorcycle, lawnmowers.
It also comes with the neat temperature detection mode from the atmosphere to charge your battery according to the climate. So no more overheating while charging the battery in the summer or slow charging in the winter. It will charge slower or faster according to the temperature.
There is also a battery repair feature that detects and fixes battery sulfation and acid stratification. But it won't bring back a battery that is heavily damaged.
You get to see all the modes, charging status, battery temperature, voltage, and current from the provided LCD display. Neat to have a display for such a small thing.
Pros:
Works on a lot of battery types.
Temperature-controlled charging feature.
Can fix a sulfated battery.
Cons:
The instruction manual is a little bit tricky at first.
3. ATian Smart Battery Charger 12V/20A 24V/10A Automatic Battery Charger and Maintainer
If you are keen on getting a bigger charger, we got you covered. The  ATian Smart Battery Charger is the right choice for you to charge any 12V and 24V battery.
The charger itself comes with an impressive digital display that lights up. And you can view the charging voltage, charging mode, battery type, and percentage. 
You can set it up to charge your battery with the presets or you can use your own setup on the charger. It is microprocessor controlled and will detect the battery itself. 
In addition to the charging, it can also maintain your battery when it is once fully charged. So no worry about removing the battery after it is fully charged or the battery getting overcharged.
It can charge a lot of types of batteries including AGM, GEL, and flooded cell batteries. 
The charger can also repair batteries that went below 8V. Also, it can desulfate and stratify the battery acid. It comes with a whole lot of protection like reverse polarity, overcharge, over-voltage, short circuit, and so on.
You can use it in both motorcycles, lawnmowers, golf carts and cars, trucks, marine, and RVs.
Pros:
Powerful charger for any 15-200ah battery.
Wide digital display.
Internal cooling system.
Editable battery charging setup function.
Cons:
No temperature detecting charging facility.
4. NOCO GENIUSPRO25, 25-Amp Fully-Automatic Professional Smart Charger, 6V, 12V, and 24V Battery Charger
If we are talking about 24-volt battery chargers, we cant leave NOCO behind! The  NOCO GENIUSPRO25 is a real pro in the charging game.
The GENIUSPRO25 will not only charge your 24-volt battery but will also charge 6 volt and 12-volt batteries. It's like a whole family package. So if you have a lot of different types of batteries to charge, this is the one to go for.
It works with flooded cells, gel, AGM, and lithium-ion batteries. Not all chargers can do that. Lithium batteries need a different type of charging amperage which other chargers lack.
The charger has temperature detecting and charging technology. So you won't have to worry about your battery getting heated up in the summer due to fast charging and slow charge in the winter. It will provide the right amount of charging amperage when it is needed.
You get to repair your damaged batteries and restore them to health with this charger. It will auto-detect sulfation and stratification and restore it accordingly.
A neat feature of this battery is that it can bring back dead batteries to life. By dead, it means the battery has zero volts of charge in it. It will force charge it and bring it up to life. And this works for all the batteries, be it a 6 volt, 12 volts, or 24-volt battery.
Pros:
Amazing charger.
Rugged and durable.
Brings back dead batteries to life.
Temperature detection charging method.
Cons:
No engine jump starter.
Expensive. 
5. NOCO Genius GX2440 24-Volt 40 Amp Smart Onboard Battery Charger And Battery Maintainer
Of all the chargers, this one is an industrial-grade charger. If you are looking for something that will maintain your whole power system, this will do you good.
The NOCO Genius GX2440 24-Volt charger comes with a powerful 40 Amp output. It can give out a great amount of power to any type of battery setup out there.
It works with any flooded cell, gel, AGM, and yes, lithium-ion batteries. So if you are going to get it for your marine vehicle, industrial equipment, house power set up, or even a cabin in the wilderness, it will work just fine.
The charger comes with IP67 protection. So no water, vibration, or dust can compromise it. Ideal for any environment that has a lot of water, dust, or rumbling is involved.
Repairing a battery is like a normal day job to this charger. It will repair your damaged battery and restore it to life like a new one. Desulfating and stratification is a charm with this charger.
One great addition to this charger is that it can detect any faults in the battery and stop charging it if it is risky. You get to know the diagnostics through the LED that is on the charger.
Pros:
A heavy-duty charger.
Rugged and highly durable.
IP67 protection.
Works with almost all available type batteries.
Cons:
Frequently Asked Questions
What voltage should a 24V system charge at?
A 24V system should charge 28-28.5 volts.
How long should I charge a 24V battery?
It is ideal to charge a 24V battery for up to 18 hours.
How do you charge a 24V battery in series?
You can just simply charge a 24V series of batteries with a 24V charger.
Can you charge a 24V battery system with a 12V charger?
No. You will need to have a boost converter that will boost the 12V charge to 24V capability to charge it.
Conclusion
There are a lot of 24V batteries out there that need a charger that is reliable and efficient. Not all 24V batteries require the same type of charger depending on its use.
If you have a normal vehicle or setup, the YONHAN or ATian chargers will do just fine. But if you have a bigger vehicle and a lot of batteries to charge, the NOCO chargers are a great investment. Because in long terms aspect, they are better and more powerful.