Napa battery chargers have been in the market for quite a while. They have various chargers which differ in size and output. 
Not all of them charge the same battery and give the same performance. According to your need, you have to choose the right charger. Otherwise, you might not get the required output and your battery will suffer. We don't want a bad battery, do we?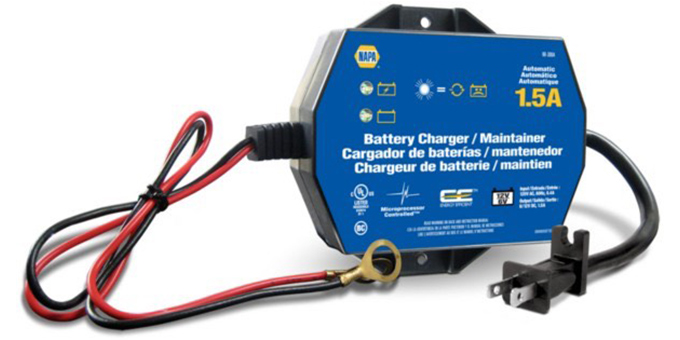 Here we are going to go through some Napa chargers which are great at their service.
Best Napa Battery Chargers in the Market 
We have gathered the best chargers from different ranges here. You will find detailed information and select it according to your need.
1. NAPA 6/12V 60/10/2A Battery Charger With Engine Start
Isn't it a good deal if you get a battery charger and an engine jump starter in the same package? The NAPA 6/12V 60/10/2A Battery Charger With Engine Starter does both of these. It is fit for various kinds of batteries and can charge cars, SUVs, and small truck batteries.
The charger includes a 60 Amp engine jump starter which is really convenient. You get two things in the search for one. 
This charger is equipped with a microprocessor so it can identify the batteries kind and charge it faster, safer, and in a smart way. There is a number of safety options like overcharging, over-voltage, and overcurrent.
Not only it is a charger, but also a maintainer. So all you get to do is connect and forget. For a lot of chargers, they just keep on charging and if you forget, it ruins the battery. This is not the case here. It can maintain your battery with trickle charging and you can start using the battery whenever you want.
Especially ideal for batteries that are not in use the whole season. You can keep it in your winter lodge and maintain our UTV or ATV battery. When you are ready to use them, just take them off the charger.
There are LED indicators to let you know the charging levels of the battery and its status. It also comes with a 10 Amp boost mode if you are in a hurry. 
Most of all, it comes with a start and stop button, which most of chargers lack. Overall it is a good charger for its price with a lot of extra options.
You can find the charger from this link.
2. NAPA 6/12V 2A Hanging Battery Charger/Maintainer
Something small and handy dandy makes your life easy and friendly. If that is what you want,  then this is the one to go for. The NAPA 6/12V 2A Hanging Battery Charger/Maintainer is a hanging charger that also works as a maintainer. It can charge both 6V and 12V batteries. It supports almost all kinds of batteries.
One of the cool features of this charger is its quick connectors. You won't have any trouble attaching them as it clamps onto the ports without letting go. 
As it comes with a hook to hang the charger, you can hook it out of your work area to ensure further safety.
Mind you though, it is a 2 Amp charger. So it won't charge any big vehicles like RV, Marine, or Truck batteries. It is mainly for small vehicles like bikes, scooters, and generators.
There is a microprocessor to maintain and charge faster than other chargers in the market. It comes with auto volt detection, so it can track over-voltage and current. The main function is to learn what voltage the battery requires and supply it ideally. It keeps your battery safe from any sort of electrical harm.
LED indicator indicates the battery charging status. You can reverse hook the batteries and it won't be a problem.
As it is a small charger, it does not come with a start and stop button. 
You can find the charger from this link.
3. NAPA Battery Charger With 125 Amp Engine Starter and 35 Amp Boost Charging
If you are looking for a good truck, SUV, or Marine battery charger, this would be it. This Napa Battery Charger comes with a 125 Amp engine starting power capacity which is beyond expectation. There are different charging modes and rate options you can configure. It supports various kinds of batteries. 
Another great function is the 35 Amp boost charge. It not only charges the battery in 35 Amp but also brings back discharged batteries to life. It also has stable voltage output to ensure the right amount of electrical flow to the battery while charging.
This charger also works as a battery and alternator tester. So you can test, and diagnose your battery and alternator to ensure it is in good condition. It can also detect any electrical faults. How cool is that!
There is a digital display, LED indicator, and push-button so you can customize, overlook and use them in an efficient manner. 
It can also detect the battery's voltage and supplies the charging voltage automatically. After the battery is fully charged, it goes into float mode to keep the battery full until your next use.
You can find the charger from this link.
4. NAPA Wheel Charger 6V/12V/24V Charging with 70A/100A Flash Reprogram Mode
With power on the wheels, this powerhouse of a charger does a lot of things. No wonder it has wheels to carry it around. It is customizable to its core. The charger can charge 6V/12V/24V batteries and even start the engine. It gives you 250A to 330A jump-starting power which is more than enough to start a car, SUV, or even a truck.
There is a 70A and 100A flash reprogramming mode to charge your battery of any size faster and efficiently. Its memory saver mode can save any vehicle's battery settings so you don't have to go through the process every time. 
It can go down to 4A for small batteries and 15A or higher for bigger batteries. Such a programmable piece of equipment.
There is 4-gauge copper wire which goes up to 17 feet for easy use and handling. You can bring deeply discharged batteries back to life, charge any kind of battery and maintain them.
There is a digital display, LED indicators, and buttons for easy programming and use. 
Obviously, it comes with normal safeties and microprocessor-controlled output. This unit is for the heavy user who owns a lot of vehicle of batteries. It is a worthwhile investment if you are talking long-term.
You can find the product from this link.
Frequently Asked Questions
Can I charge a car battery with a bike charger or a 2A charger?
No, you cannot. If you want to wait for a few days to make it full, then you can charge it with a 2A charger.
Can a car charger charge my bike battery?
No. It is unwise to charge any small vehicle battery with a car charger as it provides more power in a very small period. It might fry the battery cells and kill the battery.
What kind of charger is better for battery charging? Is more power better for batteries?
You should use a little less fast charging or low Amp charger for your battery as it is healthy and good for the battery's longevity.
Why isn't my charger charging the battery?
There could be three possible reasons for that. One, the output is poor. Two, your charger is in protection mode. Three, your battery temperature is not suitable.
Conclusion
There is a battery charger for every battery and size. If you are looking for regular use and own one or two vehicles, then NAPA 6/12V 60/10/2A Battery Charger With Engine Start would serve you just fine. For bikers, lawnmowers, and other small vehicles, the NAPA 6/12V 2A Hanging Battery Charger/Maintainer works really well.
But if you have a number of vehicles and want a heavy-duty one, then NAPA Battery Charger with 125 Amp Engine Starter and 35 Amp Boost Charging is the best to go for. For professional use, the NAPA Wheel Charger 6V/12V/24V Charging with 70A/100A Flash Reprogram Mode has very few competitors. All of them are great in their field of work. So choose according to your need. And always remember, the bigger the better.