So you want to know the differences between the Odyssey and Optima batteries? It seems that you want to have a hassle-free confident ride with your vehicles. Look, when it comes to maintaining a vehicle, the battery is one of the most urgent things. You need to think about it very carefully.
No doubt, everyone seeks reliable batteries. So it would help best if you made the apt decision in this regard. And to help you make a good decision, we are here with two trusted top-brand batteries and their comparison.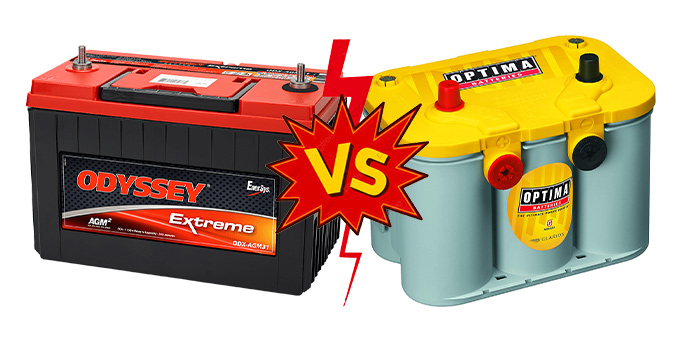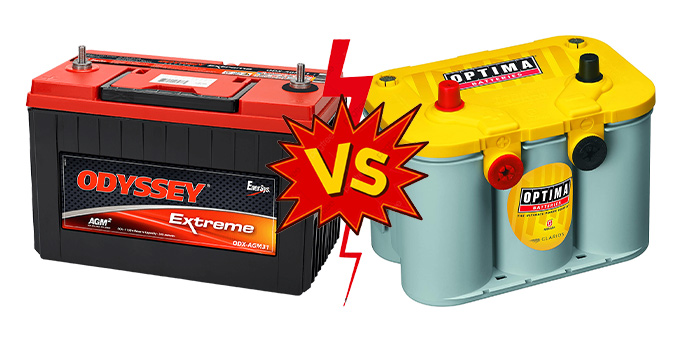 Are you curious to get the kith and kin details?
Hopefully! Then let's go!
Odyssey vs Optima Battery
In spite of having some similarities, the Odyssey and Optima batteries have some significant differences. Both of them have gained immense popularity and it compels us to compare. Here we go toward the detailed discussion!
On Design
The Optima battery uses spiral-shaped plates in terms of design. And it has given a stunning look to this battery. On the contrary, you will see lead plates in the Odyssey battery. If you want a space-saving battery, then Optima is better than Odyssey. The Odyssey battery spirals eat up a big space.
However, if you prioritize getting more power, you better go for the Odyssey. The Optima cannot satisfy you in this regard probably.
Battery Type
The Odyssey batteries are lead-acid batteries, whereas Optima batteries are spiral-gem batteries. Although, both of them are AGM batteries. Else, both have ensured variation in their batteries. And this making does not let the liquid slush around that people often face with traditional batteries. Here you will have it intact.
Experts applied Absorbed Glass Mat technology to manufacture these. It ensures tremendous performance. Moreover, you will have your battery safe wherever you run. They stacked the plates in a square shape to make the Odyssey battery. Each cell can produce 2 volts of electricity. There are 6 cells in total, and overall it results in 12 volts.
On the other side, Optima batteries have a different shape. This is called cylindrical shape. According to its manufacturer, there should be 99.99% pure lead. Experts roll up the sheets in coils and fit them into the battery.
Availability of Model and Group Size
Let us also tell you the models available of them in the market. You will have Odyssey PC925, Odyssey PC680, and Odyssey PC545 available. These are some of the best-selling models of Odyssey batteries. And these are available in different group sizes.
On the contrary, the Optima batteries are available as Red Top, Blue Top, and Yellow Top. These three types are aimed at three different purposes that we will discuss later on.
Please note, the group size matters a lot. It is the "fit" in the size of the battery. It is a must to choose a battery that fits the group size number of your vehicle.
Weight
The Optima batteries are far heavier than the Odyssey batteries. Allow us to take two models for this comparison.
The Odyssey PC680 weighs 13.45 pounds, whereas a Yellow Top Optima weighs 43.5 pounds! And see, it's a huge difference.
Cold-Cranking
In the cold-weather season, we struggle to rev up an engine. Perhaps you have faced such a bothering situation. These batteries shall not let you go through such a situation. Be sure of that!
Yet, in this respect, the Optima can better serve your vehicle. It comprises a powerful burst at the time of start. So no matter how cold it is, your engine is bound to respond!
On the contrary, all the Odyssey models can not help you in this regard. It lags behind Optima batteries in terms of vibration resistance and performance.
Cranking Amps and Cold Cranking Amps
When you intend to purchase a battery, it would help best if you considered the two factors- Cranking Amps and Cold Cranking Amp. In labs, experts test Cranking Amps at 32 degrees Fahrenheit.
On the other hand, they test the Colour Cranking Amps at 0 degrees Fahrenheit. Remember, the more you have Cranking Amps and Cold Cranking Amps, the more reliable battery you have!
Let us make you familiar with which battery features what. First, look at the Odyssey ones, then Optima below:
Odyssey
Odyssey PC925 features a CCA of 330
Odyssey PC680 features a CCA of 170
And, odyssey PC545 features a CCA of 150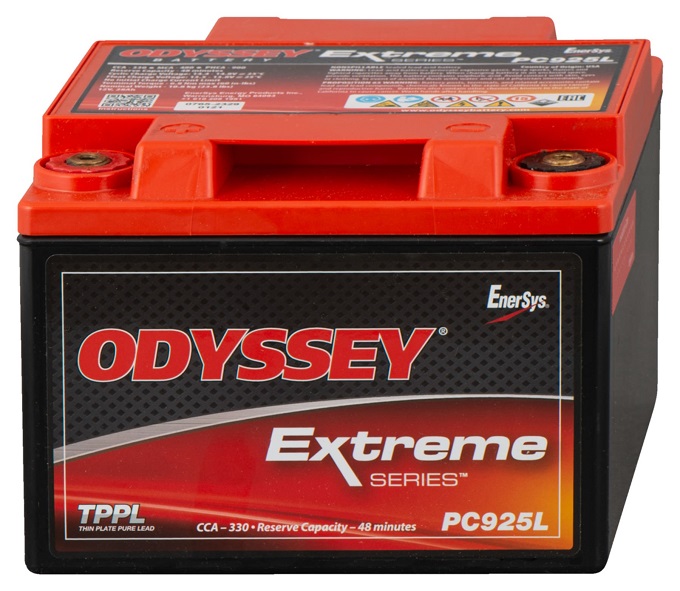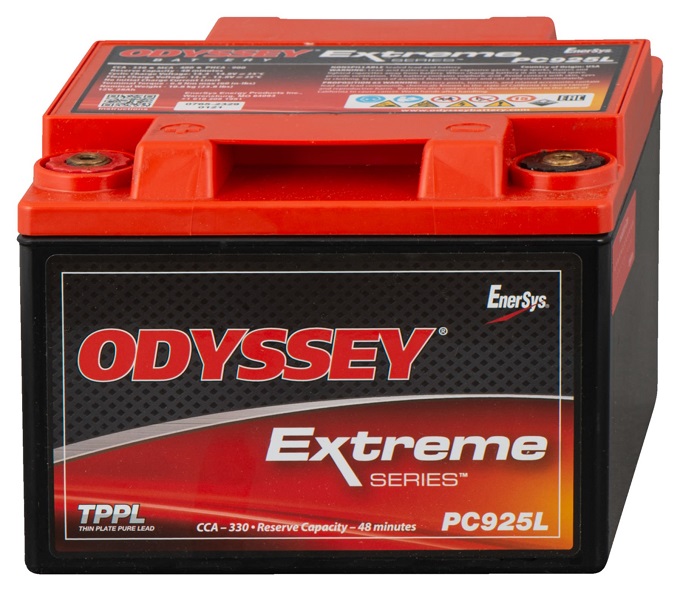 Image Source: louis.eu
Optima
Optima Red Top features a CCA of 800
Blue Top features a CCA of 750
Yellow Top features a CCA of 750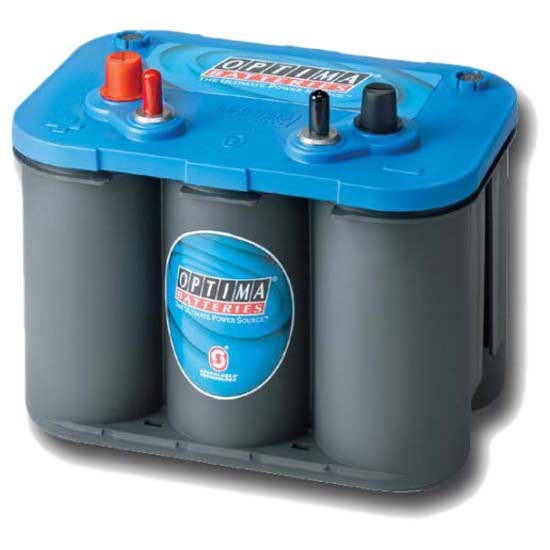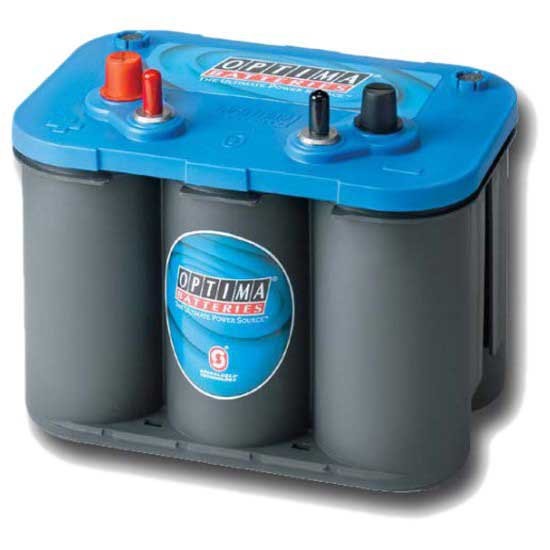 Image: Optima Battery; Source: Waveinn.com
Voltage
The days of 6-volt batteries are no more. Odyssey and Optima are opposite to traditional batteries, both of them ensure today's standard i.e. 12 Volt. It is the apt amount for any car battery. However, the Cranking Amps and the Cold Cranking Amps might not be identical in them.
Reserve Capacity
Do you know what does it mean by the reserve capacity of a car battery? Well, it means the amount of time a battery can deliver 25 Amps at 80 degrees.
You will see a variation in reserve capacities among different batteries. For example, the Odyssey PC925 comprises a reserve capacity of 52 minutes, whereas Optima's different versions have different types of capacity. These are as follows:
Red Top: a reserve capacity of 100 minutes
Blue Top: a reserve capacity of 120 minutes
Yellow Top: a reserve capacity of 120 minutes
Price
You will also see differences between Odyssey and Optima batteries concerning the price. Odyssey batteries will be more affordable for you. And because of being capable of outperformance, Optima batteries will be more pricey than the Odyssey ones.
Warranty
Optima comes up with three years free replacement warranty. On the contrary, Odyssey provides you with two years full replacement warranty. Like others, you may also prioritize an increased facility that Optima features.
Now it's time to get the details of the different types of Odyssey and Optima batteries. Here we will be talking about their pros and cons as well. This chapter is going to sharpen your concept more for sure. First, we will entail the Odyssey batteries, then Optima batteries.
Odyssey
Odyssey PC625 Powersports Battery
Compared to other batteries, it has a 70% longer cycle life
Possesses the highest recharge efficiency among all the sealed lead batteries available on the market
Vibration-resistance design gives protection against high impact shock
Favorable for extreme temperature tolerance
PC925 Automotive Battery
Can carry up to 400 cycles at 80 percentage
Provides 3 and 4-year full replacement
Capable of 100% recharge in 4 to 6 hours
Features Cold Crank Amp (CCA)- 330
Capable of 3-10 years of service life that saves time, money, and aggravation
Provides high stable voltage for longer periods of time
ODYSSEY PC545 Powersports Battery, Red Top
Not pro rata, rather 2-year full replacement
Features Cold Crank Amp (CCA)- 150
Capable of 3-10 years of service life
Can carry up to 400 cycles at 80%
70% longer cycle life comparatively
Can provide high stable voltage in the long run
Capable of 100% recharge in 4 to 6 hours
Possesses the best recharge efficiency among all sealed lead batteries
Odyssey 34-PC1500T Automotive and LTV Battery
A 3 and 4-year full replacement, not pro rata or proportional
The dimension is L x W x H (in): 10. 85×6. 76×7. 82
Capable of 3-10 years of service life
Features Short Circuit-3100
Provides 70% longer cycle life compared to other batteries
Can carry up to 400 cycles at 80%
Constant high, stable voltage
Faster recharge capacity, 100% recharge in 4 – 6 hours
ODYSSEY 65-PC1750T Automotive and LTV Battery
Features a great Cold Crank Amp (CCA)- 950
Ensures a 3 and 4-year full replacement warranty
Comprises SAE Automotive terminals
Universal fitting capacity
Non-spillable, vibration-resistant design
Features a tremendous operating temperature from -40 degree Celsius or -40 degree Fahrenheit to 45 degree Celsius or 113 degree Fahrenheit
Logic to Prefer
You see, all the Odyssey batteries have a 4-year warranty and can serve you for around half or almost a decade. That means they are pretty reliable due to their rugged construction. At the same time, you will have mounting flexibility as they feature a non-spill AGM design.
Especially, they protect against high impact shock as well as mechanical vibration. Moreover, you will have more than 70% longer cycle life with a fantastic deep cycle performance and cranking abilities. You can even recycle these batteries since they have tight-pack plates made of pure lead.
Things You Need to Compromise
However, there are a few drawbacks as well. Despite not being worthy, the Odyssey batteries are a bit overpriced. Some of its models lack terminals and it becomes an issue while overcharging.
Optima
Optima RedTop Batteries
Able to handle high cold cranking amps (such as in SUVs, trucks, off-road cars, and street rods
Comprises a design that is capable of high ignition
Need only 5 seconds to start
Free from any sudden battery failure
Optima YellowTop Batteries
Able to recover shortly
Top-notch cranking power
Fetaures fast cycling
Best for commercial vehicles i.e. cars with extreme stereo systems, trucks with winches
Low internal resistance and high electrical resistance
Optima BlueTop Batteries
Compared to the normal batterie possesses three times higher charging rate
Best fit for RV or a boat
Quick recharging capacity
Extended longevity six to ten years or longer
Logic to Prefer
The Optima batteries include an exclusive technology called SpiralCell technology. That's the reason they are leak-proof and highly competent in starting a car even in very cold weather. The vibration resistance levels are also fabulous. And you cannot but love their extended durability compared to other batteries.
Apart from these, you can mount and use them in several positions. And you will love its excellent reserve capacity. It can run for one and a half hours!
Things You Need to Compromise
The Optima batteries are costly. Any of the types may be unaffordable for you. Also, the packaging may not be satisfactory to you.
Which One to Choose?
Hey, we don't want to persuade you because this decision is up to you entirely. While Odyssey is good at some things, Optima outperforms in other respects. Now, depending on your budget, specific need, and location, you may choose any of them. Best of luck!
Wrapping Up
Choosing a reliable battery is very important when you have a car or other vehicle. A poor selection of batteries shall make you suffer in the long run. So someone should choose a battery depending on each respective need. And most importantly, you need to count reviews rather than the manufacturer's advertising.
We wish you a stroke of good luck!