Optima produces a few kinds of batteries. Among them are the Optima Red Top battery and the Optima Yellow top battery. You might wonder what is the purpose of the colors? They might be the same battery as they are the same size. But there is a significant difference between the two.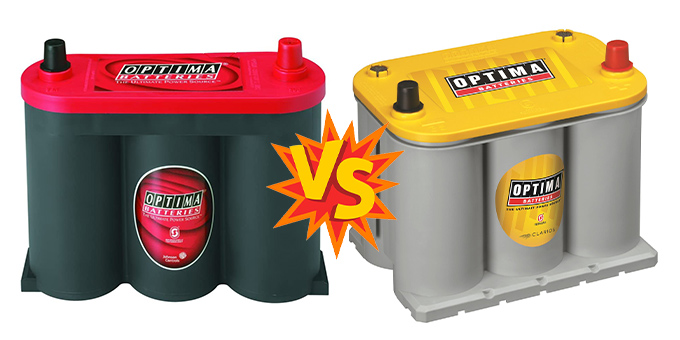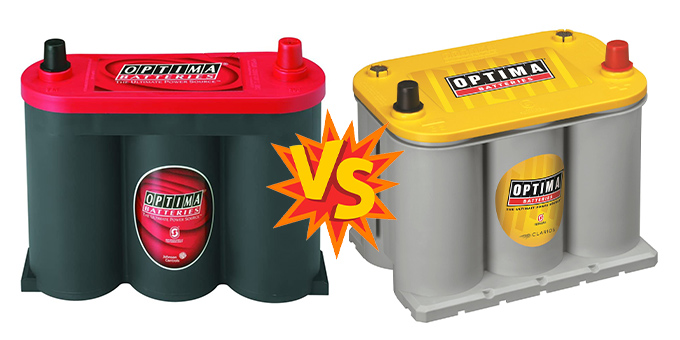 If you are looking for Optima batteries for your car, van, or SUV, then you should know a few things before buying one. Here is the difference between the Red Top and Yellow Top batteries. 
Optima Red Top Battery vs Yellow Top | Differences
The Red Top for Everyone
Optima produces batteries for a wide range of vehicles. Cars, hot rods, SUVs, or vans, you name it. They made things easy with just color differentiating them. 
The Optima Red Top battery is considered the regular in the line. They are for general use for vehicles. It has a high starting power that helps your car get started. The high burst rate makes it the go-to battery for any vehicle. 
As it is a reliable startup battery, it also has a higher life span while in use. It runs twice as much as a traditional battery that comes preinstalled in your vehicle. 
The Red Top battery is spill-proof and maintenance-free. This makes it more convenient for any user. It can handle more than fifteen-time the vibration rate of a normal battery. Which is an essential part of your car if you travel on rough grounds.
Whether if you have a car, van, or a hot road, even a truck, a Red Top will fit perfectly in your vehicle. If your vehicle is not amped up with a lot of electrical equipment and accessories, a Red Top will work for you like bliss. 
Bold Yellow Top, for the Accessory Head
If you like big music players, speakers, and other electronic equipment in your car, the Yellow Top battery got you covered. It is a high-performance battery that is specially made to supply long-term power backup.
Turn on the stereo, or let your children play games on their console with your internal car or van TV set, maybe watch a season or two of your favorite series, a Yellow Top battery won't fail you. It is just like the Red Top battery, but with more reserve power. 
It is spill-proof like the Red Top. The best part, it is a deep cycle battery with three times the power of a traditional one. 
As a deep cycle battery, it can be charged and recharged over 300 times. Crazy! Right?
It is also 15 times more vibration resistance than any other battery out there. So go on for an offroading if you are feeling like it. 
It comes in different sizes, which is more friendly to any kind of vehicle.
Frequently Asked Questions
Q. Will a Red Top battery be good for my vacation car? I don't use it more frequently.
A. As your car is not in use for a longer period, your battery will discharge considerably. This is why it is suggested to use a Yellow Top battery as it has a deep cycle discharge option.
Q. Is there any other type of battery than these two from Optima?
A. Yes there is. There is a Blue Top battery that is made for RV's and boats. 
Q. Can I use a Red Top battery on my offroad vehicle?
A. Yes you can. If you don't have any other electronic accessory, then a Red Top battery will be enough to power your offroad vehicle. But if you have extra long-range lights on top of your vehicle, it is better to use a Yellow Top battery.
Conclusion
If your car has satellite navigation, speakers, and a high-performance audio system, going for a Yellow Top is the best option. If you just have a regular car without any modifications in your car, a Red Top is your go-to. Both of them perform very well and require no maintenance at all.