A car is part of your family. No matter what kind of car you have, it is like one of your family members. The more you care for it, the longer it will perform. One of the most important components of your car is the battery. It is always a good decision to invest in a good battery if your car doesn't come equipped with one already.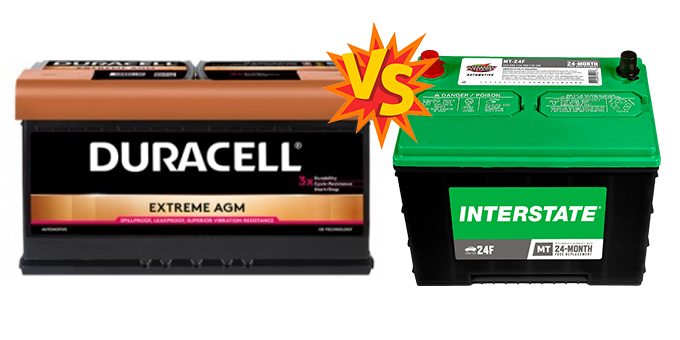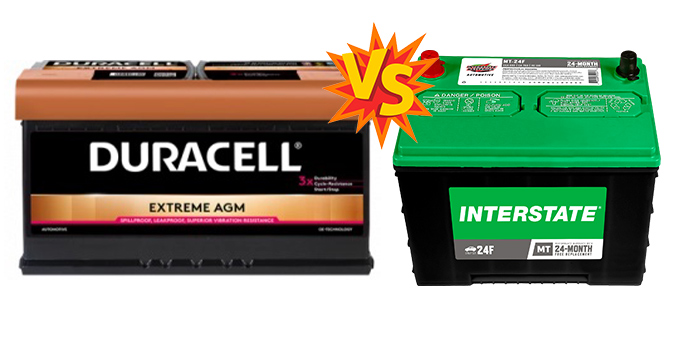 Depending on where you live, what kind of vehicle you drive there are different kinds of batteries. Two of the most commonly used battery brands are Duracell and Interstate car batteries. Both of them have their categories and benefits. Let's look into them.
Duracell vs Interstate Car Battery
Duracell Battery
Duracell batteries are one of the leading battery brands in the world. They are known for their reliability and durable nature. They have a polypropylene-constructed exterior, which is resistant to any vibration-related impacts. Duracell batteries also have a venting system so the acid-produced gases of the battery can pass through swiftly. 
There are five categories of batteries that Duracell provides to its customers. 
Duracell Starter: It's the same old high-density paste formula battery that Duracell offers. It comes with a 2-year free replacement warranty. 
Duracell Advanced: Comes with cranking AMPs. Its high CCA rating makes it easier for cold climate users to not worry about starting the car. This one has a 3-year free replacement warranty.
Duracell Extreme AFB: It's all about deep cycle ability, lots of starting power, high recharging rate, and high tech performance. If your car is equipped with a lot of aftermarket accessories, this is the one to go for. It has a 3-year free replacement warranty.
Duracell Extreme AGM: This one comes with a computerized controlled system with a CCA rating of 250. 
Duracell Extreme AGM Backup: It is the same as the Duracell Extreme AGM, but with a higher CCA rate of 350.
Duracell Battery Benefits and Disadvantages
The benefits of having a Duracell Battery are its durability and high performance. It has a maintenance-free feature, so you don't have to worry about it. But Duracell only sells from their centers. So it isn't easy getting one from any of the online marketplaces. And worse, their customer care is hard to reach. Otherwise, a solid battery that you can go for. 
Interstate Battery
Interstate car battery is an old player in the car battery game. They started back in 1950 when the founder started to sell car batteries from the back of his truck. 
They make different car batteries and come in different sizes. Their average CCA starts from 800 and goes up from there. 
Interstate not only makes car batteries but also makes batteries for any household equipment and devices. They are almost the same in terms of manufactures of batteries like Duracell.
Interstate makes five categories of batteries for its customers.
M Line: This is the very general of Interstate batteries. It is value for its money with ample cranking power and 18 months free replacement warranty.
MT Line: This line is made for both cars and trucks. It is for cars and trucks that are used in moderate to extreme temperatures. The high electrolyte to lead ratio makes this happen swiftly. It comes with a 24-month free replacement warranty. Better enough, it also has a 5-year performance warranty.
MTP Line: MTP line batteries are made for cold climates. So it has a high cranking value. It comes with a 30-month free replacement warranty and a 6-year performance warranty. It is made for both cars and trucks.
MTX Line: It is made with AGM technology. It prolongs the life and performance of the battery for the user. MTX line batteries have a 36-month free replacement warranty. There is no performance warranty for this line. 
MTZ Line: This line of batteries not only has AGM but also has Pure Matrix. It is for power-hungry vehicles to ensure high performance for the longest period. Vehicles that have TV, Players, speakers, and other accessories equipped in them will operate without any power shortage. It has a 48-month free replacement warranty.
Interstate Battery Benefits and Disadvantages
Availability, affordability, and good customer service are what Interstate batteries are known for. Additionally, they come in different sizes and for every possible vehicle out there. They are easy to use and have a long-lasting nature. And all of the models have a light indicator for battery levels. The only thing that shortcomings Interstate batteries are their lack of paperwork for warranty. And sometimes the durability is an issue with some models.
Frequently Asked Questions
Q. How do I know my battery power level?
A. By using a Hygrometer you can know the level of your battery's charge or power level.
Q. How do I know if my battery is charging or not?
A. Check your battery's voltage with a voltmeter. If the voltage is above 12.7 then it is fine. Lower than that means there is an issue with your battery or alternator. 
Q. Can car batteries fail during the summer?
A. Yes. If your car battery is out of electrolytes, then it will fail. 
Conclusion
After looking at both brands, it can be easily said that both of them are great batteries. If you are looking for options and good service, go for Interstate. And if you are looking for durability and superior protection, then Duracell is the one.