Trucks. Doing all the heavy lifting for all the things in the world. Traveling from one corner to the other of the country delivering goods and stuff unimaginable. It is the second home for a lot of people. And like any other home, it needs good power. Because without power, the home is dark, gloomy, and cold.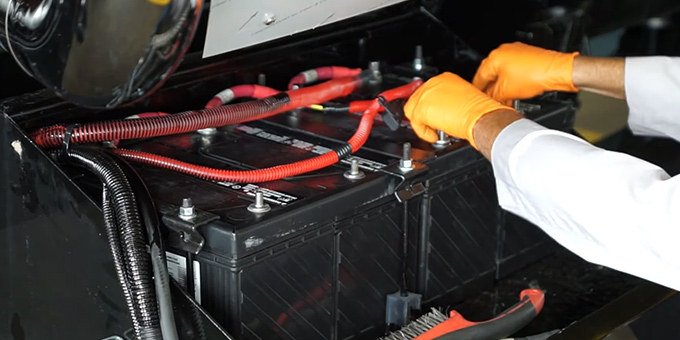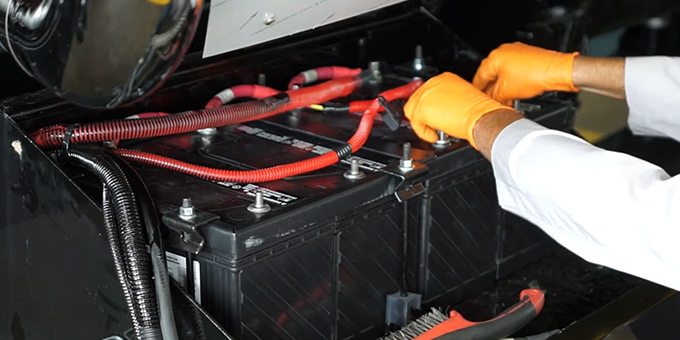 Yes! We are talking about the truck's power supplier, the battery. This heavy-duty battery is different than any other vehicle battery. As trucks have a lot of equipment inside and outside, it needs heavy electrical power along with the engine. Investing in a good battery is crucial.
That is why we have gathered some of the batteries you might want and some of which you need to stay away from. Here are the 5 of the best and most considerable batteries on the market.
Editors Choice
Best Buy
Nice Pick
XS Power D3400 XS Series 12V 3,300 Amp AGM High Output Battery with M6 Terminal Bolt
Optima Batteries OPT8002-002 34 RedTop Starting Battery
ACDelco 78AGM Professional AGM Automotive BCI Group 78 Battery
Editors Choice
XS Power D3400 XS Series 12V 3,300 Amp AGM High Output Battery with M6 Terminal Bolt
Best Buy
Optima Batteries OPT8002-002 34 RedTop Starting Battery
Nice Pick
ACDelco 78AGM Professional AGM Automotive BCI Group 78 Battery
Top 5 Heavy Duty Truck Batteries in the Market
1. XS Power D3400 XS Series 12V 3,300 Amp AGM High Output Battery
This AGM built high capacity 12V 3,300 Amp battery is one of the best out there. It fits on trucks, SUVs, RVs, boats, and vehicles that are accessory heavy. It works like a charm as it has a low capacity output. 
Moreover, it has a Reserve Capacity of 135 minutes and a Cold Cranking Amp of 1000. The power output is about 65A for 20 hours or so. 
There are a lot of batteries in the market that you can opt to go for. But this one is one of the best out there. Because of its build quality, high reserve capacity, and long endurance. It is spill-proof and shock-resistant battery, so you can mount it in almost any way possible.
Best of all, it has M6 bolt terminals for connecting, which makes it even more convenient. There are carrying handles on both sides. 
It can be recharged fully in about 4-6 hours, which is really time-saving considering its size. Life expectancy is about 5-6 years. Most truck batteries last around that time or so. So it is a worthwhile investment. 
Pros:
High RC and CCA.
Low internal resistance. 
Recharge time is very fast.
Can power up almost anything in a truck.
Cons:
2. Optima Batteries OPT8002-002 34 RedTop Starting Battery
It can be called a  good truck battery for Optima Batteries OPT8002-002 34 RedTop. It is one of the mid-range batteries out there. As you can tell from its name, it is a favorite of some people.
It has a CCA of 800 and RC of 100 minutes. Well, it is what it is. Going with its name and fame I would say. It's a lead-acid battery. So you won't be able to mount as you wish to.
This battery does perform well for smaller vehicles, considering its output and size. But for heavy vehicles like trucks, boats, and RV's, it kinda fails at some point.
It can startup your vehicle relatively faster than other batteries. Works great under cold and hot weather. The battery is resistant to vibration, so it is durable. But it has its limits.
Online purchases will bring you a bit of a pain when it comes to warranty and replacement. So you've been warned. 
Pros:
Good battery for the price range.
Performs well under hot and cold weather, but fails in the extreme.
Cons:
Very low power for a truck or heavy-duty vehicle with accessories.
Bad after service if purchased online.
3. ACDelco 78AGM Professional AGM Automotive BCI Group 78 Battery
If you are looking for a truck battery, this one would not be it. ACDelco 78AGM Professional AGM Automotive is nowhere near what a truck battery should be.
It has a Cold Cranking Amp of 760 and a Reserve Capacity of 120 minutes. It is not by any means a deep cycle battery. Rather it can be used as a starter battery. Heavy vehicles like trucks, RV's, and boats require deep cycle batteries for their heavy accessories.
According to the price range of ACDelco 78AGM, you can add some more and get a better battery for your truck. Or you can even get a better battery than this one in this price range. It is a side-mounted battery if you are wondering about the connectors. So it is another inconvenience.
It is here on this list because to make you aware of what kind of batteries to stay away from. If there is one word to describe this battery for a truck, it would be a disappointment. For cars and other vehicles, it can work relatively nicely. But it is not at all a truck battery.
Pros:
Good for cars, for hot climates. Fails in colder regions.
Should be used as a starting battery.
Cons:
Not a truck battery.
Doesn't have enough CCA or RC for a heavy-duty vehicle.
Performance is very bad considering the price.
4. ODYSSEY 31-PC2150S Heavy Duty Commercial Battery
The heavy vehicle battery winner of the year would be the ODYSSEY 31-PC2150S Heavy Duty Commercial Battery. It is the best truck battery any trucker could possibly wish for.
It has a hipping CCA of 1150 and an RC of 205 minutes. Which is more than enough for a heavy truck with a lot of accessories. It can also be used for over 3 hours without the engine running, which no other battery can. There is nothing to worry about even in the freezing temperatures for truckers who operate in cold regions.
And if you are thinking it may not work accordingly in the hot regions, think again. It can work with ease at a temperature of 113 Fahrenheit. That's a battery everybody wants. It has a spillproof and sealed design. Meaning it needs no maintenance and can be mounted in any possible way.
This battery takes only 4-6 hours to fully recharge. As a deep cycle battery, it can be cycled up to 400 cycles. Which is 70% longer than any other truck battery.
The ODYSSEY 31-PC2150S comes with vibration, shock, and mechanical protection. So it can go through a lot in its lifetime. And by lifetime, we mean 5-6 years. 
There is a 3-4 year replacement warranty. But be aware of online purchases as it may take longer to process. Other than that, the battery is a solid investment.
Pros:
Value for your buck.
Outstanding performance for heavy vehicles with accessories.
Great CCA and RC performance.
Recommended by truckers.
Cons:
The online purchase warranty is a little bit slow.
5. DieHard 38217 Advanced Gold AGM Battery – Group 49
If you are looking for the best value for your money, then the DieHard 38217 Advanced Gold AGM Battery would be a great choice. Why? This AGM build battery packs a powerhouse under its hood.
With a Cold Cranking Amp of 850 and a Reserve Capacity of 170, this battery can climb mountains for your truck. It also has a 20 hour nominal capacity of 92Ah. Which is really impressive. You don't have to worry about getting stranded on any cold winter evening in the middle of your trip. And if you are a camper, this battery will be more than sufficient for your camper or RV.
For a massive truck with a lot of accessories, this guy can fuel all its needs. Its life cycle is twice of any battery of its range.
It comes with 20X vibration protection. It has a spill-proof design, so you won't have to worry about mounting it a bit differently than usual.
DieHard is a trusted name in the battery industry and it keeps its fame with this powerful featured battery for trucks. If you are looking for a budget-friendly heavy-duty battery, this would be it. 
Pros:
Great performance for its price.
Good CCA and RC.
Spillproof AGM tech.
Cons:
Sometimes it comes with a half charge from the case.
Heavy Duty Truck Battery Buying Guide
Power
The thing to keep in mind when purchasing a heavy-duty truck battery, it would be its power. The CCA and RC ratings are crucial. If one of them fails to complete the minimum mark, then it isn't worth it. No matter how much it has a good review, it won't take you to your peak. That is why you should consider the power it packs inside. If you are thinking long-term and a trustworthy battery, then ODYSSEY 31-PC2150S and XS Power D3400 XS Series should be your first choice. As they have a huge Cold Cranking Amp ranging from 1000-1150 and a Reserve Capacity ranging from 135-205 minutes, you can certainly count on them. Both of them give you enough power backup of over 3 hours with the engine off. If you are on a budget, then the DieHard 38217 Advanced Gold AGM would be a nice addition to your truck.
Longevity
Truck batteries last from around 5-6 years or less. So you should also keep that in mind when buying a new one. If you can get the most out of your battery in that time range then it is worth it. Otherwise opting for a cheaper battery won't give you most of the outcome and won't last that long. And a vehicle like a truck consumes a lot of power. With that in mind, it is always a wise choice to go for a better option than a cheaper one. It is like powering up your second home on the road. So it should be a better version than breaking down often.
After-Market Services
Another thing you should consider is the after-market services. You don't know what might happen to your battery. Even the best can fail sometimes due to any defect. So it is necessary to know your warranty and returns. Ordering online sometimes leads to some unwanted hassle. But getting it from authorized shops won't give you that inconvenience. So better buy from a store.
Knowing the Bad Ones
Some batteries claim to be truck batteries and heavy-duty. But in reality, they don't even work great as a car battery. So always do your research before buying one. Otherwise, you might end up wasting valuable money on something very wrong. It's a 6-year commitment, and you need to get the most out of it. So better be late than wrong.
Frequently Asked Questions
1.  How lowest CCA can a heavy-duty truck battery should have?
A. The minimum range of CCA 500 is needed to start a truck. But to function properly, it is required to have a CCA 750 or higher.
2. How much voltage should a good truck battery have?
A. Any good battery should have a charge of 12.6 to 12.8. The same goes for both trucks, cars, and other vehicles.
3. Should I use fast charging or slow charging for my truck battery?
A. Slow charging is considered better due to a better functioning battery. But if you don't have enough time, then fast charging will do fine. But remember to use a regulated charger so it does not cook up the battery.
4. How long does a truck battery last?
A. A truck battery lasts from 4-6 years.
5. Where are the truck battery terminals are located?
A. Most of the time the battery terminals are at the top of the battery.
Conclusion
Buying the best battery for your truck is a thoughtful process. You cannot just go ahead and get the one in front of you. Consider all the things like your accessories, lights, and setups you have in your truck. Then you can do the numbers. After doing all that, you have to consider your route and the weather of that region.
Depending on the time you spend on the road, you should always go for more than just a regular battery. Because you need to use your equipment like the microwave, fridge, heater, stereo, TV. Upon all of these, you have your truck's load and other things to function properly. A cheap battery might do the work, but in the long run, it will crawl, and sometimes break down. So it is a good option to go for a better one than a budget-friendly one.