Boating is a great hobby and profession. If you have a boat, it is tiresome work to maintain it. Taking care of the equipment that makes it work is an important aspect of any mariner. 
To get the best out of your marine vehicle, it is ideal to keep its power sources up to date. And by power, we mean the batteries. The deep cycle batteries give power to all the equipment work on the vehicle and some more. So keeping them in top shape is a priority.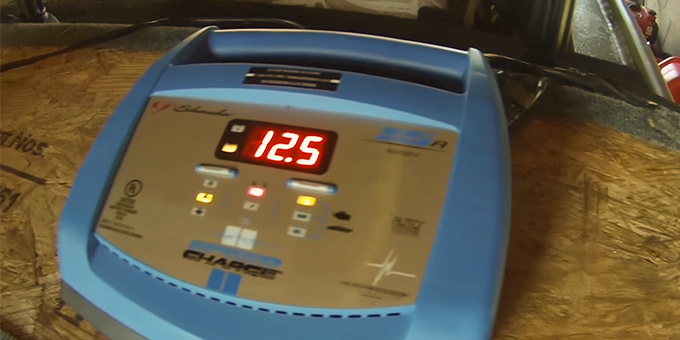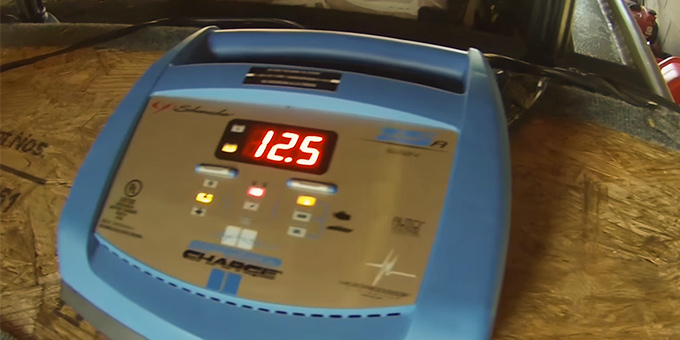 If you want to go worry-free and keep your battery in top shape, investing in a battery charger is a great idea. We have come up with the best deep cycle battery of marine vehicle chargers that is available in the market to make your work a little bit easy.
Top Best Deep Cycle Marine Battery Charger in the Market
Here we have the top best deep cycle marine battery charger in the market. Before you make a decision, go through the article for some crucial elements that might get missed.
1. NOCO GENIUS5, 5-Amp Fully-Automatic Smart Charger, 6V, and 12V Battery Charger
Starting with the NOCO GENIUS5, 5-Amp Fully-Automatic Smart Charger. This little charger has a lot in it. It can charge 6V and 12V batteries, maintains batteries, repair damaged batteries, and a lot more.
If you are thinking about what kind of battery it charges, flooded, GEL, AGM, and lithium-ion batteries would be the answer. That's a wide range of batteries for a little thing like this. 
This charger is not only for automotive but also for marine vehicles. So if you are looking for a marine charger, this one will do the work.
One of the things in water is temperature fluctuation. Sometimes it is hot and sometimes it is freezing. The battery chargers get confused and work slow in cold weather and fast in hot weather. The GENIUS5 has a built-in ambient temperature control method that detects the temperature of the atmosphere and the batteries and charges accordingly. So there is no fear of overcharging or undercharging.
Have a dead battery lying around? This charger can make it work again. Even if the battery voltage is low as 1 volt. It will force the battery and bring it back to life from zero volts. It's a very neat function to have in a battery charger.
In addition to the dead battery bringing to life, the charger can also work as a battery desulfator and restorer.
The trickle charge function lets you maintain your battery for a long time. So if you don't use the battery much, it can sit on the charger worry-free. But remember to check on them from time to time. Because electrical equipment tends to malfunction sometimes.
Pros:
Works great as a charger, and reviver.
Trickle charge works.
Temperature control activity is a great function for marine vehicles.
Cons:
2. NOCO GENIUS10, 10-Amp Fully-Automatic Smart Charger, 6V, and 12V Battery Charger
Level upgrade! Another charger from NOCO. But this time it's the NOCO GENIUS10. It is a 10 Amp fully automatic charger. It does everything that a NOCO charger does but with more power and better precision.
This charger can charge any flooded cell, GEL, AGM, or Lithium-ion battery. Do remember to check your battery type before buying this. Because it might not work if the battery is not supported by the charger.
You have to select the battery type and the voltage it will charge. Otherwise, it might not detect in some cases. Be sure the charger has detected the battery and the voltage and then set it on charging.
The charger also comes with the NOCO's newest thermal sensor is also included. This is one of the best reasons to get it as a deep cycle marine battery charger. Because it understands the temperature of the atmosphere and the battery and then charges it accordingly. If the weather is hot, it charges the battery slowly, and if the weather is cold, the charger charges the battery fast.
Another great function of this charger is that it can bring back dead batteries to life. Dead as in zero volts. And obviously, it can charge and bring back to life heavily drained batteries. 
The charger also comes with trickle charging. So you won't have to worry about leaving your battery plugged in on it.
Pros:
High voltage charger.
Great for any marine vehicle.
Battery reviver.
Trickle charge works.
Cons:
The instruction manual is not easy to understand.
3. ADPOW 5A 12V Automatic Smart Battery Charger Automotive Maintainer 7-Stages Trickle Charger
If functionality and performance are your first priority, then this charger is a great option. The ADPOW 5A 12V Automatic Smart Battery Charger is a powerful charger that comes with a few functions and a lot more performance.
The charger has 7 stage charging process. It includes desulfation, soft-start, bulk charge, absorption, test mode, reconditions, and lastly float. You get to know all of the info from its provided LED indicators. 
In terms of battery support, the charger works on SLA, GEL, AGM, VRLA, and flooded cell batteries. There is no worrying about this reason. Sadly, no lithium-ion battery support for this one.
For a little device like this, you get a lot of protections like overload, overvoltage, overcurrent, short circuit, and reversed polarity.
It is small, portable, and lightweight. So you get to carry it anywhere you want.
Another great thing about this charger is it comes with water and dust resistance. This is a great option if you are going to use it in marine vehicles.
The charger comes with a lifetime quality warranty and a 30-day refund policy.
Pros:
Inexpensive charger.
Portable but works like a heavy charger.
Charges heavily drained batteries.
Water and dust resistance.
Cons:
4. NOCO Genius GEN5X2, 2-Bank, 10-Amp (5-Amp Per Bank) Fully-Automatic Smart Marine Charger
Our last but not least deep cycle marine battery charger is once again a NOCO. The GEN5X2 is made to be on the water. Why? It comes with an IP68 certified rating. 
The charger comes with two bank onboard battery charging capacities. The 10 Amp charger divides into 5 Amp per bank. It can charge any boat battery, be it a starter or a deep cycle one.
It supports batteries like AGM, Lithium, and lead-acid batteries. Other than that, you have to look elsewhere. 
The charger comes with the usual NOCO thermal sensor that lets it detect the temperature and provide an adequate charging situation for the batteries. You don't have to worry about the weather messing around with your batteries charging power anymore. 
You can also revive any dead batteries. Dead as in zero volts. This charger will revive the dead battery and charge any heavily drained ones. The force mode makes this operation swift as possible on its own. Just plugin and select the mode.
As we told you the battery is made for the marine environment, this charger can operate in temperatures like -4 and 104 degrees Fahrenheit. Impressive! Isn't it?
It also has waterproof certification of IP68. It will keep on working even if it gets submerged into the water somehow. So going for this charger for a marine vehicle is the best idea.
Pros:
Great charger, reviver, and maintainer.
An IP68 rating makes it even more friendly to marine vehicles.
A thermal sensor is a great option to have in the water environment.
Cons:
Frequently Asked Questions
Can I leave my deep cycle marine battery charger connected?
If you are not using the battery, then there is no reason to keep it connected all the time. Keeping it connected may end up in some kind of malfunction and to something worse.
Can I keep my marine batteries in trickle charge mode?
Yes, you can. Because deep cycle marine batteries don't tend to heat up in trickle mode, hence no long-term damage if kept in trickle mode.
How often should I charge my deep cycle marine batteries?
If you have a lead-acid battery or an AGM one, it is suggested to check on them every 30 days or so. A better option is to invest in a battery maintainer that comes with deep cycle marine battery chargers.
Do marine batteries require special chargers?
No. They use the same charger as other batteries. But the charger depends on the kind of battery you have. If the charger does not support the kind of battery you have, it won't charge or even damages the battery.
Conclusion
Any battery is good as it is taken care of. With that said, you have to buy the right kind of charger for your battery. If the charger doesn't match in terms of battery compatibility, it might damage the battery. Also, the amperage and volts of charging is a crucial element. If the amperage is higher than the battery charging capacity, it might fry the battery or damage it permanently. So always go for the charger that you need and read the specification of your battery and the charger to match. This way you will prolong your battery's life and the charger.