Getting a car battery is always a headache. There are so many brands out there, you can't seem to decide which one to get. It is always a good idea to go for the bigger brands than something unknown.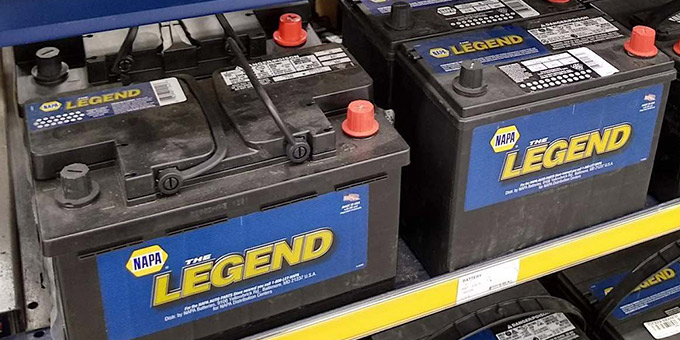 Napa Legend is one of the best brand batteries out there. East Penn Mfg. Co. is the manufacturers of Napa batteries. It is not only one of the affordable options in the market, but with a hell of a lot of benefits. 
Let's have a look into what Napa Legend has to offer for us.
Napa Legend Battery Review
Napa Legend batteries are made with AGM technology. It is one of the latest technologies where you don't have a flooded battery system. Rather than having electrolytes float everywhere, they are suspended. It makes the battery last longer, charge faster and provide greater service. 
As there is no liquid in the batteries, there is no worry about leakage and spill. Traditional flooded batteries tend to freeze or heat up depending on the season, which puts a car owner in an awkward situation. AGM batteries perform well in this case as they have a suspended electrolyte system. It deals greatly with both cold and hot climates.
Safety Insured Construction
These batteries not only have a spill-proof technology, but also a venting system for the inbuilt gas of the batteries. This makes it more secure and safe while checking your battery. This safe relief valve not only makes it safer but also extends the life of the battery.
Napa batteries have a polypropylene outer part that deals impressively with vibration, corrosion, and other damages. This makes the battery be used in different terrain in different vehicles.
Long Term Warranty and Replacement
When it comes to buying a new battery, the warranty is the first thing people look for. Because it is such a big investment, people look for something to hold on to if it fails. Napa batteries have a whooping 75 months warranty. In that time, you get 40 months of incentive for a free replacement. How cool is that!
For better carry and transportation purposes, all Napa Legend batteries come equipped with handles on both sides. This makes it easy to transport as the batteries are heavy. 
The battery also has a terminal on the side and the top. It is a very convenient option for its users. 
Some Other Models That Are Worth Mentioning
There are a few models to look into for Napa Legend batteries. These are the best picks from the users.
NAPA Legend Premium BCI No. 34 BCI No. 78 750
This battery has a CCA of 750A, which is useful for cold winter mornings. The Cranking Amp is 860A, so there is no shortage of starting power. Its reserve capacity is about 120 minutes. And it weighs about 43Ibs. It is a beast of a battery.
NAPA Legend Premium BCI No. 47 600
Napa Legend Premium 600 comes with a CCA of 600A. The Cranking Amp is 690A and it has a reserve capacity of 100 minutes. It is an affordable option for anyone who is looking for a great battery. It weighs around 39Ibs.
NAPA Legend Premium BCI No. NA 325
Another good battery from Napa is the Napa Legend Premium 325. It is a battery if you live in not so cold state. It has a Cranking Amp of 390A and a CCA of 325A. It is a lightweight battery only weighing about 29Ibs. It has an RC of 60 minutes. 
Frequently Asked Questions
Q. How long does a Napa Legend battery last?
A. Depending on how the battery was used and cared for, a Napa Legend battery lasts up to 4-5 years minimum. Weather and other conditions may affect the lifespan of the battery.
Q. What does Napa stand for?
A. Napa stands for National Automotive Parts Association. 
Q. Is Napa batteries made in China?
A. No. there are Napa products that are made in China, but the batteries are made in Canada and other countries. 
Conclusion
If you are looking to put your money on a battery that will last, Napa Legends is the one-stop solution. It is reliable, safe, and requires very low to no maintenance. With AGM technology, the Napa Legend batteries are one of the best car batteries in the market.