One of the main drawbacks of having multiple devices is you will need several chargers to power all of the devices. And when you are traveling, carrying a bunch of chargers in your backpack is truly a pain in the neck. But all the pain can go away on a dime if you have a pocket juice 20000 mah portable charger.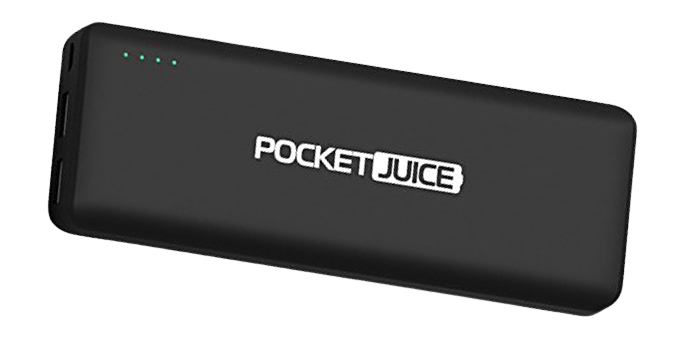 Therefore, in this pocket juice 20000mah review, we'll explore some crucial and useful features of two portable chargers you should consider prior to making your final decision. Okay, now over to the actual data.
Tzumi Pocket Juice 20000mAh Portable Charger
Universal Compatibility
One of the most prompting facts about this Tzumi Pocket Juice 20000mAh Portable Charger is its compatibility. You can power up both your Apple and Android devices at the same time with this item. This power bank has 2 USB and 1 Micro USB port to complement its compatibility. That means you can charge up your smartphone, tablets, GPS, or any other device that supports a USB or Micro USB port for charging.
High Build Quality
As you will be carrying the charger with yourself, the item must be of rigid inbuilt quality in order to last long. In that case, the Tzumi Pocket Juice 20000mAh portable charger will meet your requirements for rigidity. This item is shielded with a silicon rubbery finish with a plastic body inside. 
Moreover, the rubber wrapped over the plastic will protect against any tough fall with zero damage. The built-in LED power indicator light is shaped like a circle, giving the charger a cleantech look. And after all this, this item only weighs 10 ounces, which is less than the weight of a soda can. The dimensions of this item are only about 6.7″ x 2.5″ x 0.9″ inches, which will perfectly fit in your pocket or backpack.
Super Charging Capacity
This is a 20000mAh power bank that is equipped with a lithium polymer battery inside. Its high-efficiency military-grade battery can charge up to 10 smartphones and 5 tablets on a single charge.
Safety Measures
The rubber-wrapped body of this item ensures sock resistance and protection from UV rays. This latest safety technology-enabled charger ensures steady current into your devices, maintaining a long battery life of the charger. The advanced charging technology of this charger prevents overcharging and overheating of your devices. So when you are charging your devices with it, they are in safe hands.
A Bonus Feature
This portable charger comes with a fully pre-charged battery and a mini micro-USB cable, allowing you to power up your devices on the go.
Cons
This item takes almost 10 to 15 hours to get fully charged. Plus, it costs a little more than its competitive products on the market.
Tzumi Endurance AC 8000 mAh Pocket Juice Battery Bank
Considering the efficiency of our previous pick, the Tzumi Pocket Juice 20000mAh portable charger, here is another option for you to consider. This is an addition to our pocket juice charger review because of its compact size, uncompromising performance, and lower price than the previous model. Let's talk about everything now!
Multiple Compatibilities
Like our last pick, this Tzumi Pocket Juice Endurance AC is perfect for powering up your multiple devices such as the iPhone, Samsung Galaxy, iPad, and GPS. Its wide range of compatibility makes it an obvious choice for many people who simply want a small battery bank for easy portability.
Moreover, it comes with a Micro-USB cable for your convenience. But in terms of charging an iPhone with this unit, it is recommended to use the lightning cable that comes from Apple.
Power
Unlike the previously reviewed model, this item has an 8000mAh dual industrial-grade battery. This battery can power up to 4 smartphones at a single charge. The most astounding fact about this item is its fast-charging capability, which takes only 5 to 6 hours to fully charge. 
Compact Size
Younger people are always fond of compact-sized devices that perfectly fit in their pockets. If that's the requirement for a battery bank, Tzumi Pocket Juice Endurance AC is undoubtedly the best choice. It measures only 5.34″ x 2.64″ x 0.80″ inches, which is smaller than an iPhone 7 plus. And the lightweight of this charger, which is only 8 ounces, complements its size for convenient portability. 
Design That Is Both Sleek And User-friendly
With a matt black rubbery smooth finish outside, this item appears as one of the most elegant-looking designs that will definitely fit your personality. Not only for looks, but the outer rubbery shell can also endure toughness and resist UV rays and heat impact.  
On the front surface, there are four LED light indicators that give a punchy look from the outside. There is a double-port foldaway AC wall plug to charge the battery bank which eliminates the use of an additional adapter and USB cable. So overall, this Tzumi Pocket Juice Endurance AC will give you a hassle-free charging experience on the go.
A Bonus Feature
This Endurance AC can charge two devices at a time with the same power simultaneously. Thanks to its intelligent quick chip technology. 
Frequently Asked Questions
Can I Use a Power Bank On a Daily Basis?
You can. But it can decrease the longevity of your power bank's battery life. If you use a power bank on a daily basis, you will have to frequently charge it, which will affect the battery health of your portable charger.
Can I Bring My 20000mah Power Bank On a Flight?
As all the power banks use lithium-ion batteries which are rechargeable, there is no restriction on carrying them in your carry-on luggage on a flight.
Final Words
In this pocket juice 20000mah review, we have reviewed two battery banks of our choice to help you conclude your decision while purchasing a power bank.
The Tzumi Pocket Juice 20000mAh Portable Charger is recommended for those who want more power at a single charge and have a high budget for a portable charger. On the contrary, the 8000mAh Endurance AC is for users who look for easy portability in a mid-level budget range with decent charging capacity.