The question – 'what is a solar inverter' derives from a necessity. You must have been asked whether it is necessary. The fact is, it is not only an alternative but something that scientists are striving to make a major source of power. After all, it is related to renewable energy!
Solar panels beget electricity as direct current (DC) power. However, our modern appliances depend on alternating current (AC) electricity. That's why we require an inverter to convert DC electricity to AC power, which is in 'real-time.' 
Solar Inverter | Ins and Outs
Do you know what the most vital thing about a solar electric power system is? Well, it is the solar inverter. This inverter converts the variable direct current (DC) output of a photovoltaic (PV) solar panel into alternating 240V current (AC). Thus, it becomes usable for you and helps operate various appliances. 
And unused electricity is sent to the electrical power lines (the grid). Or, it may get back to the home battery storage.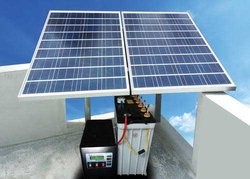 Image: Solar Inverter, Source: IndiaMART
You will find an integrated battery management system in all new hybrid inverters. No doubt, you need durable solar power systems, and a high-quality inverter is a must for that. And yeah, such a system also requires a reliable convection cooling system. Some climate is tough to tackle. 
Types of Solar Inverters 
In this section, we will not merely mention the types but also their merits and demerits. Cool enough? Let's say you are a homeowner or you have an office where you need inverters. Then there are three types of inverters available for you. These are –
String/Central inverters
Power Optimizers (plus inverter) 
Microinverters
Battery Inverters
Hybrid Inverters
String/Central Inverters
At present, these are the most common types of solar inverters. At the same time, these are the oldest model too. It connects a string of solar panels to one single inverter. That string converts the total DC input into AC output. 
That's how it works! 
Merits
Since they are the oldest inverter solar and have been serving for decades, they are most reliable. 
String inverters are the least expensive solar inverters.
It takes the central location of your residence or office. Alternatively, you can set this closer to a ground mount. And such a settlement facilitates you to observe, repair or replace the inverter with ease. 
These inverters are not for residential applications; rather, you can employ them for large-scale installations or utility-scale solar farms. Such an inverter looks like a metal cabinet. And you would be thrilled to know that it cope up with approximately 500kW of power! 
Demerits 
Comparatively, these inverters are less capable of optimizing solar energy output due to being connected to an entire string of solar panels. Such a system gives shades on one solar panel and thereby cuts the power output of the whole string!
If you are the person who wants granular monitoring, the central inverter is not a good option for you. This type of inverter does NOT provide you with panel-level monitoring that is far better than typical total-system monitoring. How is it a demerit? Well, you will find it problematic while you intend to diagnose issues with solar production. 
Power Optimizers 
This type of inverter sits on the back of each solar panel. And for converting DC to AC, the power optimizers work in collaboration with a string inverter. They condition the DC electricity from each panel. Then send that conditioned DC to the string inverter for converting to AC electricity.
Merits
These solar inverters minimize the impact of shading on individual panels as they condition the DC electricity produced by each solar panel. No worries, if a solar panel is shaded partly, it won't devalue the outcome of the entire string. 
This type of inverter will get the advantage of both: panel-level monitoring and system-level monitoring. This leverages you to diagnose any issue comfortably. As a homeowner, you can enjoy every detail while monitoring. 
Demerits 
Though cheaper than microinverters, power optimizers are more costly than string or central inverters. 
Another con is, it requires additional power optimizers that make you pay more. Along with that, if you want to expand your solar panel system, you will have to manage string inverters more! 
And since power optimizers take a position on the roof, it becomes problematic for users to repair and replace in the case of any complexity. 
Microinverters 
These are the latest solar inverter technology. Such an inverter converts direct current (DC) to alternating current (AC) precisely from the back of each solar panel. It doesn't require a string inverter. Why? Because this type of inverter solar looks after DC conversion on the spot. 
Merits 
The shading on individual panels can put only a slight impact here. The reason is, every microinverter superbly handles the conversion from DC to AC on every panel. Instead of the entire system, a specific panel produces less power output when a shade covers it. This way, it becomes more advantageous than a string inverter. 
Here in this method, a solar panel merely needs a microinverter on the back of the panel installed. That's it! You will find this type of inverter easily expandable more in the upcoming days. 
Along with system-level monitoring, here, you can benefit from panel-level monitoring. It indeed ensures accurate diagnosis.
Demerits 
These are the most costly solar inverters, while inverters for solar should be affordable for a buyer. 
This sort of inverter gets installed on each solar panel's back portion. So it would be a bit problematic for you while repairing or replacing it with something else. 
Battery Inverters
It can be the best option for a user. When you need to install a battery into your solar system by considering past events or situations, you may prioritize a battery inverter. It allows you to run your battery through a different inverter. You can also isolate your battery from your solar panels and run. It can convert your battery power into 230V AC. 
Merits 
Separate operational facility. 
Instead of grid power, such an inverter can feed the produced energy to your switchboard. 
Demerits 
Often users find local batteries less safe and less efficient. 
It requires high maintenance.  
Hybrid Inverters
These inverters are also known as 'multi-mode inverters.' It permits you to connect batteries to a solar system. The connection comes into being through 'DC coupling.' 
This technology manages the charging and discharging of the battery. It is a situation where both the solar and batteries use the same inverter.
 Merits 
It provides you with a constant power supply.
It comes with a robust battery backup. 
Hybrid inverter ensures utmost utilization of the plentiful solar radiation on bright sunny days. 
This technology needs minimal maintenance. 
It's an all-in-one energy storage solution for the user. 
It features an off-grid system. 
Demerits 
It doesn't include a grid isolation device.
Comparatively less reliable since it doesn't tackle any blackout.
Lifespan 
Solar panels are in need of a safe and efficient operation. Here inverters play a significant role. Generally, inverters for solar last between 10-12 years. And this usually needs a minimum single-time replacement in the entire lifetime. However, you can enhance the inverter's lifespan instead of replacing one with another. Oh yeah, it costs! 
Things You Need to Consider before Buying One
Before you go and buy an inverter, whatever it is, there are some things you had better consider. These are as follows! No doubt, it will help you make the correct decision. 
Pick up the Right Size 
What can be the apt size of an inverter? Well, you better choose a size that can handle the maximum power. For instance, when you are thinking of a 6kW solar power system, you will require 6kW panels and a 6kW solar inverter. This is a rule of thumb! 
Check If It Is Weather-proof 
Hey, this is very crucial. The position you choose for your upcoming inverter may not be secure enough. In such a case, you will need a weather-proof cage for protection. However, it will make you pay a bit more. Only this kind of protection can ensure long-lasting performance. 
See If It Has CEC-approval 
It will be wise to go through the Clean Energy Regulator list. It will say whether a chosen inverted CEC-approved or not. Let's say you are in California. Then just go and see whether your intended inverter accords with California Energy Commission (CEC). 
Verify the Manufacturer 
Apart from the things above, it would help to verify the inverter's manufacturer. That means you need to check its history, reputation, duration of business, etc. 
What are the top 10 solar inverters in the world? 
Answer: Well, since there are different kinds of solar inverters, let's tell you which inverter is best for a particular category. These are the best of 2021 and for the upcoming year too! 
String/Central Inverter
SMA America Medium Voltage Power Station (MVPS) 
CPS America SCA25KTL-DO/US-208
Delta Electronics Delta M125HV PV Inverter
SMA America Sunny Boy with ShadeFix optimization
Fronius USA Fronius Symo Advanced
Power Optimizers
Zerun Solar Cell String Optimizer
Alencon Systems SPOT BOX
Tigo Energy TS4-A-2F
IMO Automation IMO FireRaptor – Rapid Shutdown Device (RSD)
Schneider Electric MPPT Disconnect RS
Hybrid Inverters
SolarEdge Energy Hub Inverter with Prism technology
CyboEnergy AC Assisted Off-Grid CyboInverter
Morningstar Corporation Ethernet MeterBus Converter EMC-1, Now SNMP Enabled
OutBack Power Technologies Skybox with AC Coupling
Sol-Ark Sol-Ark 12K NEMA-4 Hybrid Inverter
Microinverters
APsystems QS1
Northern Electric Power Technology (NEP) BDM800 
To Wrap Up 
Everywhere we need power or energy to modernize our lives. However, it would help best if we emphasized renewable energy. Solar panels are indeed a fabulous solution in this regard. And such a panel depends on a solar inverter that you have to choose through some precise calculations. Hopefully, this article will help you conceive things thoroughly as it deals with the basic concept of solar inverters, their types along with pros and cons, some crucial things to consider, and lifespan in detail. Stay good, stay safe!