The proper name of a 18650 battery is "18650 cell". It is a lithium-ion rechargeable battery. 18659 batteries are considered to be high drain batteries. The name is derived from its physical dimensions: 18mm x 65mm (1st four digits). 5th digit of the name indicates that it is a cylinder cell. 
18650 batteries have a voltage of 3.7v and offer a capacity in the range of 1800mAh to around 3500mAh. You can find these batteries in laptops, flashlights, cameras, power tools, and even electric vehicles due to their long run times, reliability, and ability to be recharged over a hundred times. 
What is An 18650 Battery
A high drain battery means a battery that provides a larger amount of current than any regular battery. They have insane charging cycles anywhere from 300-500. It will take about 4 hours to fully charge these batteries. Due to their high performance, 18650 batteries are used in more complex electronics that require high power for operation. 
They have a high depth of discharge which means these batteries can be drained down to 0% and still be able to get fully recharged. However, this is not recommended, as, over time, it can affect the overall performance. You should keep your 18659 battery charged over 3.5 volts to get maximum usage. With higher voltage, your battery will last longer. 
Different Battery Sizes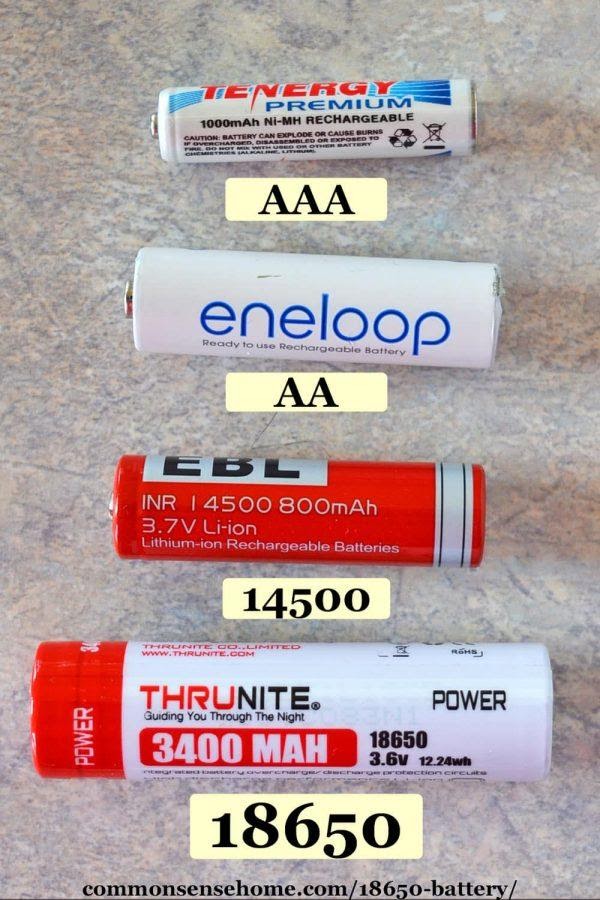 In the picture above, the size of AA and 14500 is 700 mm3. The AAA is 467 mm3 and the 18650 is 1170 mm3. 
14500's can be used in AA devices as long as they support 3.7v and 1.5v batteries. The size of the 21700 battery is 1550 mm3 which is larger than the 18659 battery. 
Protected Vs Unprotected 18650 Batteries
One thing you will notice while buying 18650 batteries is some retailers offer you two options: protected and unprotected batteries. You should choose the right one to sure it's safe as 18650 batteries are very powerful. It is always recommended to use protected 18650 batteries.
Protected 18650 Batteries
Protected 18650 batteries have a small electronic circuit in the cell packaging. The circuit protects the battery from dangers like, overcharge, overheat, over-discharge, over current/short circuit. They are safer to use in your devices as they are less likely to blow up and damage them. 
Protected batteries are more expensive than unprotected batteries. But given the benefits, purchasing a protected battery is safer.
Most protected 18650 batteries offer these components:
PCB: This component will protect your battery from over-current, overcharge, or over-discharge depending on the design. It resets automatically or when set in a charger. 
Pressure Valve/CID: When the pressure is too high in the cell, it will permanently disable the cell.
PTC: It resets automatically. Protects from over-heating and indirectly protects from over-current.
The images below will show you some examples of the components of a well-designed and safe-protected 18650 battery.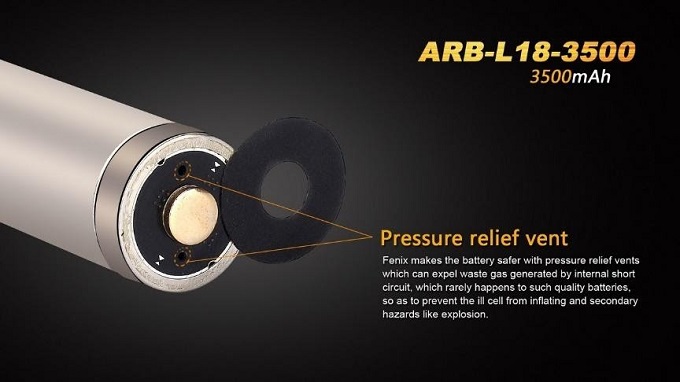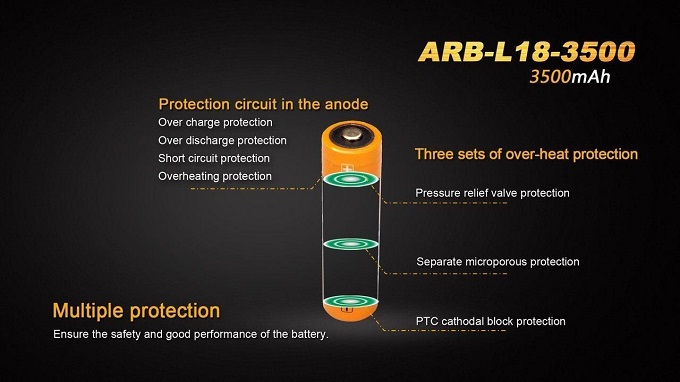 Unprotected 18650 Batteries
Unlike protected batteries, unprotected 18650 batteries don't have an electronic circuit. For this, they have more current capacity than the protected ones. So there always remains a danger of short circuits, overheating, or over-discharging. 
Although they are cheaper, unprotected batteries are not recommended. You should only use the unprotected batteries where the draw/load and charging are controlled and monitored externally. 
Flat Top vs Button Top
Although all 18650 batteries have the same functions and properties, they might differ in some aspects. These aspects are the physical appearance of the cells.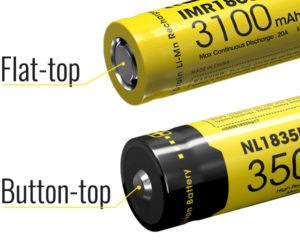 There are some 18650 batteries with button tops, while others with flat tops. It's not so difficult to find the difference. Flat-top batteries have a smooth end. And button-top batteries have a button-like end.
Flat-top batteries are usually used in devices with built-in batteries. Button top batteries are used in electronic goods that don't have built-in batteries.
You can't use button-top batteries for all devices. It can be too lengthy for some devices, whereas flat-top batteries can be too short for some. 
How Long Do 18650 Batteries Last
There is no definite answer to this question because the longevity of a 18650 battery depends on many factors. Like-charge cycles, how many times they are recharged, the amount of time they are used, their age, capacity, and their maintenance, and more. 
If you are a security guard or a police officer on the night shift and use a flashlight throughout the night, you will be using more amount of battery than a person who uses the light for a few minutes a day.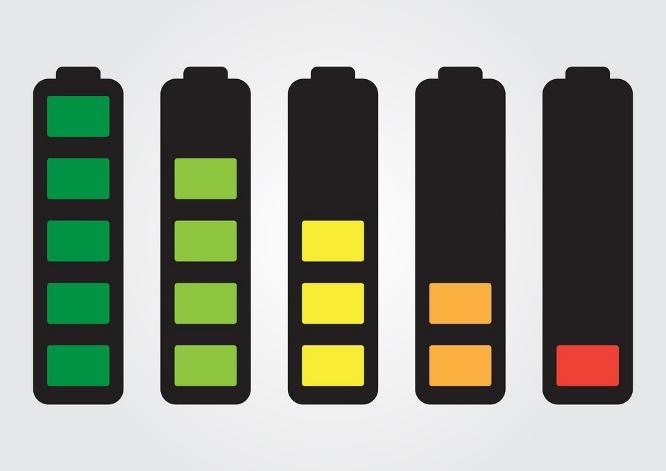 Most of the 18650 batteries come with a life cycle of 300 to 500 charge cycles. 500 charge cycles mean that you can charge the battery fully to at least 80% of the initial capacity. The battery's life cycle will be over when it reaches that threshold. 
One thing to keep in mind is, every time you are charging your battery, you are reducing its max. capacity by a little. Also, rechargeable batteries slowly drain over time. This is just the nature of their chemical makeup. 
How to Get the Maximum Life of a 18650 Battery?
The best way to get the maximum battery life is to use it until it is 50% and recharge it. You should not keep it plugged in once it is fully charged. Also, never use your battery till it dies. Causing your battery to completely dead can put it into a state called deep discharge. 
At the deep discharge point, there will be a very small amount of energy left in the battery that the protection circuits will not let any energy be added to the battery. This can damage your battery permanently. 
So you must keep charging your batteries to the fullest even when you are not using them. Because if they drain on their own to the deep discharge point, you will not be able to use them anymore.
Frequently Asked Questions
How Long Does it Take to Charge a 18650 Battery?
The time to charge a 18650 battery depends on the type of charger you are using, your battery's health, and its capacity. The higher the capacity, the longer it will take to charge. For example, the average charging time for a 2600mAh battery is around 4 hours while a 3500mAh battery will take about 5-6 hours.
Which 18650 Batteries Are the Best?
The 18650 batteries with PTC protection are the best to have. PTC will protect your battery from any dangerous situation. Also, a battery with a higher capacity will cause the device to perform more efficiently.
Conclusion
Once battery and flashlight pairings were preferable but now with the progressive march of technology, things have changed. Rechargeable batteries with lithium-ion are more in trend now. They are not only used in flashlights but also in other electronic devices. A 18650 battery saves both money and time over the long term. While buying these batteries, make sure to buy them from a known source or well-known brand.