The progression of technology keeps changing the maxim of eras. The main motive was always to ease the burdens of mankind. Consequently, AC adapters are designed with integrity to remove the hassle of equipment, keep our valuable devices safe and be user-friendly. What is an auto-switching AC adapter? The answer includes some basic electrical knowledge.
What Is an Auto-Switching AC Adapter
AC adapters usually work as an external power supply for some of our devices such as phones, laptops, and so on. Auto-switching means it can convert the voltage a device needs without the need to flip a physical switch. To have a proper thought on auto-switching AC adapters, there are some segments and topics you need to understand.
AC Adapters
No products found.
The adapter is a device that is built to deliver the needed power supply to a device. They can convert AC voltage into DC voltage to meet the requirements of certain devices. Besides, it also converts high voltage to low voltage. It allows us the usage of many devices with limited voltage rates.
These adapters are mostly used for electrical devices that need power but don't include internal components to get that required voltage and power from main sources. The lack of these components offers more maneuverability and effectivity than a traditional power supply regarding some elements. 
What Does 'Auto-Switching' Stands For?
One of the interesting parts here is the auto-switching. It is an amazing addition due to its universal benefit. An auto-switching power supply can carry on several voltage ratings without flipping a substantial 'switch'. 
One of the most common uses of auto-switching AC adapters is in laptops. They can support both 110 volts and 220 volts. It is the general power requirement in most countries. Afterward, you'll only need a plug adapter to carry your laptop or device anywhere you want. The high input power enables them to perform as a power source. 
The Inside Mechanism 
AC adapters usually contain a step-down transformer, four diodes to design a full-bridge rectifier and a smoothing capacitor. Here input voltage is a high AC voltage that works as the supply voltage of the primary winding of the transformer. Following the operations of a step-down transformer, we get a lower voltage in the secondary winding. 
This voltage is AC as well. Then the full-bridge rectifier makes use of both half cycles of the AC voltage and makes it a pulsing DC voltage. But to charge our devices or for power supply in the laptops and phones, we need a constant DC voltage. Here's where the smoothing capacitor does its work.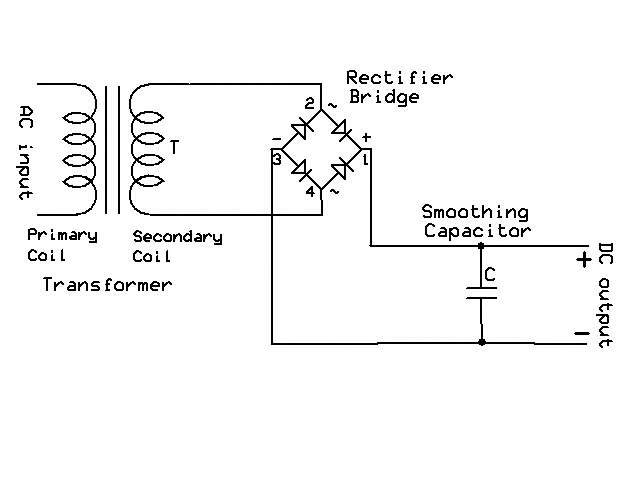 This capacitor kind of works as a sponge. When the voltage is at its peak, it soaks extra charge from them. When voltage is at its lowest, the capacitor releases that extra charge. Thus we get a constant DC Voltage. 
However, there are AC to AC adapters as well. they don't require a full bridge rectifier for the conversion. They simply convert a higher AC voltage to a rated one required for the device. 
Slot of Interests
AC adapters serve us with some potential interests. Some of them are listed below.
Efficiency 
The mains voltage is amended to a high direct voltage activating a switching circuit. It contains a transformer with a high frequency which enables the easy filtration of high-frequency ripple. This structure reduces the losses and the switching regulator is more proficient here. A good design of switching AC adapter supply can be 80%-90% efficient.
Reduction in Losses
Heat and noise are two of the disturbances electrical components have to be aware of. AC adapters have paid much attention in these cases
Heat 
To increase the longevity and reliability of the devices these adapters are ideal as a distinct power supply. It eliminates a source of heat from the components.
Noise
It is obvious that radiated electrical noise lessens with the distance. Thus the manufacturer can easily convert likely noisy automotive power to filtered DC power at a secure distance from noise-delicate circuitry.
Lesser Components
Power components occupy a large portion of a device. Removing power apparatuses and the mains connection plug from the devices that power by rechargeable batteries saves a lot of size and weight. Hence, these adapters made it possible to carry the device and charge it wherever we want with the right choice of connectors.
Drawbacks 
A survey of users revealed extensive dissatisfaction with the inconvenience, cost, and wastefulness of the glut of power adapters used by electronic tools. 
AC Adapters vs Charger
One question may arise in many minds that if both can charge an electronic device what's the basic difference between adapters and chargers. Usually, chargers contain a specific voltage especially designed to charge a chargeable device. but adapters are more than that. They don't charge the battery of the device, they work as a power supplier of the device. 
If you remove the battery from your phone or laptop or any other device and try to turn it on while charging it with a charger, it won't be on. But if you remove the battery and try to start a device while connecting with an AC adapter, your device will be on. 
Charger can't work as a power supply thus it can't keep a device on. The battery serves the required power to the device. but an AC adapter can do that as well. When we connect an adapter it doesn't directly connect to the battery. An extra circuit is set up inside the device to charge the battery with the power supply provided by the adapter.
Therefore, when we connect our devices to the adapter, they run on that supply but the battery also gets charged. Then when we release the adapter, the device takes the supply from the battery and functions. 
The Compatible Apparatuses
The auto switch AC adapters are basically used in digital systems. For example, it is used in telecommunication devices, audio equipment, computing equipment, medical test devices, mobile phone chargers, arc welding machinery, automotive chargers, etc. 
Frequently Asked Questions

What is meant by linear power supply?
Linear-regulated power supplies use linear which means non-switching techniques to adjust the voltage output from the power supply. The term linear power supply indicates that it regulates the power supply to deliver the accurate voltage at the output.
How to know if my AC adapter is in bad condition?
If the power plug gets hot or sparks while wiggling it, it is a sign of a bad plug adapter. Also if the power plug gets loose or weakly plugs in, you should be concerned as well. 
Conclusion
Try to unplug the adapter or let a power strip disconnect the power when the device is not in use to make the adapter last longer. AC adapters are one of the core appliances without which we can't operate our day-to-day life devices effortlessly. Hopefully, the mentioned information has helped you to gain some ideas on what is an auto-switching AC adapter.