We have a lot of devices. The phone, one or two maybe, earpods, laptop for work, speakers, TV for your favorite series, obviously the gaming console, that also comes with controllers, and little a lot of things included. All of them need to be charged after a use or two. But you don't have that much outlet in your home combined. 
So what do you do? Drill a few outlets on your wall? Even that sometimes might not be enough. 
The simple solution to all this is getting a flat plug surge protector. They come not only with more plugging ports but with a whole lot of protections and options.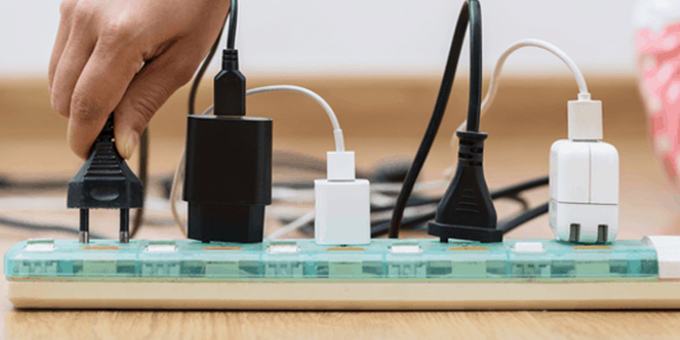 To know the whole story about that, we have come out with the best flat plug surge protector from the market. You will find that some of them even come with USB plugins in them. No charger, no worry!
Best Flat Plug Surge Protector for Your Laptop, Phones, Led TV, Gaming Console, and More
Here are the best flat plug surge protectors you should be investing in. They can not only power up your devices but also protect them from all the electrical harm.
1. GE 6-Outlet Surge Protector, 10 Ft Extension Cord, Power Strip, 800 Joules, Flat Plug, Twist-to-Close Safety Covers, UL Listed, White, 14092
Looking for a good flat plug surge protector? Look no further. The GE 6 outlet surge protector is here at your service. No matter how long the extension cord you want, they will provide.
The outlet comes with 6 grounded outlets. Along with every one of them, 3 prong outlets are twist protected. So when not in use, just twist them to close the ports. No accidental fork or knife entry from the children in the house.
It comes with a 10ft long power cord that has a 14 gauge SJT cable. Upon that, the PVC insulation makes it even more durable. You won't have to worry about any leak or breakage.
To save up your plugging space, it is equipped with a flat plug. This way it can hide in the back of any couch or table without it being on the way of the furniture.
The outlet is capable of taking on 800 joules of electrical surge if it occurs. This gives all of your devices the needed protection against any possible electrical damage. The integrated circuit breaker shuts down when it senses an overload of current.
One thing you should keep in mind, is the plugs are flat 3 prong outlets. So make sure you have the same plugs on your devices before you go for them. A loose fit will occur in electrical damage.
Pros:
Good power output surge protector.
Works as it is advertised.
Twist to close outlet works.
Inexpensive. 
Cons:
Sometimes overheats due to over-device usage.
2. 2 Pack Surge Protector Power Strip with 6 Outlets 2 USB Ports 5-Foot Long Heavy-Duty Braided Extension Cords Flat Plug 900 Joules 15A Circuit Breaker Wall Mount for Home Office ETL Listed
If you are looking for an inexpensive but quality solution for your power issue, then we have the Mifaso surge protector power strip. It comes with 6 outlets and a whole lot more.
The flat plug surge protector is no different than any other in the market in the design. But in terms of quality, it is superior. The 6 outlet surge protector power strip can stand 900 jouls of power protection. That you don't see every day.
Along with the outlets, there are 2 USB charging ports. Each of them supplies 5V/2.4A or output. A really nice touch in terms of productivity. So even if you forget your charger upstairs, you will have ports from the surge protector outlet themselves.
The 14AWG 15A cord is heavy-duty. You can tell it by just looking at it. It also has a breaded cover on top of the PVC cord, making it extra strong and durable.
You will get a 5ft long cable with the outlet. Which is good enough. You don't want cables lying around the whole house anyway. 
The 15A circuit breaker keeps you out of any kind of overheat, overload, overcharging. If it senses anything above that, it shuts down.
In addition, you get 2 of the outlets and 18 months of warranty.
Pros:
Good looking and working surge protector.
2 USB ports.
15A circuit breaker for any inconvenient electrical malfunction.
Flat angled plug for easy installation
Cons:
3. Power Strip Surge Protector, Addtam 6 Outlets and 3 USB Ports 5Ft Long Extension Cord, Flat Plug Overload Surge Protection Outlet Strip, Wall Mount for Home, Office, and More, ETL Listed
Sick of other plugs blocking your ports all the time? Check this power strip surge protector. The Addtam power strip surge protector comes with 6 outlets, each of them facing outwards from each other.
The simple arrangement of the side-by-side outlets facing outwards makes a lot of difference. This means you won't have any cables blocking your plug's entry. It is already a winner here.
On top of the 6 outlets, you get 3 USB ports. They can give out 5V/2.4A of power. Which is crazy!
So you get to plug in 9 devices at the same time with this surge protector.
The surge protector can stand 900 joules of electricity and is equipped with intelligent circuit protection. It keeps your device safe from any over-voltage, over current, overload, and short circuit. Even it senses a slight change in the electrical flow, it shuts down the power supply keeping the devices out of harm's way.
You also get a right-angled flat plug for easy installation. So you can plug it in and place anything over the plug with ease. 
Also, you get a 5 ft long cable that is breaded. This makes it more durable and easy to flex and gather when not in need.
Pros:
Amazing surge protector.
Cool design for better connection and management.
3 USB ports.
Breaded cord for more durable and flexible function.
Cons:
4. Belkin Power Strip Surge Protector with 6 AC Multiple Outlets – Flat Rotating Plug, 6 ft Long Heavy Duty Extension Cord for Home, Office, Travel, Computer Desktop & Charging Brick – Black (600 Joules)
Tired of your power strips' fixed plug position? Then check out this Belkin Power strip surge protector. It comes with 6 power outlets and a whole lot of protection.
You get the standard 6 surge protection outlets. Which is extremely durable and easy to plug into. 
With 600 joules of resistance, this output is a must-have for any home with a lot of devices and one single wall socket. You can go worry-free with this plug surge protector powering up your devices.
It gives you protection against any overload, over-current, over-voltage, power spikes, and lightning. The built-in surge protector acts as a safeguard and turns off the power flow to all the devices that are connected to it.
In addition, you get a rotatable plug. It goes 360 degrees when it comes to plugging into a wall socket. So no matter how curved or hard to reach your wall socket is, this will work just fine. And there will be no tension between the plug and cable.
Talking about cable, this plug surge protector comes with a 6 ft of cable. So you get to take it a long way to plug devices into it.
And those who were worried about the main switch of the plug being on the front, this one has on the top of it. Making it hard to push onto. So no worry of accidental power-on-offs.
Pros:
Amazing plug surge protector.
Works with any device.
Plugging into the wall is easier than most plugs.
6 ft cable makes it more reachable for devices.
Cons:
Rotating the plug sometimes causes it to overheat and burn due to poor connection.
Frequently Asked Questions
What devices you should never plug into a plug surge protector?
Refrigerator, microwave oven, hair styling devices, and any big power-hungry devices. Due to their power-hungry nature, a plug surge protector will overheat and cause harm to you.
Can I leave my plug surge protector on all the time?
It is not suggested you keep your devices plugged into your plug surge protector when they are not in use. If you leave your devices plugged in and an electrical failure or lightning strikes, it might damage your device or cause a fire.
Can I plug my plug surge protector into an extension cord?
Yes. But make sure that your extension cord has the same wire gauge otherwise it might burn it.
Is it okay to plug surge protectors in one power outlet?
Yes. You can plug two plug surge protectors in one power outlet. But remember to have a snuggle fit. Otherwise, it might heat up and burn the power outlet.
Conclusion
flat plug surge protector does a lot in terms of service. It is like magic that they turn one power outlet into 6 or even more. One thing to keep in mind is that they have a certain level of output capacity. If you plug in bigger devices on the plug surge protector, it might heat it. And cause damage to your devices along with your power output.
So sticking to smaller devices like computers, laptops, TV, gaming devices is the best choice. Make sure you have a good fit on the power outlet that you are using. This is the main reason most plug surge protectors burn. Due to poor connection and over-voltage, they tend to burn.