If your problem is that you found your laptop plugged in but not charging then can be a few different issues. It can be because of a faulty cord, or battery. Or it can happen because of a software problem. Here is all the way you can find out what is causing the problem and fix it according to the cause.
Causes For Plugged in But Not Charging Problem
We can place the causes in two separate groups. These are the hardware (Charging cable, battery) and the Software problem. If your device is not charging because of a software problem, it will be relatively easier to solve. But if it is a hardware problem then you need to change the power cord.
Figuring Out if the Problem Is in Software
Most of the time, if the battery gets to a certain level like 80% or 95%, and stops charging even if it is plugged in, the problem is related to software. But even if your problem is not as specific as stopping at 80% or 95%, checking if it is a software problem doesn't hurt.
Run Troubleshooter
A troubleshooter is made for searching and fixing software-related problems. It doesn't always work but if it works you'll save yourself a lot of time and headache. So running a troubleshooter at first is always a good idea.
To run troubleshooter, you can search troubleshooter on the windows bar or go to settings -> update & security -> troubleshoot.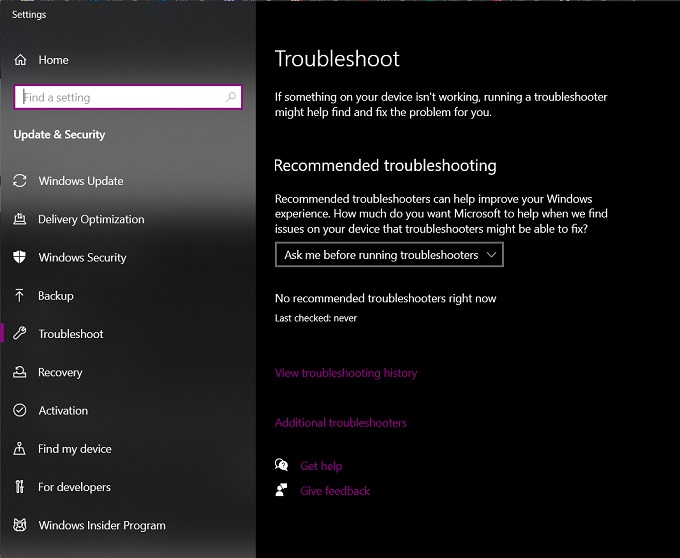 From there, go to additional troubleshooter and click on the power -> Run the troubleshooter.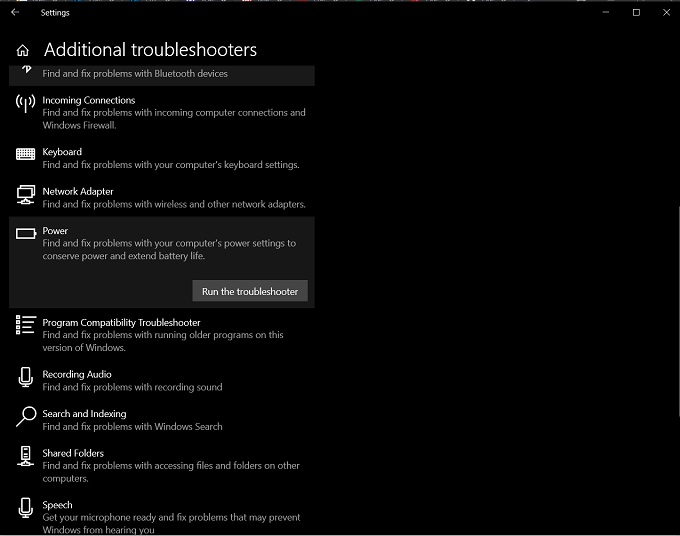 Now the troubleshooter will check for any problem and fix it. If anything needs downloading it will ask for permission. Simply permit it to download and you are done. But if this doesn't fix the problem you have to move to the next step.
Update/Re-install Battery Drivers
Many of the problems are caused by windows updates these days. Two drivers are responsible for handling the charging. So plugged but not charging problem can also be caused by these drivers. If they are the cause of the problem, then updating or reinstalling the drivers will fix the problem.
To access the driver, go to the search bar and type "Device Manager" then hit enter. From device manager, to go battery and expand the menu. There you will find "Microsoft AC Adapter" and "Microsoft ACPI-Compliant Control Method Battery".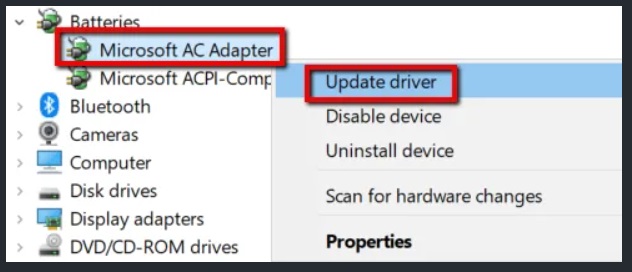 First right-click on one of them and press update. Do the same for the other one. Now shut down your laptop and unplug it. After a few seconds plug it in again and start the laptop. If it doesn't fix the problem, this time uninstall the bottom Microsoft ACPI-Compliant driver.
Now press the "scan for hardware changes" button as highlighted in the picture.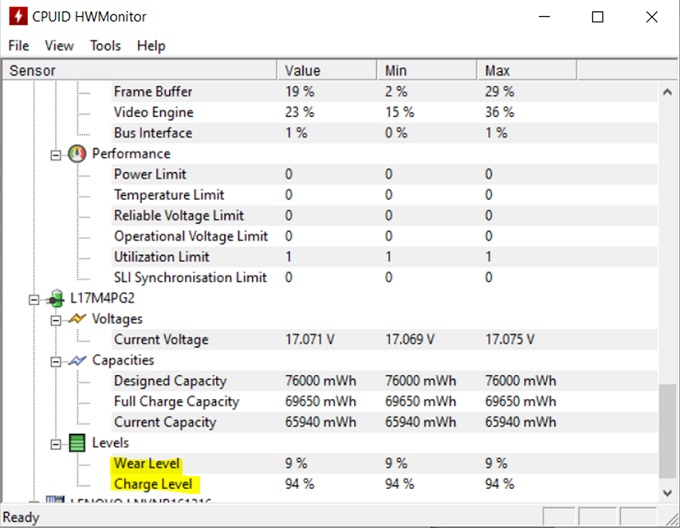 This will reinstall the uninstalled driver. Now restart your laptop and check if that fixes your problem. Most of the time, these drivers cause the plugged-in but not charging problem. So if this does not work you have to move on to a more model-based solution for software.
Model-Based Solution || Lenovo & Dell Software
Some models have extra features that can help you detect problems. Many of the Lenovo legion series laptops have Lenovo Vangate or Lenovo Settings (For older version) software. This software can limit the battery how much charge it should take. So if you are using a legion laptop then check if this software is installed.
If it is installed then go to the battery settings of this software and set the maximum battery charge to 100%. This limit can be a reason your laptop is not taking charge even if it is plugged in. 
As for Dell, you can access the boot menu by pressing F2 when the laptop starts and the Dell logo shows. This will take you to a settings page. There you can see your battery health and if you need to change it.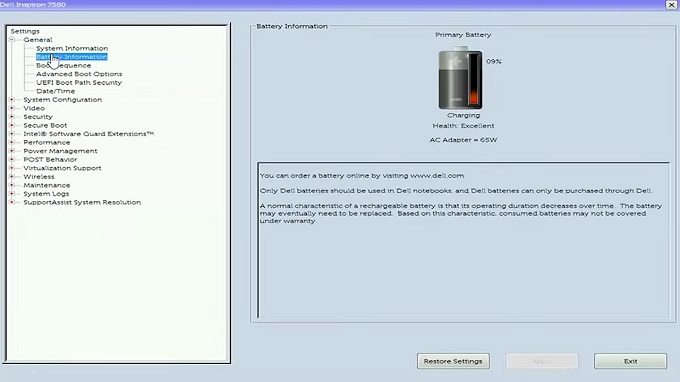 Figuring Out if the Problem Is in Hardware
If your laptop does not open then you have to start with the hardware checkup. By hardware, we mean the power cable and anything that comes with it, as well as the battery. We'll check one thing at a time to figure out which part has the problem.
Electrical Outlet and Connector Check
Checking by changing the electrical outlet is the first thing you should do but many forget to do that. Often the problem lies in the electrical outlet not in the cable or laptop. Also, check if the connecting port that's connecting the charger to the laptop. Sometimes the connection becomes loose thus causing it to not charge.
In that case, you can get a new cable that fits the laptop better or you can support the connection area with something so that it doesn't move and gets loose. The support should be a temporary solution. If you keep doing that then there is a chance the connection port will get damaged.
Battery and Charger Check
If you are using a dell laptop then you can just press F2 to go and check battery health. There it will tell you if the battery is healthy or not. If it is not then you need to replace the battery.
If you are using any other laptop, first turn off and unplug the laptop and remove the battery. Now press and hold the power button for about 20 seconds to discharge everything. Now just plug in the charger and turn on the laptop. If the laptop turns on then the charger is fine and the battery is the problem.
But if it doesn't turn on with just the charger, then the charger is at fault. You can reattach the battery and turn it on. And you can take it one step further if you have a friend who owns the same model laptop. You can borrow your friend's charger to test out if that works. If it works then you need to replace your charger.
Non-Removable Battery Laptop Check
For a non-removable battery laptop, you have to skip the part where you take off the battery to check if it's the source of the problem. Here if you or your friend has an extra charging cable you can still check that to find out the problem. But if you can't get any extra cable there is still a way to check the battery condition.
Some software can be used to check the battery health like the HW monitor. HW monitor is mainly used for monitoring your laptop's temperature. But it also shows the charge and wears level of your laptop's battery. So you can use this to find out how good the battery is and if it needs changing.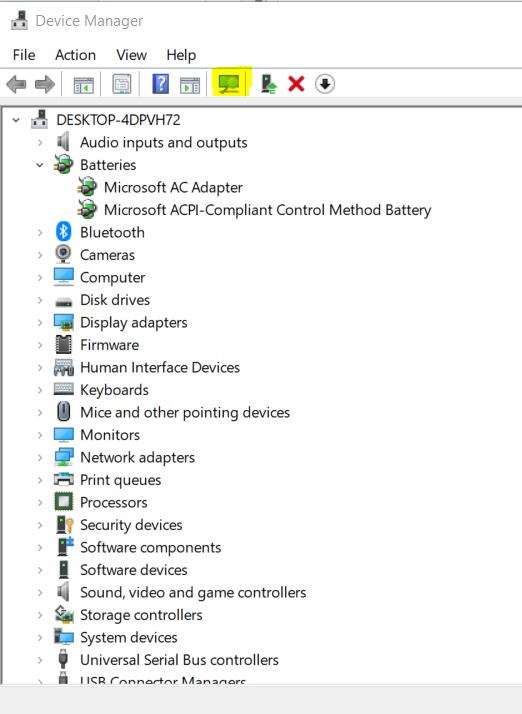 Frequently Asked Questions
Is plugged in but not charging normally?
Ans: If the charge is high like 95% then it is normal as the battery gets worn down as you keep using it. But if the charge is low but it is not charging that is not normal. If it happens you have to check for the problem.
Why is my HP laptop plugged in but not charging?
Ans: Sometimes faulty BIOS settings can cause this on the hp laptop. You have to go to the HP website then download and install the latest BIOS. That will fix the problem.
Conclusion
The laptop is plugged in but not charging is a very common problem many people face. It usually shows up in older laptops as the battery and charger get to wear down as you use it. It cannot be avoided but you can be prepared for it with battery monitor software.