Who doesn't hate the network falling in the middle of work? Or even in the middle of your favorite show. And if you are using Ethernet cables all-around your house or workplace, it is a disaster to find out the fault. A simple restart of the device doesn't cut this kind of problem.
So what do you do? Set up the whole wiring system? That's a whole lot of work and manpower. And by the time it is up, it can even take days.
This is why there are Ethernet cable testers. You can check your wiring, connections, speed, its faults and pinpoint it to the source. This saves a lot of time and gets you up and ready in no time.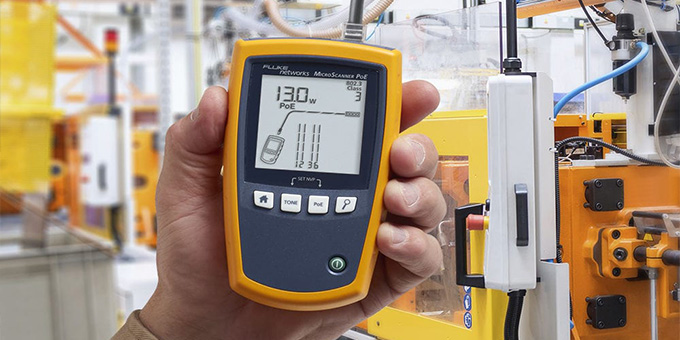 You can check out the list of the best Ethernet cable tester we have gathered for you. Plus, you will find all the information and the services each of them provides. 
Best Ethernet Cable Tester for Household and Professionals
Here are the best Ethernet cable testers you should be checking out before going out to buy one. They range from simple work setups to professional industrial-level works.
1. Fluke Networks – 5018508 MS-POE Micro Scanner Copper Cable Verifier and PoE tester for RJ-45 Category 5-6A Ethernet Cables, Identifies Supplied Class 0-8 Power from Ethernet PSE Devices
We start with a handy little Ethernet cable tester. The Fluke Networks 5018508 MS-POE can be in your toolbox if you have a lot of cable connections to deal with.
This little tester can work with any kind of Ethernet-powered device. Be it a LAN line, pone connection, cameras, or lighting. 
It can detect voltages from 802.3, PSE, PoE, Cisco UPOE, and PoH. Also, it shows you the available voltage and powers up to 90 Watts.
You get to see all your cable results on the LCD screen, even in the dark. The top range of this tester is 10G Ethernet. Which is a lot for a device like this. 
In addition, you get support up to class 0 to 8 PoE, network speed, cable length, and wire map. Cable ID and wire distance fault is a nice touch. So you don't have to go searching all the house or the cable box for faults. One-click of a button on this tester and it will tell you where the fault is.
You won't need any adapter to check your wire with this tester. Just plug the open wire in it and that's all. A cool feature that most testers lack.
Also, it comes with a 1-year warranty. So if you have any issues within that time, simply contact the manufacturer and they will help you with it.
 Pros:
Great cable tester.
Does what it is advertised for.
Rugged and durable.
Takes just two AA batteries to work.
Cons:
 2. Triplett Byte Brothers Real World Certifier 2 Ethernet Cable Category Verifier and COAX Tester with Exportable Reports (RWC1000K2)
If you are a geek who loves to do connection tests yourself, the Triplett Byte Brothers Real World Certifier 2 Ethernet Cable tester should be on your gear list. It can do testing and a whole lot more.
This Ethernet cable tester tests all your UTP and Ethernet devices. Regardless of the cable, be it a CAT3, CAT5, CAT5E, or CAT6, it will do the test.
The speed capability of this tester is 10, 100, 1000MB, and duplex. It can test in both single side and inline tests. 
The great thing about this tester is that it can work with coax cables and can test the cable's length on cable opening, and shorts. Also, it does the wire mapping and tells you about the faults in it and where it is.
It can test with both the device and the small provided pen device. The device does all the cables open, length, and faults by itself. And the smaller pen does the real live data speed testing. Which is essential for any cable testing.
Although it is a good tester, it is not built for commercial uses. So if you are a network technician, this won't do you much good. It is mainly for small work purposes only. Due to its limited resources. It is great to have in-home setups.
 Pros:
Good tester.
Comes with a 9V battery and testing cable.
Works efficiently.
Cons:
Fails testing big connection setups.
 3. Klein Tools VDV526-200 Cable Tester, LAN Scout Jr. 2 Ethernet Cable Tester for CAT 5e, CAT 6/6A Cables with RJ45 Connections
Looking for a budget-friendly Ethernet tester that will do miracles? Then this Klein Tools VDV526-200 cable tester is for you.
The tester is highly compatible with CAT5e, CAT6, and CAT6A cables. Along with patch cords. A simple plugin of the cord without any converter makes it very convenient to use. Anyone with little networking knowledge will understand its features. It is that simple.
The LCD Backlite display provides all the information like a pin to pin wiremap and results. You get to use it in even dark places due to its backlight function.
It can test open, short, miswire, or split faults without any trouble. Cross-over and shielding is a cool feature to get in this small device.
Another great feature of this tester is the Tone on the wire. You can use single, wire pair, or all 8 conductor wires in tone mode.
And in addition, you get to set multiple tone styles for different wire responses. 
It is powered by 2 AAA batteries. This makes it power-friendly as you can get a AAA battery right in the corner store when you need it.
 Pros:
Amazing Ethernet cable tester.
3 button simple function.
Backlit display.
Tone facility.
Inexpensive. 
Cons:
 4. Fluke Networks CIQ-100 Copper Qualification Tester, Qualifies and Troubleshoots Category 5-6A Cabling for 10/100/Gig Ethernet, Coax, and VoIP
And if you are a professional and know your wires, then Fluke Networks CIQ-100 will be a game-changer. It comes with a whole lot of functions that require a little knowledge before using it.
The cable tester can take on 10,100 or Gig Ethernet cables. It can test and troubleshoot any copper media cables along with coax and audio. 
A neat feature of this tester is the CableIQ qualification. This makes it do all the cable troubleshooting, length tests, distance to fault, and graphical wire mapping efficiently. 
In addition, you get a detachable wire map adapter with it. Which helps do network connections in wide spaces and workshops.
As it is made for commercial use, it can detect any wire faults inside the network of wires without any delay. Making your days' work easier.
The CableIQ feature allows it to test your connection and wire if it is good for voice connections, VoIP, or gig. 
 Pros:
Great performing cable tester.
Good for network professionals.
Big display and all in one function.
CableIQ is a nice touch for better information.
Cons:
Bit hard to understand if no prior networking knowledge.
Frequently Asked Questions
How do I tell if my Ethernet connection is bad?
With the connection drops and disconnection, you can use an Ethernet cable tester to know if your Ethernet connection is bad or has a fault in the wiring system.
Where the RJ45 connector is used?
Ethernet cables use RJ45 connectors to connect with your home system and your computer. 
How can I tell my CAT5 wire is bad?
You can use a cable tester. Without a tester, plug both ends of the connectors into two different computers. If both of them light up, then your wiring is fine. If one doesn't light up, that has a fault.
Is Ethernet faster than Wifi?
Yes. As Wi-Fi relies on air connection, it can be interrupted by any obstacle and tend to be slow. While Ethernet is connected with a cable connection, there is no barrier between the connection, making it faster.
Conclusion
In today's era, every household is wired with a lot of different network connections. Even the LED TV in your living room is connected to the internet with a cable. And faults are a daily issue you will have to deal with. Instead of calling a professional and ripping off the wall on the first go, you can test your connection if you have an Ethernet cable tester. And it doesn't cost much for a decent one.
Klein Tools VDV526-200 is a great little cable tester that every household should have. And if you are a professional and looking to upgrade your gear, the Fluke Networks CIQ-100 can be your next device.