EBL batteries are known for their reliability and long-lasting quality. They have been in the market for quite some time. 
In terms of batteries, they make AA, AAA, 9V, D, 18650, and many other types of batteries. All of them come in rechargeable and non-rechargeable versions. In addition to their batteries, they also make chargers and other accessories.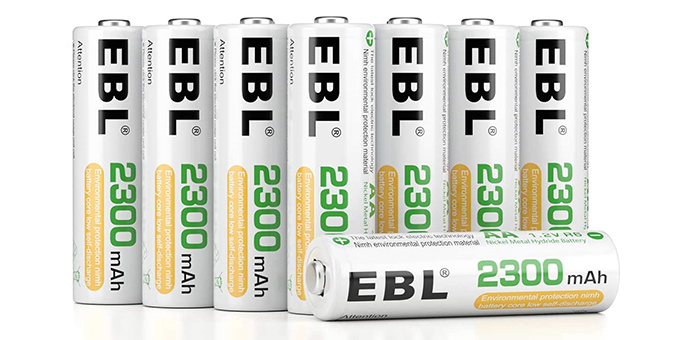 If you are looking for some batteries with great performance, capacity and longevity, check out our EBL Battery Review. You will find which of their batteries to go for and how they perform in long-term usage. 
Top 5 EBL Batteries on The Market at This Moment
Here you will get an in-depth review of the best EBL batteries on the market.
1. EBL AA 2800mAh Ni-MH Rechargeable Battery
Starting off with the EBL AA rechargeable battery. This battery comes with a huge capacity of 2800mAh.
The Ni-MH build helps it with its low discharge rate. So you get to use your device for a very long time. Also, the batteries come with an EBL's ProCyco Technology, which makes the batteries recharge cycle up to 1200 times. 
These batteries are a great alternative for your digital camera accessories, door cams, gaming accessories, and other household products.
The batteries can hold 80% of their charge even if they are stored for 3 years. Which is crazy! Normal rechargeable batteries deplete to zero or more than half of their capacity.
One thing you should keep in mind is that rechargeable batteries are a little bit bigger in dimension than Alkaline batteries. So, check if your device has room for some extra space. Otherwise, the batteries won't fit.
2. EBL 1100mAh AAA Ni-MH Rechargeable Battery
If you are looking for great AAA batteries, EBL got you covered. They make some amazing powerful AAA batteries.
The EBL AAA batteries come with a capacity of 1100mAh. Which is more than a lot of standard AAA batteries. You can continue your activities for longer with these batteries.
With their Ni-MH build, the batteries drain slower than other batteries. Also, the ProCyco technology makes the batteries recharge over 1200 times. Which is a good option everyone likes.
You can use the batteries with any device that requires a AAA battery like remotes, game controllers, door cams, flashlights, and so on.
The batteries fit perfectly because their dimensions are as same as other AAA batteries.
3. EBL 9V 600mAh Rechargeable Battery
EBL also makes really good 9V batteries. These batteries come with a good power capacity inside.
A normal EBL 9V battery has a capacity of 600mAh. Good for a rechargeable battery. 
Keep in mind that a rechargeable 9V battery's standard voltage is 8.2V-8.4V. EBL batteries follow the same standard.
The batteries are Lithium-ion batteries. Still, they hold their charge for a very long time. Without use in storage, the batteries can hold their charge at 75%. Which is great for a rechargeable battery.
With the ProCyco Technology, the batteries are rechargeable up to 1200 times. So keep on using it.
The batteries can be used in any device like smoke detectors, camera accessories, gaming controllers, professional audio devices, and more.
4. EBL D Size 10000mAh Ni-MH Rechargeable Battery
You can also find size D batteries from EBL. The EBL D Size battery packs a huge power in them.
The battery capacity is 10000mAh. Which will last forever in one charge. Because Ni-MH batteries have a very low discharge rate.
You can use the D-size batteries in any of your household and professional equipment with ease. Be it a camera, camera equipment, game controller, security device, or factory essentials. 
The batteries can be recharged 1200 times because of their ProCyco Technology build.
EBL batteries also come with a 1-year warranty.
Frequently Asked Questions
Should I recharge a rechargeable battery out of the packet before use?
Yes. You should always recharge a battery fully before you use them.
Is it okay to leave a rechargeable battery on charge?
No. You should never leave a rechargeable battery on charge unattended. Remove them right after they are fully charged.
Will a rechargeable battery explode if overcharged?
Yes. If the battery is lithium-ion, it will explode. Slightly overcharged batteries also lose their charge capacity slowly.
Conclusion
If you are looking for an alternative for your rechargeable or Alkaline batteries, EBL batteries can be your go-to. They are great at holding charges, have a great recharge cycle, and provide great service throughout their life.