A car consists of different parts. Car owners sometimes don't even know how they work properly. That is why when a car breaks down in the middle of the road, we call a mechanic before we can find out what is wrong. It is essential you know a few things about how your car works and how to maintain them.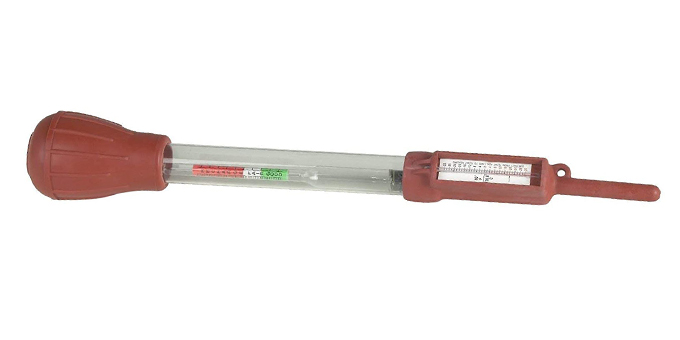 One of the main components that supply power to your car is the battery. And you must keep it in top shape always. To know about your battery's health, you need to use a battery hydrometer. How does this thing work? We are going to elaborate on it in this article. 
How to Use Battery Hydrometer
A battery hydrometer is a syringe-type of device that has a bulb or teardrop on the top and collects electrolytes from the open end. There is a floating meter that is called the hydrometer that works by calibrating with gravity. The common range of gravity used in a hydrometer is 1.160 to 1.325. This gravity changes with the season and climate that you are in.
No products found.
In moist and humid climates, it stands between 1.250 to 1.280 and in winter or cold climates it stands around 1.210 to 1.230. The rise and decrease indicate the level of intensity of sulfuric acid in the battery. 
The colder the season, the higher the ratio. Because in freezing temperatures, the battery needs a higher density of fluids. It also means a decrease in the battery life for using such concentrated fluid. 
To use a hydrometer, you have to gear yourself up properly. You are dealing with sulfuric acid here, which is highly toxic. So do take the following steps carefully.
Suit up with Safety
Bring your car to a well-ventilated place. Wear safety eye gear, thick hand gloves, and closed-end shoes. Remember to wear something thick on your body too. Because sulfuric acid can burn through cotton and can be dangerous to your skin.
Take the Measurement 
After you have turned off your car, open your hood and open all the battery caps. Remember to keep a distance while you are opening the cap as fluids may spill over as they are under pressure. 
Now insert the hydrometer into your battery cell and squeeze it on the top head of your device. It will bring liquids into your hydrometer. Be cautious while doing this and squeeze the liquids back into the cell after taking the measurement. You need to take measurements of all the cells individually. Then do the calculation later.
Do the Calculation
After you have taken all the measurements of your electrolytes of all the cells, you need to do the calculation. The measuring specific gravity is 1.250 at 80 degrees Fahrenheit or 20 degrees Celsius. For every 10 degrees' difference, add or subtract 0.004 to your calculation.
After the calculation, match your results as follows. It will determine what condition your battery is in. 
If the ratio is between 1.240 to 1.275, your battery is in 75-100% charge.
If the ratio is between 1.200 to 1.239, your battery is in 25-74% charge.
Ratios under 1.200 indicate a discharged battery.
Frequently Asked Questions
Q. How often should I check my battery with a hydrometer?
A. Checking your battery once a year with a hydrometer is just fine. But remember to keep checking your fluids from time to time.
Q. Why is my battery electrolytes look gray or brown?
A. If your electrolytes look gray or brown, it indicates your battery has a problem. Check with your battery provider asap.
Q. What should I do if my battery is out of charge?
A. Take it to the mechanic or battery shop. They will charge it for you. Or you can keep your car running for some time to help it get charged. You will lose a lot of fuel though.
Q. How often should I check my battery fluid/electrolyte level?
A. You should check your battery electrolyte/fluid level monthly. The electrolytes should be 13mm above the plates on each cell. 
Conclusion
Every battery is different from one another. As it ages, the capacity decreases. That doesn't mean you have to change your battery right away. It will be good for a couple of years. Always remember not to water before taking your hydrometer test. Or the sulfuric acid will not be able to incorporate with the water. Resulting in wrong info about your battery capacity.