No matter where you are, whether you are traveling or spending a full working day outdoors, you will definitely bring your iPhone with you. Nevertheless, you will definitely run out of juice if you use your smartphone heavily all day. When your phone runs out of juice just as you are about to purchase a train ticket or write an important email, it can be very frustrating.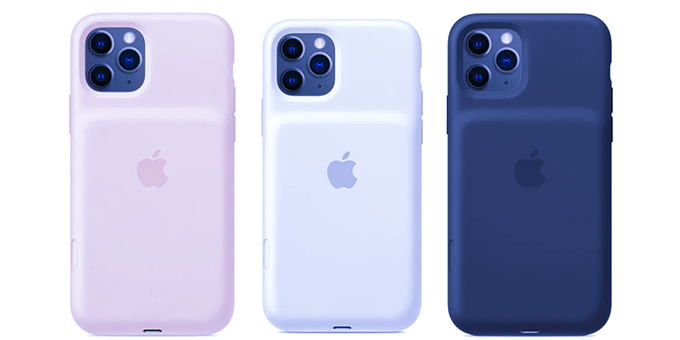 Luckily, there are solutions to that problem. You can either use a portable charger or just buy a battery case. However, the portable charger is not so easy to carry everywhere despite its good capacity. In that case, you can just choose a battery case for your iPhone.
Who doesn't enjoy carrying a smart case that works as both a protective case and a power supply? With a battery case, you can easily have a lightweight and convenient way to charge your phone when you're out and about. Therefore, today we will talk about iPhone battery cases and discuss how they can function effectively during an emergency.
What Is An iPhone Battery Case?
An iPhone battery case is actually a protective case that comes with an attached battery inside. In other words, this product is made primarily to provide an additional power source for your iPhone.
The battery case is usually used as an alternative to the portable battery charger. Though the smart battery case cannot hold lots of power like a portable charger, it contains enough juice to charge your iPhone fully again in emergency situations. Battery cases sometimes charge your iPhone all the time so it stays charged 100%.
Furthermore, a battery case allows you to use your iPhone while it is charging. This simple gadget can, therefore, help you out when you suddenly run out of power.
iPhone Battery Cases Review
We have picked the two best battery cases for your iPhone. One is the official Apple Smart Battery Case, and the other is the ZeroLemon Battery Case. Both are reliable and of high quality. We have analyzed these battery cases, however, and found some interesting facts.
1. Apple iPhone Smart Battery Case
Hassle-free 
If you use an external battery pack, you will have to carry the portable battery pack separately, and you need more space to do that. Besides, most of the time you cannot carry that in hand. You need an extra bag or have to put that in the pocket. That's not the end. In most cases, you will additionally need an extra cable to connect your phone with the charger and have to sit somewhere to charge properly.
When it comes to the Apple Smart battery case, all the hassles will be gone. You can simply use it as a regular phone case, and you are actually carrying a battery attached to your phone automatically. Just click the power button to switch on the battery and make sure the iPhone is docked inside the case properly. By making you feel happy, the battery pack will start charging your phone immediately. Now, you don't need to carry an external battery or cables anymore.
Better Compatibility
Generally, you will need a Qi-enabled iPhone to charge properly using the latest Apple Smart battery cases. Not to mention, iPhone 8 and later models are Qi-enabled. So, you can fast charge your iPhone 8 and above devices using Qi-enabled technology, which is actually the same as a fast-charging adapter.
Always make sure to check whether the battery pack supports wireless charging or not. Because Qi-enabled battery cases work best for wireless charging and you need a slim design for that task. Check the minimum thickness and buy one which is slimmer than that to avoid unnecessary hassles.
However, you can use a wired battery case or a case with a lightning port or a USB-C port as well. You just need to plug the cable into your iPhone to start charging. No matter whether it is wired or wireless, the battery case is always a convenient option.
Good Capacity In A Compact Design
Do you want more power in your battery case? Then, obviously, the size will also be bigger. Usually, the more energy you will get from a battery case, the bigger and thicker it will be. And, the capacity starts generally ranging from 2000mAh and all the way to 10000mAh. Obviously, a 10000mAh battery case will be a lot larger than a 2500mAh case.
If you want maximum charging facilities in the Apple battery case, you need to go for a large capacity. And, it will come in a little bit big size. Anyway, the battery case size is comparatively more compact for providing such capacity.
Pros
Simple and hassle-free design
It comes with a well-optimized extra battery pack
Both wired and wireless variations are available
The apple-made battery case is integrated with iOS
Cons
Some people don't like its bulky look
2. ZeroLemon Protective Battery Case
Multiple Charging Options
As you know, you can buy both wireless and wired battery cases for your iPhone. When you are thinking of buying a wired battery case, say hello to this ZeroLemon protective battery case. 
It comes with a lightning cable and USB-C cable. Almost all wired cases work with lightning cables. However, sometimes you may get a case that supports micro-USB. So, before purchasing the battery case, it will be best if you check the compatibility of the case.
Fast Charging
If you have an iPhone of the latest models, we would like to recommend you a Qi-enabled wireless battery case. However, you will get a little faster recharging using a ZeroLemon wired battery pack. So, choose it only if you are not bothered by a cable system and you do need fast charging for your iPhone.
Durable 
Look at the normal iPhone cases that you use to protect your iPhone. This battery case also works as a protective case. Additionally, because of its increased functionality, you will get the battery case designed in a more protective way. The rugged body and smooth hardy surface make the product more strong and durable.
Anyway, don't forget that a battery case is typically not waterproof because of its enclosed battery. Thus, keep the battery pack away from direct water.
Pros
Strong and durable design
Fast charging
You will get an additional battery of high capacity
Both wired and wireless variations are available
Cons
The battery case is a little heavy
Some Essential Tips For Using An iPhone Battery Case
If you want your iPhone battery case to run safely for a long time, here are a few tips to help you in that case.
Don't leave the battery case in direct sunlight.
Try to avoid keeping the case in places where the temperature is very high.
Avoid using the battery case for charging when you are using heavy graphical apps and software. Undoubtedly, these CPU-draining apps create pressure on both the phone and the case.
Try to buy originally Apple manufactured battery cases. Other branded products will do the job well too.
Remove the case from your iPhone when you are charging the phone using a wall socket. And charge the battery case also separately.
When you will see that your battery case or iPhone is getting hot unusually, immediately stop charging and remove the case to give some rest.
Conclusion
The point we have made is that your iPhone can always be kept alive using a battery case. Those who are heavy users will appreciate the Apple Smart Case since they will never run out of power. In fact, you are getting two items in one gadget- a casual and softphone case, and an extra power bank with both battery cases.
Last but not least, ZeroLemon is an excellent choice for anyone who requires a power supply all day.