Most of our daily household electronic items require batteries. The common type of batteries used in them is the CR2 and CR123 or 123 batteries. Be it the flashlight, camera, camera flashes, gaming console, game controller, remotes, even some industrial equipment require these types of batteries.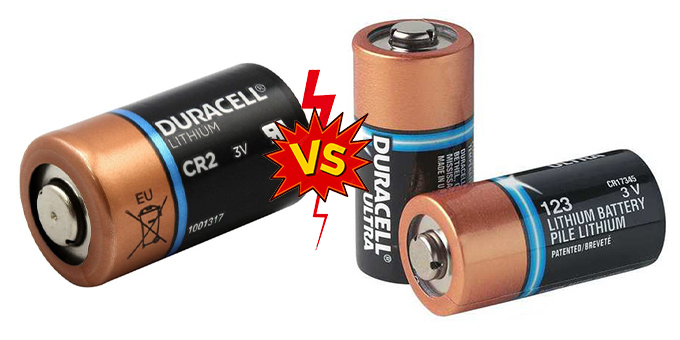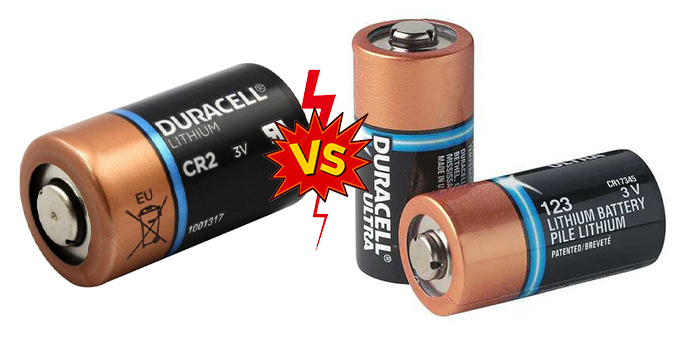 Most of the time people get confused with these two kinds of batteries. As CR2 and CR123 batteries look identical and are both 3V, it is normal to be confused. But they are slightly different than each other. Let's dive into it.
What Is Cr2 Battery
The CR2 battery is made of lithium and is a cylinder cell battery. It looks almost like a D cell battery but smaller. It is used in a lot of household stuff like remotes, old school cameras, camera flashes and equipment, gaming consoles, and other devices. Not to mention, it is a very common type of battery and can be found anywhere. Duracell, Energizer, Panasonic, are the top brands that make CR2 batteries. 
What Is Cr123 Battery
The other common battery in the market is the CR123. It is highly used for its higher capacity of power. They are used in flashlights, remotes, door cams, and cameras. It is a lithium-cylinder cell battery. You will find them anywhere in the market hence the common use in electrical devices. Panasonic, Energizer, Duracell, Titanium Innovative, and SureFire are the most common brands that make CR123 batteries. 
The Difference Between a cr2 and a 123 Battery
The CR2 and CR123 batteries are both 3V batteries. They both have the same lithium technology. But the CR2 battery has a capacity of 400-800 mAh whereas the CR123 has a capacity of 1500-2500 mAh. So CR123 is a lot more superior in the power range.
Moreover, both of them are non-rechargeable. But there is a rechargeable option in the market.
There is another difference between these two. They are different in size comparison. The CR2 is 27mm x 15.6mm and the CR123 is 34.5mm x 17mm in dimension. So keep in mind that you cannot simply switch to a CR123 for better power capacity if you want to.
Both of these D shell batteries look identical. It is easy to get confused while buying one. But there are some dissimilarities from one another. The CR2 is slightly smaller than the CR123. So if you are thinking of using a CR123 instead of a CR2, it is a no-go.
Some might think that CR123 holds more power, why shouldn't I use it. It might cause your device to malfunction or even worse, damage it. So keep that in mind. A CR123 battery lasts longer than a CR2 battery. There are rechargeable options in the market too. But they hold less power than the non-rechargeable or Primary ones.
Frequently Asked Questions
Q. Where can I get a CR2 battery?
A. You will find them in any electrical shop, super shops.
Q. Is it okay to use a CR123 instead of a CR2 battery? I don't want to change it often.
A. If your device supports it, then you can use it. Otherwise, it might cause your device to malfunction or not work. More power doesn't mean better performance. 
Q. What are the alternatives to CR2 batteries?
A. There is no alternative to a CR2 battery.
Q. What are the alternatives of CR123 battery?
A. There is no alternative for a CR123 battery.
Q. Is there rechargeable CR2 and CR123 batteries?
A. Yes. you will find rechargeable CR2 and CR123 batteries in the market. They may be slightly below in power capacity but do the same work.
Q. Is there any benefit of using rechargeable batteries?
A. The only benefit of a rechargeable battery over a non-rechargeable one is being able to use it over and over again. You won't have to throw them out. But make sure you use a good charger.
Conclusion
People often get confused about getting these batteries. As they both look the same and have the same power output. Please make sure you read the compatibility and requirements of your device before trying to put a different battery in it. And it is always wise to use the same battery that your manufacturer has recommended. Otherwise, it might not work properly.