Despite having similar physical attributes, the SR44 vs LR44 battery comparison reveals they are different in some characteristics. For example, they have a distinctive electrochemical method for operating. On the contrary, both of them have a similar 1.55mm diameter.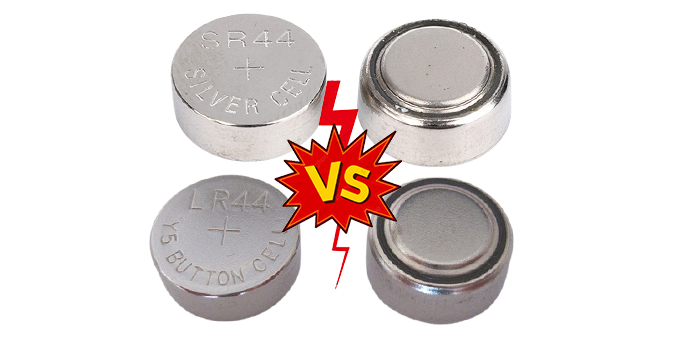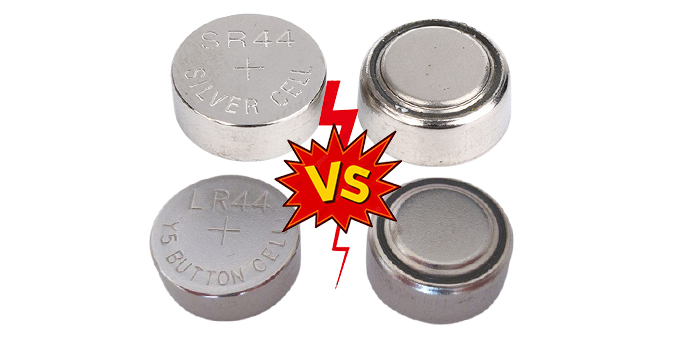 Here we prepared a comprehensive yet easy-to-understand guide so that you can grasp which one is better for you between the two. 
SR44 and LR44 Batteries  
Generally, SR44 and LR44 batteries are mostly used in small remotes, wristwatches, and small toys. Despite having the same features and physical dimensions, they are slightly different from each other. For example, they operate with a distinct chemical process. Besides, they have different electrical characteristics as well.
Features and Specification of SR44 and LR44 
As I said before, SR44 and LR44 use different chemical mechanisms. This difference makes a slight dissimilation between them. For example, LR44 batteries, which use Alkaline, have 1.5 V as nominal voltage. On the contrary, SR44 batteries, which use Silver-oxide, have 1.55 voltage. Yet, this difference is so less to count.  
Furthermore, the voltage of LR44 is continually dropping while the SR44 is constant and only reduces when it is almost discharged. Besides, alkaline batteries have around 110 mAh capacity, whereas Silver-oxide batteries capacity exceeds the 165-170 mAh range.  
SR44 Vs LR44 
Now I describe SR44 and LR44 batteries depending on some factors. 
Longevity
Despite being expensive, silver oxide batteries are better than alkaline. Because Silver oxide batteries have longer shelf life compared to alkaline. For example, silver-oxide batteries provide services up to five years easily, whereas alkaline have two to five years of shelf life. 
Usage 
When you are using batteries for toys and similar general use applications, LR44 is a better option. Yet, while using batteries for significant applications and devices, such as marine and similar applications, go for SR44 batteries.  
Voltage
Moreover, silver-oxide batteries have a slightly higher voltage than alkaline batteries. Besides, they have higher cut-off voltage. On the other hand, SR44 batteries have a more stable output voltage. And have a larger capacity in comparison to LR44 batteries. In this regard, you must choose SR44 batteries.  
Price
Alkaline LR batteries come at a lower cost compared to Silver-oxide batteries. Yet, in comparison to life expectancy, Silver-oxide batteries are better than alkaline batteries. 
Which One is Better Between SR44 and LR44
It is hard to select one between SR44 and LR44. Yet, silver oxide performs better than alkaline in some cases. In this regard, you may consider SR44 better. Besides, the capacity of silver oxide is 50 percent to 100 percent more than alkaline. 
Moreover, SR44 lasts a long time in comparison to LR44. Even the declining voltage is very slow in the silver oxide battery due to its greater capacity. On the other hand, LR batteries are better for general applications for their lower price.  
Are SR44 and LR44 Batteries Interchangeable 
Despite having a different chemical mechanism, they can use interchangeably in the same compartment. Because both of the batteries detail is similar and 1.55mm in diameter. Furthermore, some manufacturers' companies notify that it would not harm the application when you use them interchangeably. 
Yet, some of them suggest that when you use the battery interchangeably, it may create pressure which causes a rapture or a leak in the battery. So, having similar details, it is recommended not to interchange batteries. Otherwise, the device or the application may be affected.
Frequently Asked Question 
When do you use SR44 and LR44 batteries? 
Generally, LR44 and SR44 batteries are used in cameras, medical devices, flashlights, and similar applications. Besides, these batteries are also suitable for widescreen and multiscreen. Furthermore, you can use these alkaline and silver oxide batteries for small applications, such as wristwatches and toys.
What's the difference between SR and LR batteries?
Do you wonder why manufacturers use acronyms like SR and LR for batteries? This concept is too easy to understand. The first letter of the battery codes indicates the chemical material, and the next word conveys the shape. 
For SR and LR, L and S respectably notify that LR44 batteries use Alkaline as their chemical material and SR Uses Silver Oxide. Besides, R indicates that both of them are round in shape.  
Conclusion 
Similarities are clear but the distinction: SR44 vs LR44 battery differs the application. In short, you can use both interchangeably with a negligible effect.
Yet, as the SR44 batteries provide you with constant voltage, it may be better to use for comparably significant applications. On the contrary, LR44 batteries have gained proficiency for small applications for their lower price.  
You may also like to read our Comparison between CR123A vs CR123 battery