In the world of Lipo batteries, you can get confused and lost in the connectors. There are sever different connectors and they all serve different purposes and Amps. 
Depending on the device you have and what type of output it requires, it is essential to know about the battery connectors.
Although we are going to talk about types of Lipo battery connectors, you will find it interesting that they are also used in other devices too.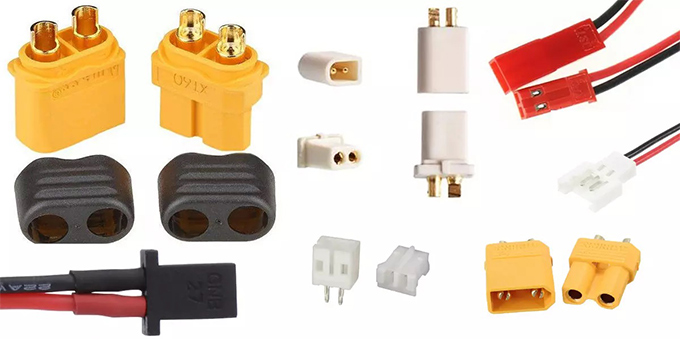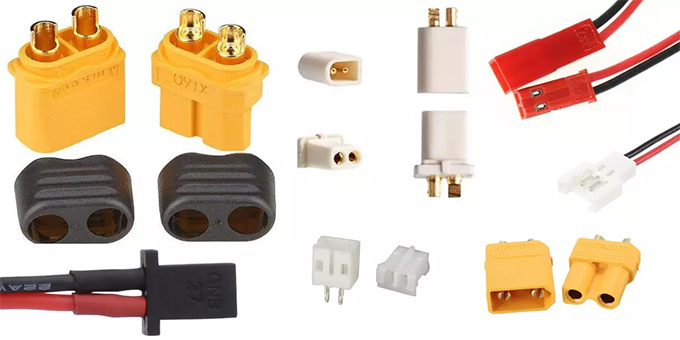 From RC cars, aircraft, drones, and boats to your own personal computer, CD player, disk drive, and PCI cards, all of them have these connectors.
This will be an interesting article and you should hold on.
14 Types of Lipo Battery Connector 1 Amp to 200 Amps
As there are different types of Lipo battery connectors out there, we will talk about the most used ones. They don't only come in different sizes and shapes, but also function in different Amps. 
You must use the right Amp connector for your device. Otherwise, it might compromise the device or the battery at the same time.
Lipo battery connectors can be described in 3 different groups. They are 
Micro Lipo Battery Connector.
Medium Lipo Battery Connector.
Large Lipo Battery Connector.
As the names suggest, Micro lipo battery connectors are very low amp connectors. They range from 1-30 Amps depending on their resistance and build.
Whereas the Medium and Large lipo battery connectors go from 30-200 Amps. And there are even different names for those connectors. We will include them with descriptions about them, where they are used, and what Amps they function in.
Micro Lipo Battery Connector (1 Amp to 30 Amp Capacity)
Molex or JST PH 2 Pin  Connectors
The Molex or JST PH 2 Pin connector is a small plastic coated connector with wires. They have a female and a male plug. You will find them in different RC vehicles as well as CD drives, hard disks, motherboards, and power supplies.
You have to be very careful if you are shouldering the wires. As they have a functioning Amp of 1-2 Amps, they are very sensitive to heat. 
JST RCY Connectors
One of the robust Lipo battery connectors of the 5-10 Amp range would be the JST RCY connector. They come with installed wires and can be plugged and unplugged easily.
There is no loosening effect on them all though they are made of plastic material. This is the reason they are highly recommended in power supply units, RC vehicles, and other rugged usage.
Deans Mini Connector
If you are familiar with a Deans T plug connector, then this is the mini version of it. The Deans Mini connector is very rugged and durable. They don't have any male or female plug types. There is only one port that gets installed on the other one which is the same type.
You can solder them with ease as they don't tend to melt like other connectors. Though you have to seal the end of the wires with shrink wrap afterward to avoid any shorts. They work from 7-12 Amps efficiently and can also take on 15 Amps. 
Higher than that and it will start to heat up. So be careful about that.
Servo Plug Connectors
Servo Plug connectors are one of the basic but most efficient lipo battery connectors. They come in flat 3-pin settings. You will need to have male 3-pin receivers for them to work. 
The fun part is they are customizable and you can make them yourself. They support up to 6 Amps and are widely used in different RC receivers. They perform best in noncontinuous usage rather than the continuous power supply. 
XT30 Connectors
For constant power output and greater insulation, there is no comparison with the XT30 lipo battery connectors. They are rugged, reliable, and can take up to 40 Amps of electrical flow continuously.
There are various versions of them in the market. But the costlier ones are the best. Because of their nylon material, they can take on a great amount of heating. So if you are worried about the connectors getting loose after soldering, you shouldn't be. If your device requires voltages above 35 Amps, this is the one to go for.
But for better measurement, you should use them under 35 Amps. In addition, it also works on lower amps than that.
EC2 Connectors
This one is one of the most famous connectors for Lipo batteries. The EC series are widely used in RC vehicles and aircraft.
Like other EC connectors, the EC2 also uses 2mm bullet pins to secure a connection. One thing great about the EC series is they don't need the wire to be shrink-wrapped. As the wire gets soldered onto the connector itself and hides under its plastic case, it provides the needed safety.
You can use the EC2 for 20 Amp connections. It also holds well on 30 Amps.
Medium Lipo Battery Connectors (30 Amps to 70 Amps)
Deans Connector or T Plug
One of the famous and renowned Lipo battery connectors would be the Deans T plug connector. You will find them in pair of male and a female connectors in a package.
They are used in medium-sized motors and RC vehicles as they can take on quite some electric flow. Good quality Dean's plug connectors come with nylon bodies that keeps them from overheating. 
You can operate on a continuous 60 Amps with a Deans T plug connector. Over that and it will start to heat up.
Reusability: High.
EC3 Connectors
Although belonging to the EC connector family, the EC3 connector is somewhat of a namesake. Once you have soldered it with the wire, you are set for life.
Meaning, you won't be able to reuse it. Whereas you can use other connectors repeatedly, this one is a one-shot type. And connecting and disconnecting it is almost a tedious job.
It fits perfectly when it is connected and provides a secure connection. It uses 3mm bullet pins to provide the current. The outer shell is very sturdy and you won't need to worry about your soldering getting short.
Reusability: Low.
XT60 Connectors
The middle-size XT60 is another great lipo battery connector on the market. With its nylon-built body, it can take up to 60 Amps of constant current flow.
It comes with externally exposed soldering points. Just like the XT30, you will have to use a shrink wrap to wrap your wires' exposed parts for short circuits. Other than that, it is one of a kind connector.
The best thing about the XT series is they are reusable. As they have a rugged build, they can outperform most of the other lipo connectors out there.
Reusability: High.
Large Lipo Battery Connectors (70 Amps to 200 Amps)
EC5 Connectors
If you are a fan of the EC series, then this will do you great. The EC5 is capable of taking on 120 Amps with ease and occasionally can also go up to 150 Amps. 
It uses 5mm bullet pins to connect. As the wires will be insulated inside the connector socket, there is no need for extra insulation wraps of any kind. 
The only drawback is that you cannot reuse them. They are hard to take off and solder after it is used.
But if you have large-size planes, or drones, which you don't need to change the battery frequently, you can go for them.
Reusability: Low.
XT90 Connectors
The successor of the XT series can also be found in high Amp capacity. The XT90 can take on 90 Amps and some more. But 130 Amps is the limit, what more do you want.
They come with the same nylon built, making it melt and heatproof. It is easy to plug and unplug and can be reused over and over.
The only drawback would be the need for wrapping over your exposed soldered wire. Other than that, the XT90 is one of the best lipo battery connectors on the market.
Reusability: High.
XT150 Connectors
Got a high-power drone? Then this connector is for you. With a load capacity of 150 Amps, the XT150 is the Godzilla of the XT family. It comes with an attached wire and uses 6mm pins to connect with the lipo battery. Cool isnt it!
Reusability: High.
AS150 Connectors
One of the highest performers of lipo battery connectors is the AS150. It has the capacity of running up to 200 Amps continuously.
It has a 7mm female connector that ensures the vast transmission with efficiency and low effort. As it comes with spark prevention technology, there is no worry of any short circuit after any form of soldering.
Reusability: High.
Honorable Mentions
TRX Connectors
The TRX connectors are mainly used in Traxxas vehicles and devices. But you can buy them separately if you want them.
They support up to 60 Amps and have a very different design. The connector looks like a hub. And it requires a tool to remove the pins that connect the two ends together. 
If you are a DIY specialist, it won't be a problem for you at all. It is very secure even after you have soldered the wires as they are hidden under the connector's body. And once connected, they are hard to come off.
Frequently Asked Questions
What are the different types of LiPo battery connectors?
There are a lot of different types of lipo battery connectors in the market. The most famous ones are Deans T plug, EC3, EC5, XT30, XT60, XT150, and bullet connectors. All of them are different and work with different amps. Depending on your battery's amp and your device, you have to choose the right connector.
Why are there 2 connector ends on LiPo battery?
Lipo battery connectors have two ends due to a few reasons. One of them works as the power output, charge, and recharging port. The other one does the regulating. As the battery works through with the device or is in charge, the second cable regulates all the cells in the battery and keeps the charge flow in order.
Are IC5 and EC5 compatible?
Yes. IC5 and EC5 connectors are backward compatible. But you will need a Spektrum smart device in order to use the IC5 connector. Otherwise, your battery won't function properly and drain faster than usual.
Conclusion
There are a lot of lipo battery connectors out there. Not all of them serve the same type of purpose or power output. And they connect differently. Depending on your need and purpose, you have to choose the right one. Otherwise, you might end up either compromising the battery or the device. So read your devices and battery instructions before you buy any of them.